Overview
Minnesota Seasonal Status:
A regular but rare permanent resident; the Northern Hawk Owl was rare during the Minnesota Breeding Bird Atlas (MNBBA).
North American Breeding Distribution and Relative Abundance:
A Holarctic species, the Northern Hawk Owl occurs sparsely from the Maritime provinces in eastern Canada across the boreal forest to Alaska. In the United States, its southern limit occurs in northern Minnesota, northern Wisconsin, and northern Michigan, and occasionally in the Rocky Mountains.
Conservation Concern: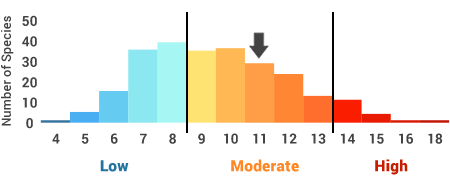 Assigned a Continental Concern Score of 11/20 by Partners in Flight.
Life History
Migration:
Irruptive movements to more southern regions regularly occur and are thought to be responses to prey availability and climate.
Food:
Primarily small mammals and birds, the latter especially in winter.
Nest:
In cavities of decayed trees and in broken tops of trees, stumps, and vacant woodpecker holes.
Minnesota Breeding Bird Distribution*
Hatch (1892) stated that the American Hawk Owl, as he knew it, ventured into Minnesota primarily in the winter. However, in a post note he said, "The Hawk Owl has come under my eye so often since writing the foregoing, that I cannot regard it as really rare any longer. I have met with them in November three times in eight years, within seven miles of Minneapolis, and found several in the taxidermists' collections during the same period."
Roberts (1932) did not describe the Northern Hawk Owl as a nesting species in Minnesota. He said it was a "winter visitant from the north, chiefly in the northern and eastern parts of the state." Roberts included several observations of potential nesting of the species in Minnesota from April to June, but disregarded the observations as "not conclusive and may have resulted from errors in identification." The observations included secondhand information from a "reliable" source of a nest near Ada in Norman County in 1884; possible nesting in Roseau County in 1906, Cook County in 1923, Koochiching County in 1927, and Itasca County in 1928; and several late spring observations, one as far south as St. Paul on May 21, 1925. No additional information was added in Roberts's 1936 revision.
Green and Janssen (1975) labeled the Northern Hawk Owl as a "casual summer resident." They noted that after major invasions a few birds remained during the summer, and breeding has been reported from Norman, Roseau, and St. Louis Counties. The latter was described by Strnad (1963) as six individuals, including a possible nesting pair and four young, in July 1962. The report by Strnad was from the area now known as the Sax-Zim Bog and was instrumental in initiating the current attraction of the area to nature enthusiasts. The Northern Hawk Owl nesting observation also corresponded with two nests that were found in northwestern Wisconsin (Douglas County) in April 1963 (Robbins 1991). These nesting observations followed the invasion year of 1962–1963, in which over 100 birds were observed in Minnesota as far south as Wabasha County (Green 1963).
In 1982, Johnson summarized 4 nesting records for the Northern Hawk Owl and identified those records as accidental nesters. He included a nest with eggs in Roseau County from the summer of 1906 as a confirmed nest record, one about which Roberts had his doubts. Johnson also included the nesting record from the spring of 1884 in Ada, Minnesota, but like Roberts he had reservations because the habitat did not seem appropriate. Johnson cited 10 additional summer observations of the species from 1905 to 1963. The other two nest records he cited were both from 1980 and are considered solid: the first Minnesota nesting record by Steve Loch in Aitkin County and the second by Martin Kehoe in Lake of the Woods County.
Janssen (1987) reiterated that nesting seemed to occur following major invasion years. He included the 2 nests reported by Johnson in Aitkin and Lake of the Woods Counties, but no new records were added in his summary of confirmed nests since 1970. Hertzel and Janssen (1998) would later add two additional confirmed county nesting records since 1970 in Lake and Roseau Counties.
Grosshuesch (2008) summarized that the Northern Hawk Owl has been documented breeding after 6 of the past 11 irruptions and only twice in non-irruption years. He also stated that in the years before the major 2005–2006 irruption, nesting had been confirmed at 14 sites, which included 9 active nests and 5 sites with short-tailed young. These occurred in 7 counties, including Aitkin, Cook, Koochiching, Lake, Lake of the Woods, Roseau, and St. Louis.
During its county surveys, the Minnesota Biological Survey recorded 3 breeding season locations, 2 in St. Louis County and 1 in Lake County (Minnesota Department of Natural Resources 2017).
The MNBBA participants included 23 records of the Northern Hawk Owl, all of which come from 5 counties: Aitkin, Lake, Lake of the Woods, Roseau, and St. Louis (Figure 1). Records were included from 0.5% (23/4,735) of the surveyed atlas blocks and 0.5% (12/2,337) of the priority blocks (Figure 2; Table 1). No observations were made in other counties with potentially suitable habitats, such as Beltrami, Cook, Itasca, or Koochiching.
Overall, the breeding status of the Northern Hawk Owl in Minnesota is elusive. The prevailing wisdom has been that breeding primarily occurs after invasion years, but nests have been found after noninvasive years. The MNBBA results confirmed nesting in 5 counties following noninvasive years. It remains a possibility that a small population in Minnesota may nest most years or every year in the remote forests and peatlands. Unfortunately, it would require a massive long-term search effort to definitively determine the regular breeding status of this species in the state.
In their review of the Northern Hawk Owl in North America, Duncan and Duncan (2014) stated the species was one of the least-studied birds in North America. They emphasized that few data were available to determine any historical changes in the distribution of the species. Furthermore, the authors suggested the Northern Hawk Owl may have historically nested in places like Minnesota, and recent nesting did not necessarily represent extensions of its breeding range.
*Note that the definition of confirmed nesting of a species is different for Breeding Bird Atlas projects, including the definition used by the Minnesota Breeding Bird Atlas, compared with a more restrictive definition used by the Minnesota Ornithologists' Union. For details see the Data Methods Section.