Overview
Minnesota Seasonal Status:
A regular breeding resident and migrant; the Acadian Flycatcher was a rare species during the Minnesota Breeding Bird Atlas (MNBBA).
North American Breeding Distribution and Relative Abundance:
A breeding resident of the eastern deciduous forest, the Acadian Flycatcher's range extends from the eastern edge of the Great Plains to the Atlantic Coast. It stretches as far north as southern Minnesota and east across the lower Great Lakes states to southern New England. To the south it is found from central Texas east along the Gulf Coast to northern Florida. It is sparsely distributed throughout its breeding range but reaches its highest breeding densities along the northern Atlantic Coast states of Virginia and North Carolina west through the Appalachians and south to Mississippi and Alabama (Figure 1).
Conservation Concern: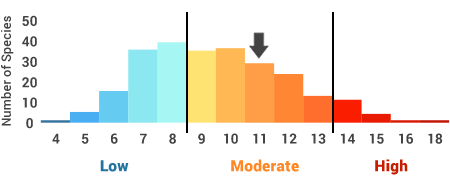 Assigned a Continental Concern score of 11/20 by Partners in Flight; officially listed as a Minnesota Special Concern Species and designated a Species of Greatest Conservation Need by the Minnesota Department of Natural Resources.
Life History
Migration:
A long-distance, Neotropical migrant that winters in southern Central America and northern South America.
Food:
An aerial insectivore that hawks and gleans insects.
Nest:
A cup nest usually located in deciduous trees and shrubs.
Minnesota Breeding Bird Distribution*
The first official account of Minnesota birds by Dr. P.L. Hatch in 1892 included the Acadian Flycatcher and described it as "fairly common." Although Hatch noted the frequent confusion of the species with the very similar Trail's Flycatcher (now split into the Alder and Willow Flycatchers), which "put me on my guard," he was quite certain of his observations. He also accepted additional reports of the species from the Root River in southeastern Minnesota and from the Red River valley in northwestern Minnesota.
Forty years later, Roberts (1932) summarily dismissed Hatch's account, writing that the "whole article is without foundation in fact." Although Hatch's report of birds in southeastern Minnesota was at least plausible, the observer, Dr. Hvoslef, later wrote Dr. Roberts stating that his own identification was in error (Roberts 1932). Indeed, Roberts himself, anticipating the flycatcher would eventually appear in the state, spent many years searching for and collecting specimens of small Empidonax flycatchers but failed to document the occurrence of the Acadian Flycatcher. When Green and Janssen wrote their updated status account in 1975, they noted a report of singing flycatchers along the Root River, approximately 2.5 miles east of the town of Rushford, in 1940, but little else is known about the record.
Another 27 years would pass before the Acadian Flycatcher was unquestionably documented in Minnesota. During the summer of 1967, Fred Lesher discovered a nesting pair in Beaver Creek Valley State Park in Houston County (Lesher 1968). A regular breeding species at this park since Lesher's discovery, Janssen (1987) provided a detailed account of its gradual expansion further north to Rice, Hennepin, and Chisago Counties and west to Fillmore County. Nesting was confirmed in Houston, Goodhue (Janssen 1974), Scott (Fall 1987), and Rice Counties (Green 1981). By 1998, breeding was confirmed in an additional four counties: Dakota, Hennepin, Ramsey, and Winona (Hertzel and Janssen 1998).
Beginning in the late 1980s, field biologists working with the Minnesota Biological Survey (MBS) documented a total of 54 breeding season observation locations for the species. The majority of records were found in the Eastern Broadleaf Forest Province from Morrison County south to Houston County and west along the Minnesota River valley to Nicollet County. A few records were reported as far north as Douglas County in west-central Minnesota and as far west as Lyon County and the border of Lincoln and Yellow Medicine Counties in the southwestern corner of the state (Minnesota Department of Natural Resources 2016a). Field work conducted by MBS staff in the summer of 1993 in Houston and Winona Counties provided an indication of the species' rarity. Flycatchers were documented in only 8 of 38 forest stands that were considered suitable habitat (Minnesota Department of Natural Resources 1995).
In addition to the MBS records, since 1990 active birders have documented breeding season observations as far north as Aitkin County (2005) and as far west as Clay (1992) and Swift (1994) Counties (Minnesota Ornithologists' Union 2016).
During the MNBBA, observers reported 34 Acadian Flycatcher records from just 25 of the surveyed atlas blocks and 8 priority blocks. Breeding was confirmed in 4 blocks (Figures 2 and 3; Table 1). The birds were reported in 15 of Minnesota's 87 counties (4 records straddled both Scott and Dakota Counties and 1 record straddled Brown and Nicollet Counties) and were confirmed breeding in 4 counties (Hennepin, Goodhue, and a record that straddled Scott and Dakota). The majority of reports were from east-central and southeastern Minnesota, with 3 records further west in Brown/Nicollet, Otter Tail, and Stearns Counties. The most remarkable report was from northern Kittson County on June 19, 2012. The record was from an outstanding field ornithologist, Karl Bardon, of the MBS. A male was singing and calling in an aspen grove while Karl was conducting a point count survey. Given the unusual nature of the record, an audio recording was made as well (per Steve Stucker, pers. comm., Minnesota Biological Survey).
The Acadian Flycatcher remains a very rare species in Minnesota, confined primarily to the far east-central and southeastern counties. It also seems fairly well established along the lower Minnesota River valley in Brown and Nicollet Counties. Three localities where the species has been consistently reported include Beaver Creek Valley State Park in Houston County, Murphy Hanrehan Regional Park Reserve in Scott and Dakota Counties, and Seven Mile Creek Park in Nicollet County. Reports beyond these locations are rare and inconsistent from year to year.
Coincident with the species' appearance and range expansion in Minnesota, the Acadian Flycatcher has been expanding its breeding range throughout the northeastern United States since the 1960s and 1970s. Records from the late 1800s and early 1900s documented that it is reoccupying portions of its former breeding range. For example, the Acadian Flycatcher was known to breed in Massachusetts in 1888 but then disappeared until the 1960s. The species was present in southern New York in the early 1900s but then disappeared until the early 1970s (Whitehead and Taylor 2002). Although the reasons for the range contraction and subsequent expansion are unknown, biologists believe the initial loss in forest cover, followed by an increase in forest cover and forest age in the latter half of the twentieth century in New England may be responsible (Whitehead and Taylor 2002).
The Acadian Flycatcher was even documented in South Dakota between the years 1918 and 1922 (Whitehead and Taylor 2002). Recent atlas work in the state, however, has failed to document the species' presence (Drilling et al. 2016). To the east, in Wisconsin, the state's first breeding bird atlas documented the Acadian Flycatcher in 12 counties in the central region of the state where they had not previously been reported. The species' range appears to have expanded to the north and northwest in the state since at least the 1990s (Cutright et al. 2006).
*Note that the definition of confirmed nesting of a species is different for Breeding Bird Atlas projects, including the definition used by the Minnesota Breeding Bird Atlas, compared with a more restrictive definition used by the Minnesota Ornithologists' Union. For details see the Data Methods Section.