Overview
Minnesota Seasonal Status:
A regular breeding resident and migrant; regular during the winter months at scattered open water sites throughout eastern Minnesota. The American Black Duck was a rare species during the Minnesota Breeding Bird Atlas (MNBBA).
North American Breeding Distribution and Relative Abundance:
Restricted to eastern North America, the American Black Duck's breeding range stretches from southeastern Manitoba and northeastern Minnesota east across Canada, the northern Great Lakes, and New England, and south to the coastal regions of Virginia and North Carolina. Breeding densities are highest in northern New England and northeastern Canada (Figure 1).
Conservation Concern: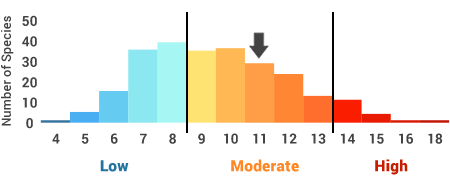 A game species, the American Black Duck is assigned a High Continental Priority by the North American Waterfowl Management Plan, and a Continental Concern Score of 11/20 by Partners in Flight; designated a Species in Greatest Conservation Need by the Minnesota Department of Natural Resources.
Life History
Migration:
A short-distance or partial migrant. Populations in the eastern Great Lakes and New England are year-round residents; populations throughout much of eastern Canada and the western Great Lakes migrate to the southern United States.
Food:
A dabbler and upland grazer feeding primarily on aquatic plants and invertebrates; may graze on waste corn when it is available in the fall and winter.
Nest:
Ground nester; nests often located within dense shrub or herbaceous vegetation but occasionally nests in tree stumps or open tree cavities.
Minnesota Breeding Bird Distribution*
Minnesota lies on the western periphery of the American Black Duck's breeding range. Indeed, before the early 1900s the species was not found breeding west of Lake Erie but has gradually expanded westward.
In the late 1800s and early 1900s, Roberts (1932) described it as a "straggler" in Minnesota. Scattered fall hunting reports submitted by a number of Roberts's acquaintances from 1883 to 1910 described it as relatively rare among the hunters' take. In 1885, it was considered rare or accidental in Otter Tail County and in the Mille Lacs region. In 1893, a market hunter near Heron Lake reported that he had never seen it there but he knew it was occasionally taken. From 1896 to 1910, only 14 were reported shot at the Long Meadow Gun Club south of Minneapolis.
Reports of birds observed during the summer became more common during the 1920s in the far northern regions of the state. Roberts mentions a letter he received in 1922 from Carlos Avery, the Minnesota game and fish commissioner from 1907 to 1921, commenting that his game wardens found the bird in "considerable numbers in the marshes and bogs between Red Lake and Rainy River" and that it appeared to be nesting in several areas. That same year Thaddeus Surber, then a biologist with the Minnesota State Game and Fish Department, wrote that he found several American Black Ducks on the Cascade River in Cook County and presumed from their behavior that nests or young were nearby. He also found several nesting pairs in northeastern Lake County and northwestern Cook County in 1926.
Green and Janssen (1975) later described the species' primary breeding range as northeastern Minnesota, from Koochiching County south to northern Pine County. Beyond its primary breeding range, they identified confirmed nesting records from 8 widely dispersed counties: Clay, Freeborn, Kittson, Marshall, Pope, Ramsey, Washington, and Wilkin. Several years later Janssen (1987) delineated a larger breeding range, which spanned from eastern Roseau and Marshall Counties, south to Becker and Aitkin Counties, and east through the Arrowhead region. Since 1970, there were confirmed nesting records from 5 counties within this range: Aitkin, Becker, Cook, Lake, and Marshall. He noted, however, that there were summer season observations from scattered locations throughout southern and western Minnesota. In 1998, Hertzel and Janssen published a map of all counties where nesting had been confirmed since 1970. They added 8 to Janssen's original list. Four of the counties were in northern Minnesota (Cass, Koochiching, Lake of the Woods, and St. Louis), and 4 were in east-central and southeastern Minnesota (Goodhue, Hennepin, Ramsey, and Washington).
The Minnesota Biological Survey (MBS) has reported 31 breeding season locations for the American Black Duck. All but 1 record (from Martin County) were restricted to northern counties, and the majority was reported from northern St. Louis and Lake Counties and from Cook County (Minnesota Department of Natural Resources 2016). The 2014 MBS published map does not depict the results of their fieldwork in the Northern Minnesota and Ontario Peatlands Section or in northwestern St. Louis County.
During the MNBBA, participants reported 73 American Black Duck records in 1.3% (62/4,733) of the surveyed atlas blocks and in 1.2% (27/2,337) of the priority blocks. Breeding evidence was found in only 12 surveyed blocks and was confined to east-central St. Louis County, northern Lake County, and Cook County (Figures 2 and 3; Table 1). Other than these 3 counties, Itasca was the only other county with more than 1 observation. The birds were reported from a total of 13 counties (1 block straddled 2 counties, Big Stone and Lac qui Parle). Breeding evidence has not been documented in southern Minnesota since 1978 (Wabasha County); in the Twin Cities metropolitan area the birds were last reported nesting in Hennepin County in 1976, in Ramsey County in 1977, and in Washington County in 1978 (Minnesota Ornithologists' Union 2016). During the atlas, no birds were reported south of Carver County in the east or Lac qui Parle County in the west.
As the American Black Duck was expanding its range into northern Minnesota in the early to mid-1900s, it also was found in western Ontario, North Dakota, Manitoba, Saskatchewan, and Alberta. Birds were also introduced into Washington and British Columbia (Longcore et al. 2000). This westward expansion occurred at a time when populations were declining in the East due to a number of factors, including excessive hunting (Longcore et al. 2000).
To the east in Wisconsin, American Black Ducks were most abundant in the northern counties but were also confirmed breeding at scattered locations throughout the state during the first atlas conducted from 1995 to 2000 (Cutright et al. 2006). In Michigan, the number of townships where the species was reported declined 55% between the state's first atlas (1983–1988) and second atlas (2002–2008). The largest decline was documented in the Lower Peninsula (Chartier et al. 2013). A similar decline was reported during the second atlas in Ontario (Cadman et al. 2007).
*Note that the definition of confirmed nesting of a species is different for Breeding Bird Atlas projects, including the definition used by the Minnesota Breeding Bird Atlas, compared with a more restrictive definition used by the Minnesota Ornithologists' Union. For details see the Data Methods Section.