Overview
Minnesota Seasonal Status:
A regular breeding resident and migrant; the Black-and-white Warbler was a common species during the Minnesota Breeding Bird Atlas (MNBBA).
North American Breeding Distribution and Relative Abundance:
Found throughout the boreal forests of Canada, the Great Lakes region, and New England, south through the Appalachian Mountains and west to central Louisiana and central Texas. Pockets of abundance are scattered throughout its breeding range, but the highest breeding densities within the federal Breeding Bird Survey (BBS) area are found across the Boreal Hardwood Transition Region that stretches from Minnesota, across the Great Lakes, and through New England (Figure 1).
Conservation Concern: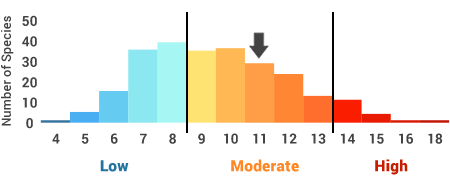 Assigned a Continental Concern Score of 11/20 by Partners in Flight.
Life History
Migration:
A long-distance migrant that winters anywhere from the southeastern United States to northern South America.
Food:
Primarily a bark forager consuming a variety of insects, especially caterpillars.
Nest:
An open-cup nest placed on the ground at the base of a shrub or tree; occasionally nests in a stump cavity.
Minnesota Breeding Bird Distribution*
Describing the Black-and-white Warbler's presence in Minnesota in the late 19th and early 20th centuries, Roberts (1932) reported the species as a rare breeder in southern Minnesota but more common farther north. Regarding its presence in the southeastern woodlands, he wrote:
Formerly the Black and White Warbler was present as a summer resident throughout the southern part of the state wherever there was heavy timber, but in recent years, since the cutting of the deciduous forests, it has become rare as a nesting bird south of the evergreen forests farther north.
His only breeding evidence for this region was a 1904 report of an adult feeding young in Lake City in Wabasha County, and a simple note of a bird or pair "evidently with nest" that he personally observed in Minneapolis in 1875.
He described the species' abundance in northern Minnesota as "nowhere exactly common," but he said it was certainly a regular species. Confirmed nesting records (nests with eggs or young) were reported only from the Mille Lacs region and Becker County. Inferred nesting records were reported from Cass Lake (feeding young out of nest), Cook County (young with adults), and Roseau County (pair evidently with nest).
Forty years later, Green and Janssen (1975) described the species as a summer resident primarily in northeastern and north-central Minnesota. Farther south it occurred east of the Mississippi River but was "quite scarce south and west of Mille Lacs Lake." In addition to Roberts's confirmed nesting record from Becker County, records were now available from Anoka, Cook, Lake, and St. Louis Counties. No breeding records had been reported from southeastern or northwestern Minnesota in over 50 years.
Several years later, Janssen (1987) reported that recent observations suggested the Black-and-white Warbler's breeding range might extend as far south as northern Hennepin County in east-central Minnesota and as far west as Roseau and Kittson Counties in northwestern Minnesota. Since 1970 confirmed nesting records were available from 8 counties: Aitkin, Anoka, Cass, Clearwater, Cook, Itasca, Lake, and St. Louis.
The first confirmed breeding record in southeastern Minnesota in more than 75 years occurred in 1990 when a pair was reported breeding in Winona County (Wiens 1991). Nevertheless, despite extensive surveys of remnant forest tracts in this region by the Minnesota Biological Survey (MBS) in the 1990s, no additional observations or breeding records were reported. In northwestern Minnesota, however, the MBS found the species in numerous locations, from Todd and Otter Tail Counties north to Marshall, Kittson, and Roseau Counties (Minnesota Department of Natural Resources 2016).
During the MNBBA, participants reported 3,423 Black-and-white Warbler records in 35.0% (1,662/4,748) of the surveyed atlas blocks and in 41.7% (976/2,338) of the priority blocks. Breeding was confirmed in 83 blocks (Figures 2 and 3; Table 1). The species was reported from 47 of Minnesota's 87 counties (2 possible records straddled 2 counties each: Nicollet/Brown and Scott/Dakota) and was confirmed breeding in 19 counties. Twelve of the counties were additions to a list of counties with confirmed nesting identified by Hertzel and Janssen in 1998. Most notable were 2 breeding records in southeastern Minnesota: a bird carrying nesting material in southwestern Fillmore County (May 10, 2012), and an adult feeding young in northern Goodhue County (August 20, 2010; photos taken). The overwhelming majority of records, however, were from the Laurentian Mixed Forest Province; the species was also well distributed throughout the Tallgrass Aspen Parklands Province in northwestern Minnesota.
All atlas records south of the species' primary range were examined carefully. Because the Black-and-white Warbler is a common spring and fall migrant throughout the state, late May and early June records may be observations of late migrants. Indeed, at least 9 "possible" records were invalidated based on the date of the detection, the lack of suitable breeding habitat, and/or insufficient supporting documentation. The "observed" record in Lyon County was retained as it was a report of 2 birds singing the first week of June in suitable habitat in Camden State Park. The Minnesota River "observed" record on the boundary of Brown and Nicollet County was a record from June 22 also in suitable habitat.
The MNBBA predicted breeding distribution map (Figure 4) predicted the Black-and-white Warbler is most abundant in the extensively forested landscape of the Laurentian Mixed Forest Province. It also predicted the species to be common, although at lower densities, throughout the Tallgrass Aspen Parklands Province and the northern reaches of the Eastern Broadleaf Forest Province. Scattered pockets of abundance are present in suitable habitat throughout southern and central Minnesota as well, especially in western Hennepin County and along the Mississippi River south of the Twin Cities.
The Black-and-white Warbler has certainly not returned to the level of abundance in southern Minnesota described by Roberts nearly 100 years ago. Nevertheless, it is more frequently encountered west and south of the primary breeding range that Janssen delineated in 1987. It now is frequently observed, for example, in the northern regions of east-central Minnesota including Sherburne, Isanti, Chisago, and northern Anoka Counties. Perhaps as forest remnants in the region have matured, more suitable habitat is now available.
Elsewhere within its breeding range, there have been few large-scale changes to the warbler's breeding distribution, particularly in recent decades. One 19th-century ornithologist, Thomas Nuttall, considered the warbler to be common throughout the eastern and central United States, where it is only sparsely distributed today (Kricher 2014). More recently, atlas results in Wisconsin, Ohio, and Ontario have reported few changes other than those predicted by local habitat changes (Cutright et al. 2006; Rodewald et al. 2016; Cadman et al. 2007). Interestingly Michigan's second atlas documented more records in the southern region of the Lower Peninsula than were reported during their first atlas (Chartier et al. 2013).
*Note that the definition of confirmed nesting of a species is different for Breeding Bird Atlas projects, including the definition used by the Minnesota Breeding Bird Atlas, compared with a more restrictive definition used by the Minnesota Ornithologists' Union. For details see the Data Methods Section.