Overview
Minnesota Seasonal Status:
A regular, common breeding resident and migrant, the Chestnut-sided Warbler was common during the Minnesota Breeding Bird Atlas (MNBBA).
North American Breeding Distribution and Relative Abundance:
The Chestnut-sided Warbler is found throughout the upper midwestern and northeastern regions of the United States and Canada and south in the Appalachian Mountains to northern Georgia. The highest densities are found in northeastern Minnesota, northwestern Wisconsin, central Ontario, and Nova Scotia (Figure 1).
Conservation Concern: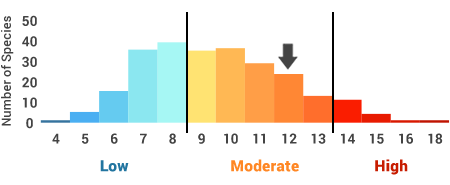 Assigned a Continental Concern Score of 12/20 by Partners in Flight; identified as a Stewardship Species by Audubon Minnesota.
Life History
Migration:
Long-distance migrant that winters from southern Mexico to Panama.
Food:
Insects, spiders, and other arthropods, gleaned from foliage.
Nest:
Cup nest, usually low or close to the ground in deciduous shrubs or saplings.
Minnesota Breeding Bird Distribution*
Early observations of this species in the late 1800s indicated a breeding distribution throughout a substantial part of Minnesota (Roberts 1932). Roberts described its distribution as "everywhere throughout the more open wooded regions of Minnesota and along the hazel-covered banks and rolling bluffs of the many water courses that traverse the semiprairie region of the southeastern part of the state." He also commented that "it shunned only the dense unbroken forest and the open prairies of the west." By the early 1900s, Roberts lamented that the species had largely disappeared from the southern portions of its range, but "occasional pairs may still be found here and there."
Roberts confirmed nests with eggs from Aitkin, Hennepin, Houston, Isanti, Itasca, Roseau, and St. Louis Counties, as well as from Itasca State Park and Mille Lacs Lake. Several nests also included Brown-headed Cowbird eggs. He recorded nests from Goodhue County and adults feeding young from Cass and Polk Counties. He described its breeding distribution from the early 1900s to the 1930s as common in forested areas northward from northern Isanti and Pine Counties. He cited observations by Surber that the species was abundant in Cook County in 1922, where it found "ideal conditions in the thick second-growth covering burnt-over country."
Green and Janssen (1975) reported that no nests of the species have been found from the Twin Cities metropolitan area southward since 1940, but isolated summer observations existed from Dakota, Rice, and Winona Counties in southeastern Minnesota. Besides the counties reported by Roberts, Green and Janssen added confirmed nesting in Anoka, Beltrami, Cook, Crow Wing, Hubbard, Lake, Stearns, and Wright Counties, plus inferred nesting from Wadena County.
Janssen (1987) included confirmed nesting since 1970 in 9 counties, including Aitkin, Carlton, Cass, Clearwater, Cook, Crow Wing, Lake, Mille Lacs, and St. Louis. He highlighted summer observations from several counties in southern Minnesota, including Cottonwood, Dakota, Rice, and Winona. Janssen also suggested that nesting was again occurring in the Twin Cities area, because 15–20 individuals were observed in Scott County in June 1986. Later, Hertzel and Janssen (1998) reported confirmed nesting in Rice and Scott Counties in the southern metropolitan area. In addition, they confirmed nesting since 1970 in Anoka, Becker, and Roseau Counties.
The Minnesota Biological Survey (MBS) recorded 1,290 breeding season locations and greatly expanded the Chestnut-sided Warbler's reported contemporary breeding range in Minnesota (Minnesota Department of Natural Resources 2016). The MBS included breeding observation locations that straddled Carver/Scott and Redwood/Renville Counties in southern Minnesota and locations northwest to Clay, Kittson, Marshall, Otter Tail, Pennington, Red Lake, and Todd Counties.
The MNBBA participants included 3,781 breeding records of the Chestnut-sided Warbler. The distribution of records further expanded the breeding range southward, with the most extreme being the possible nesting in Fillmore County and confirmed nesting in both Dakota and Goodhue Counties (Figure 2). This was the first nesting record for Dakota County and the first in Goodhue County since Roberts (1932) reported it in 1925 (Figure 2). Nesting was also confirmed for the first time in Kanabec, Koochiching, Lake of the Woods, Mahnomen, Morrison, Pine, Sherburne, and Wadena Counties. Probable nesting included Benton, Clay, Kittson, Marshall, Pennington, and Todd Counties. Nesting was confirmed for 2.2% (103/4,747) of all blocks and for 6.2% of blocks where the species was observed (103/1,666) (Figure 3; Table 1). Relative to other species of warblers, it was easier to observe nesting activity for the Chestnut-sided Warbler, but this species is more ubiquitous within the state.
Green and Janssen (1975), Janssen (1987), and Hertzel and Janssen (1998) collectively provided evidence for the species' recolonization into southern and western portions of the state since the early 1900s. However, observers need to be wary of identifications only by song because of confusion with the song of the Yellow Warbler, the similarity of which was also discussed by Roberts (1932). This is especially true in the western and southern areas of Minnesota, where the Yellow Warbler is more common. The decline of the Chestnut-sided Warbler's range since the early 1900s has also been documented for Wisconsin, Illinois, and Missouri (Byers et al. 2013). They emphasized it had greatly benefitted and expanded its range due to logging activity and regeneration of second-growth forests that began in the early 1800s. As forests were later converted to agriculture and urban areas, the species' range began to decline, as observed by Roberts in the early 1900s.
In Minnesota, the species appears to be recolonizing areas formerly occupied in the west, southwest, and south, possibly because reforestation and protection efforts have increased. Small breeding populations much farther south and west still persist in the Ozark Plateau of Missouri and Arkansas, in eastern Iowa, and in north-central Colorado (Pfannmuller 2012). The Wisconsin breeding bird atlas confirmed nesting in several counties in its most southerly tier (Cutright et al. 2006). The species should be looked for in any suitable habitats in the southern and southwestern portions of Minnesota, but it should be confirmed by visual observation because of the similarity between its song and that of the Yellow Warbler.
*Note that the definition of confirmed nesting of a species is different for Breeding Bird Atlas projects, including the definition used by the Minnesota Breeding Bird Atlas, compared with a more restrictive definition used by the Minnesota Ornithologists' Union. For details see the Data Methods Section.