Overview
Minnesota Seasonal Status:
A regular breeding resident and migrant; a regular winter resident particularly along the North Shore of Lake Superior and on the Lower Mississippi River. The Common Goldeneye was an uncommon species during the Minnesota Breeding Bird Atlas (MNBBA).
North American Breeding Distribution and Relative Abundance:
Global in distribution, the Common Goldeneye can be found across the interior of Alaska and in Canada, Europe, and Asia. In North America, the southern limit of its breeding range is found in the northern Rockies, northern New England, and the northern Great Lakes region. Some of the highest breeding densities have been reported in northwestern Canada. Its distribution and relative abundance in southern Canada and the United States, as depicted by the federal Breeding Bird Survey (BBS), are shown in Figure 1.
Conservation Concern: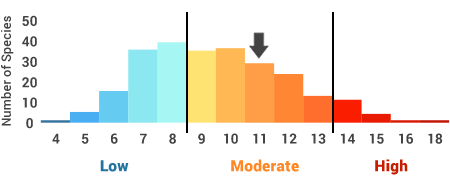 A game species, the Common Goldeneye was assigned a Moderately High Continental Priority by the North American Waterfowl Management Plan. Partners in Flight assigned it a Continental Concern Score of 11/20.
Life History
Migration:
A short- to medium-distance migrant that winters along the Alaska coast, through southern Canada, the United States, and into northern Mexico.
Food:
A diving duck that feeds primarily on aquatic invertebrates (insects, mollusks, and crustaceans) and aquatic plants; small fish and frogs are occasionally consumed.
Nest:
A secondary-cavity nester; it will also use nest boxes.
Minnesota Breeding Bird Distribution*
Ever since Roberts wrote his account of the species' status in Minnesota in 1932, the Common Goldeneye has been considered a breeding resident across the state's northern forest region. He remarked that the birds were especially numerous "in the lakes and streams of Cook and Lake Counties, north of Lake Superior." Surber, who visited the region in 1922, noted that goldeneyes were the most common duck in this region of the state. Indeed, "every lake and stretch of dead-water in the rivers [has] its quota of one to as many as half a dozen broods" (Roberts 1932). In those early years, the birds were also considered common a little farther west in northern Itasca County and in Itasca State Park. Confirmed nesting (nest with eggs) was only documented in Becker County (1883), but there were multiple reports of females with broods of small young from Cook, Itasca, and Lake Counties as well as from Leech Lake and Itasca State Park.
Extremely tolerant of cold temperatures, Common Goldeneyes have always been a regular sight on large bodies of water that remain open during Minnesota's cold winter months (Sayler and Afton 1981). At the turn of the century, such locales were Lake Superior, the Rainy River, and the Mississippi River from the Twin Cities south, including its major southern tributaries, such as the Cannon and Root Rivers (Roberts 1932).
Little has changed in the intervening years since Roberts wrote his comprehensive account of the species. Green and Janssen (1975) reported goldeneyes could be found breeding across north- central and northeastern Minnesota. Densities, however, were highest in two north-central counties, Beltrami and Itasca. Janssen (1987) delineated 14 northern counties where breeding had been confirmed since 1970; Aitkin, Cass, and Crow Wing Counties established the southern boundary of its breeding range in the state; Becker and Roseau Counties established the western boundary. By 1998, when Hertzel and Janssen published an updated breeding distribution map, nothing had changed.
Field staff with the Minnesota Biological Survey (MBS) reported 118 breeding season locations that were segregated into two major population centers: one in the northern regions of the Arrowhead region, and one in the central stretches of north-central Minnesota including Beltrami, Clearwater, Hubbard, and Itasca Counties. A few records were found farther south in Crow Wing, Morrison, and Otter Tail Counties (Minnesota Department of Natural Resources 2016).
During the MNBBA, participants reported 472 Common Goldeneye records from 6.8% (322/4,746) of the surveyed atlas blocks and from 5.9% (138/2,337) of the priority blocks. Breeding was confirmed in a total of 142 (3.0%) of the surveyed blocks (Figures 2 and 3; Table 1). Once again, the observations were not evenly distributed across the northern counties but were divided into two major population centers. The first was located in the northern Arrowhead region and included all of Cook County and northern Lake and St. Louis Counties; the second was located in north-central Minnesota, where the majority of reports came from southern Beltrami, western Itasca, and northern Cass and Crow Wing Counties. Outside of these areas, other records were scattered near Lake of the Woods to the north, Pennington County to the west, and Kanabec County to the south. The absence of birds between these two population centers is largely a consequence of the heavily industrialized Iron Range, which stretches across central St. Louis County west to southern Itasca County. In total, Common Goldeneyes were observed in 18 of Minnesota's 87 counties and were confirmed breeding in 16 counties. Breeding was confirmed as far south as northern Mille Lacs County.
The atlas findings are similar not only to those of the MBS but also to the outcomes of earlier work by Zicus and Hennes (1988), who conducted an extensive survey of cavity-nesting waterfowl in the state using nest boxes. With the exception of a few records just beyond what was formerly considered the species' breeding range, little has changed in the past 100 years. Elsewhere there appear to have been no major historical changes in the species' breeding range apart from regional declines in abundance (Eadie et al. 1995). Goldeneyes are common throughout Ontario, and the province witnessed no major change in the species' distribution between the first (1981–1985) and second (2001–2005) atlases (Cadman et al. 2007). The Common Goldeneye is a rare breeding species in northern Wisconsin (Cutright et al. 2006) and uncommon in Michigan, where reports are primarily limited to the Upper Peninsula and the very northern regions of the Lower Peninsula (Chartier et al. 2013).
*Note that the definition of confirmed nesting of a species is different for Breeding Bird Atlas projects, including the definition used by the Minnesota Breeding Bird Atlas, compared with a more restrictive definition used by the Minnesota Ornithologists' Union. For details see the Data Methods Section.