Overview
Minnesota Seasonal Status:
A regular but local permanent resident in northern Minnesota; the Great Gray Owl was rare during the Minnesota Breeding Bird Atlas (MNBBA).
North American Breeding Distribution and Relative Abundance:
Great Gray Owls are widely distributed across the boreal forests of Canada from Quebec to Alaska and south in the Rocky Mountains to northern California and northwestern Wyoming. In the Midwest, the species is found in northern Minnesota, and breeding birds have been found in Wisconsin and Michigan. It is also a Holarctic species that occurs in northern North America and across northern Eurasia.
Conservation Concern: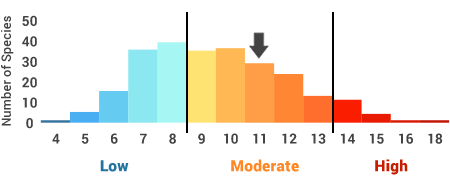 Assigned a Continental Concern Score of 11/20 by Partners in Flight; designated a Regional Forester Sensitive Species in the Superior National Forest by the U.S. Forest Service.
Life History
Migration:
Permanent resident; irruptions, invasions, and southward movements are frequently recorded.
Food:
Primarily consumes small mammals, some birds, and medium-sized mammals.
Nest:
Uses the tops of dead trees, old bird nests, mistletoe clumps, and man-made platforms; sometimes nests on the ground.
Minnesota Breeding Bird Distribution*
Hatch (1892) considered the Great Gray Owl a species that "is really a more northern bird than the Snowy Owl" and considered it not "very common." Most of his descriptions were of birds mounted that appeared to have been collected during winter, because he said they "retire northward in the latter part of April."
Great Gray Owls were also known primarily as a winter visitor by Roberts (1932). He noted a suspected breeding female that was collected by P. O. Frykland in April 1926 in Roseau County. In the 1936 edition of his treatise on Minnesota birds, Roberts confirmed the first nesting record for Minnesota from Roseau County in April 1935, where a nest with 3 eggs was found by a trapper and delivered to Frykland (see also Turner 1935).
Forty years later, Green and Janssen (1975) described the Great Gray Owl as a "casual summer resident." They noted the 1935 nesting record and the 1970 summary of another nest in Roseau County, described in detail by Nero (1970). They also reported breeding season observations from 7 counties, including Aitkin, Clearwater, Cook, Itasca, Lake, Lake of the Woods, and St. Louis. There was also a reliable, though unusual, summer observation in Anoka County on June 11, 1981 (Maxson 1981).
In 1982, Johnson summarized that there "are currently 49 nest records for the state." He included confirmed nests from 9 counties: Aitkin, Beltrami, Cass, Itasca, Koochiching, Lake of the Woods, Pine, Roseau, and St. Louis. Based on the new breeding information, Janssen (1987) identified the Great Gray Owl as a summer resident and a "local permanent resident in the north." He reported confirmed nesting since 1970 in 7 counties, including all of the counties listed by Johnson except Beltrami and Pine Counties. He noted there had been sight observations of Great Gray Owls from Carlton, Cook, and Lake Counties. In 1998, Hertzel and Janssen did not add any additional counties to the confirmed list of counties since 1970.
In the late 1980s, the Minnesota Biological Survey (MBS) began intensive coverage of counties in Minnesota. The MBS reported 15 breeding season locations (Minnesota Department of Natural Resources 2017). The locations included 5 in Lake County; the rest were in Aitkin, southern Beltrami, Itasca, southeastern Pennington, Roseau, and St. Louis Counties.
MNBBA participants reported 83 records from 11 counties, spread from Cook to Clearwater and Roseau Counties, and south to Aitkin County and northern Cass County (Figure 1). The records included 9 confirmed nesting blocks in 4 counties: 1 in Aitkin County, 1 in Cass County, 3 in Lake County, and 4 in St. Louis County (Figure 2; Table 1). A total of 22 of the 65 blocks (34%) with records were in priority blocks. Records with some potential evidence of nesting were from all of the 10 counties previously mentioned as having confirmed nesting, except Pine County. These data support Janssen's (1987) description of the Great Gray Owl as a local permanent resident in northern Minnesota.
In their review of the Great Gray Owl in North America, Bull and Duncan (1993) simply noted that there were no data on historical changes to its distribution. Johnson (1982) stated that "in all likelihood we have always had a regular, fluctuating, but until recently an undiscovered population of Great Grays in the state." Great Gray Owls nest in very remote areas that were not well covered in the 1800s or early 1900s by bird watchers. The increase in coverage that has occurred since the first nest was discovered in 1935 and especially in the 1970s is the best explanation for any apparent increase of the species' range southward into Minnesota.
Robbins (1991) documented nesting in Wisconsin following extensive surveying efforts in the 1980s. Many reliable spring observations were made, but only after 72 nest platforms were erected between 1979 and 1986 was a successful nest found, in Ashland County in northern Wisconsin in 1988 (Merkel 1989). Michigan recorded its first nest in 2004, at Seney National Wildlife Refuge in the eastern Upper Peninsula (Chartier et al. 2013). Chartier et al. also stated that increased surveying efforts in Michigan and in other places have yielded increased breeding records for this species.
*Note that the definition of confirmed nesting of a species is different for Breeding Bird Atlas projects, including the definition used by the Minnesota Breeding Bird Atlas, compared with a more restrictive definition used by the Minnesota Ornithologists' Union. For details see the Data Methods Section.