Overview
Minnesota Seasonal Status:
A regular but rare breeding species and a common migrant; regular during the winter but largely limited to the North Shore of Lake Superior and southeastern Minnesota from the Twin Cities south. A very rare species during the Minnesota Breeding Bird Atlas (MNBBA).
North American Breeding Distribution and Relative Abundance:
A Holarctic species, in North America the species' breeding distribution spans the interior of western Canada and Alaska, with small extensions south into Montana, the Dakotas, and northern Minnesota. Rare throughout its breeding range, the core of its distribution is in the Canadian Prairie Provinces (Figure 1).
Conservation Concern: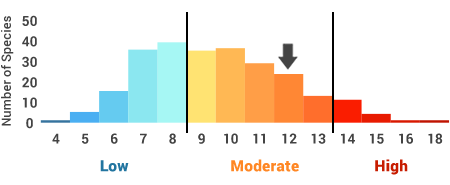 Assigned a Continental Concern Score of 12/20 by Partners in Flight and designated a species of High Concern by the North American Waterbird Conservation Plan; officially listed as an Endangered Species in Minnesota and designated a Species of Greatest Conservation Need.
Life History
Migration:
Medium-distance migrant that winters in coastal waters or inland lakes in the southeastern United States.
Food:
A diver that feeds on aquatic insects, small fish, and crustaceans.
Nest:
A floating platform constructed with aquatic vegetation and often anchored to emergent vegetation.
Minnesota Breeding Bird Distribution*
In the early 1900s, the Horned Grebe was abundant in Minnesota during the spring and fall migration seasons. One particular spring season, in 1928, Roberts (1932) commented that the numbers passing through southern Minnesota were "truly astonishing."
But their abundance during the summer months was less clear. Although Roberts described the grebe as a breeding resident throughout the state, he wrote, "It is apparently rare during the nesting season in the southern counties, but northward, it is common in many suitable localities." Indeed, one observer reported they were more common than Pied-billed Grebes at Mud Lake in Marshall County. Nests were documented in just a few widely scattered localities: Heron Lake (1885) and Loon Lake (1900) in Jackson County, Cedar Lake in McLeod County (1926), and Mud Lake in Marshall County (1901). A female with young also was reported in Lincoln County (1897); 2 immature birds were reported on Silver Island Lake in Lake County (1930); and a number of adults were suspected nesting on Twin Lakes in Kittson County (1929). Whether these were widely dispersed nestings of lone pairs or simply examples of a more abundant and widely distributed nesting population, as Roberts contended, is less clear.
Nevertheless, by the time that Green and Janssen (1975) provided an updated account of the species 40 years later, nesting was largely confined to the northwest region of the state, principally Kittson, Mahnomen, Marshall, and Roseau Counties. The overall paucity of records confined to such a small area of the state led to growing concern about the species' status. In 1984 it was officially classified as a state Special Concern Species (Coffin and Pfannmuller 1988).
A few years later, Janssen (1987) reported that nesting had been confirmed in Pennington County as well. He noted there were reports in the late 1970s and early 1980s of adults and broods on Lake Amelia in Pope County and adults in Becker and Cook Counties. Unlike Roberts (1932) and Green and Janssen (1975), he also mentions a 1931 nesting record in Wright County and a 1944 record from Kandiyohi County, but no additional details were noted. His distribution map identified 4 counties where nesting had been confirmed since 1970: Marshall, Pennington, Pope, and Roseau. Several years later Hertzel and Janssen (1998) added Kittson County to the list, but details regarding confirmed nesting in this county beyond 1966 could not be found.
During the summer of 1991, Boe (1992) undertook a comprehensive review of all known Horned Grebe nesting records and conducted an extensive field survey of potential nesting habitat in northwestern Minnesota. She found only 17 documented nesting attempts reported from 1931 to 1989. Seventy-six wetlands in northwestern Minnesota that were identified as having suitable habitat for Horned Grebes were surveyed. Unfortunately only 1 bird, on the Roseau River Wildlife Management Area in Roseau County, was found. The absence of all but 1 bird in the very region that was believed to be the species' stronghold led to its reclassification as a state Threatened Species in 1996 (Minnesota Department of Natural Resources 1995). Although there have been occasional reports of individuals during the summer months since Boe conducted her field investigation, more than 20 years passed before nesting was confirmed again in northwestern Minnesota during the MNBBA in 2013. Even the extensive fieldwork conducted by the Minnesota Biological Survey resulted in the identification of only 3 breeding season locations: 2 in north-central Roseau County and 1 in southern Beltrami County (Minnesota Department of Natural Resources 2016).
Beginning in 2008 there were a handful of reports of adults with young in northeastern Minnesota. One report specifically mentioned the presence of flightless young, but there were no additional details (Minnesota Ornithologists' Union 2016). These were all late-summer reports outside of the species' recent breeding range. Because Horned Grebes begin moving from their nesting grounds in late summer, it is possible that the observations were early migrants that nested elsewhere (J. Green pers. com.; Minnesota Department of Natural Resources 2012). Nesting records now are so rare that any account of possible nesting in the state should be accompanied with good documentation.
During the MNBBA, observers reported Horned Grebes in only 4 of the surveyed atlas blocks and in only 1 of the priority blocks. Breeding evidence was reported in 1 block within the Agassiz National Wildlife Refuge, where approximately 4 breeding pairs and 1 brood were observed in 2013 (Figure 2; Table 1). Three other possible breeding records were found in northwestern Itasca County, southern Beltrami County, and Cass County (Figure 2). Due to the continuing paucity of reports, the Horned Grebe was again reclassified in 2015 and is now a state Endangered Species (Minnesota Department of Natural Resources 2015).
Although it is clear that the species has declined in abundance and distribution in Minnesota in the past 50 to 60 years, the true extent of its distribution in the late 1800s and early 1900s is not well understood. Commenting on historical changes to its breeding range in North America, Stedman (2000) noted the species may have bred farther south and east in earlier times, but the evidence is mixed. Some localities where the species is alleged to have bred, such as in New York and Ontario, may not have supported breeding populations, or, at best, just a few pairs. In other localities, however, such as New Brunswick, Quebec, and South Dakota, he believed there is solid evidence that its breeding range has retreated.
Regardless, the Horned Grebe's status in Minnesota appears tenuous at best. Although Minnesota birders can still enjoy this species during migration at numerous locations statewide, it is a rare and elusive breeding species.
*Note that the definition of confirmed nesting of a species is different for Breeding Bird Atlas projects, including the definition used by the Minnesota Breeding Bird Atlas, compared with a more restrictive definition used by the Minnesota Ornithologists' Union. For details see the Data Methods Section.