Overview
Minnesota Seasonal Status:
A regular breeding resident and migrant; the Loggerhead Shrike was a rare species during the Minnesota Breeding Bird Atlas (MNBBA).
North American Breeding Distribution and Relative Abundance:
Distributed across the southern half of the United States, the Loggerhead Shrike extends its range northward throughout the Great Plains to western Montana and east through the grasslands of the Upper Midwest. It also is found in the southern Prairie Provinces and in central Washington and central Oregon. It is absent from the mountains of western Montana, Idaho, eastern Washington, and eastern Oregon. To the south, it is found throughout central and western Mexico. Sparsely distributed throughout their range, Loggerhead Shrikes are most abundant along the Gulf coast of eastern Texas and Louisiana (Figure 1).
Conservation Concern: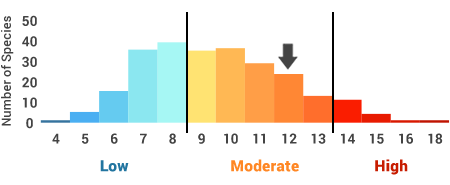 Assigned a Continental Concern Score of 12/20 and identified as a Common Bird in Steep Decline by Partners in Flight; officially listed as an Endangered Species in Minnesota and designated a Species in Greatest Conservation Need by the Minnesota Department of Natural Resources.
Life History
Migration:
In the northern portion of its range, including Minnesota, the species is a short-distance migrant that winters in the southern United States and Mexico. Farther south, breeding populations are year-round residents.
Food:
Primarily large insects, such as grasshoppers and crickets, as well as some small birds, reptiles, mammals, and carrion. Well-known for attacking larger prey behind the head and paralyzing them following pursuit; large invertebrates and vertebrates are also impaled on a thorny bush or barbed wire fence before consuming.
Nest:
Open-cup nest placed in a dense and often thorny shrub or small tree.
Minnesota Breeding Bird Distribution*
Roberts (1932) described the Loggerhead Shrike as an "abundant" summer resident throughout southern Minnesota, becoming "increasingly less common northward through the Red River Valley". The shrike was frequently seen perched on telephone wires in the early 1900s, and Roberts provided a metric of the shrike's former abundance that present-day birders can easily relate to. During a 12-day automobile trip through southwestern Minnesota in June 1926, he counted 89 Loggerhead Shrikes as he traveled along nearly 500 miles of roadways. A similar trip two years later, which originated in Douglas County in west-central Minnesota and ended in Kittson County on the Canadian border, resulted in a count of 41 shrikes. Today, birding enthusiasts would be delighted if, upon taking similar road trips, they sighted just a couple of shrikes! At the time, Roberts had compiled confirmed nesting records (nests with eggs) from 9 counties (Rock, Pipestone, Martin, Mower, Fillmore, McLeod, Hennepin, Traverse, and Polk) and inferred nesting records (e.g. adults with juveniles) from 3 counties (Marshall, Sherburne, and Stearns).
When Green and Janssen provided an updated account of the species in 1975, there was little in their description that suggested the species had experienced any change in its status. Although they noted it was very scare in the northeastern region and in adjacent counties in north-central Minnesota, they still described the Loggerhead Shrike as a statewide resident, with nesting records as far north as the town of Chisholm in St. Louis County.
But change was well under way by the early 1970s. The shrike was added to the National Audubon Society's Blue List in 1972, an early-warning system designed to bring attention to declining species. And when the federal Breeding Bird Survey (BBS) was begun in the mid-1960s, the Loggerhead Shrike demonstrated a 50% population decline in the first 15 years of the survey (Coffin and Pfannmuller 1988). Indeed, these changes led to the official classification of the species as state Threatened in 1984. Only 12 years after Green and Janssen provided their updated account in 1975, Janssen's 1987 update described the shrike as "a rare and very local resident in the state." Its distribution was narrowly restricted to western Minnesota, from Clay County south to the Iowa border, to the Minnesota River valley, and to eastern Minnesota, from Morrison County south. Breeding had been confirmed in 18 counties since 1970. Hertzel and Janssen (1998) later added 5 more counties to the list.
Classification as a state Threatened Species spurred an increased emphasis on survey work and field investigations. Most significant was the initiation of a two-year assessment of the shrike's statewide distribution, population dynamics, and habitat selection from 1986 to 1988 (Brooks 1988). The statewide survey, conducted during the study's 1986 field season, identified 32 nesting pairs in 12 counties that ranged from Clay County in the northwest to Fillmore County in the southeast. Fifty-six percent of the pairs, however, were located in just 3 widely dispersed counties: Sherburne (8 pairs), Clay (6 pairs), and Goodhue (4 pairs). When Brooks compared her results with Loggerhead Shrike reports compiled from seasonal reports published by the Minnesota Ornithologists' Union, it appeared that little had changed in the past 10 years (Brooks and Temple 1986).
In 1989, the Minnesota Department of Natural Resources (DNR) launched a Loggerhead Shrike monitoring program built on the outcomes of Brooks's field studies. Eight road transects were established in areas with the highest nesting concentrations. Conducted annually from 1989 through 1994, the monitoring indicated further declines in the species' abundance. Concern regarding the effectiveness of the survey, however, prompted the department to launch a new study in 1995 and 1996 designed to assess the most effective and efficient method for monitoring population trends (Eliason 1996). During the 1995 field season, 24 nesting attempts were observed in 13 counties; during the 1996 field season, only 13 nesting attempts were observed in 8 counties (Eliason 1996). Additional studies confirmed that the road transects surveyed from 1989 through 1994 did not provide as accurate an assessment of the population as a more in-depth survey of known territories. Unfortunately, the amount of personnel time required to implement the latter approach was not considered cost-effective.
In subsequent years, targeted survey work was limited. Field work conducted by the Minnesota Biological Survey identified 33 breeding season locations for the Loggerhead Shrike, all within the primary breeding range described by Janssen (1987). Nearly one-third of the records, however, were restricted to Clay and Dakota Counties. Then, in 2008, DNR staff conducted a survey in Dakota, Goodhue, and Rice Counties and in several counties in the Anoka Sandplain that had previously supported nesting pairs. Loggerhead Shrikes were observed at only 7 locations (Minnesota Department of Natural Resources 2012). The continued decrease in the number of reports led to the reclassification of the shrike as a state Endangered Species in 2013 (Minnesota Department of Natural Resources 2013).
During the MNBBA, observers reported 50 Loggerhead Shrike records in 0.7% (33/4,737) of the surveyed atlas blocks and in 0.6% (13/2,337) of the priority blocks. Breeding evidence was confirmed in 14 blocks (Figures 2 and 3; Table 1). The birds were observed in 18 of Minnesota's 87 counties and were confirmed breeding in 7 counties: Anoka, Clay, Dakota, Goodhue, Olmsted, Yellow Medicine, and Wilkin. Wilkin and Yellow Medicine Counties were new additions to a list of counties with confirmed nesting published by Hertzel and Janssen in 1998. Breeding was reported as possible in Polk County, where a family of birds was observed perched on a telephone wire. The young, however, were fully capable of flight, so the exact block where nesting occurred could not be determined. In addition to the records compiled by the atlas, 1 nesting record was reported to the Minnesota Ornithologists' Union during the atlas period in Otter Tail County on August 7, 2011; unfortunately details were insufficient to assign it to an atlas block (Minnesota Ornithologists' Union 2016). An atlas observation from southern St. Louis County was particularly interesting, although this was not the first time shrikes had been reported in the vicinity; summer reports from the county date back to at least 1966 (Minnesota Ornithologists' Union 2016).
Although Loggerhead Shrikes continue to be reported from widely scattered sites throughout the state each year, the majority of confirmed nesting reports remain restricted to Dakota County. This is a notable shift from the mid-1980s, when Brooks and Temple (1986) documented 12 of 32 nests from the central Minnesota counties of Benton, Morrison, and Sherburne. That same year, 1986, only 2 nests were reported in Dakota County. By 1995, the 3 central counties supported only 1 nest, while there were 9 nest attempts in Dakota County (Eliason 1996). The Loggerhead Shrike clearly has become a very rare and vulnerable species in Minnesota.
Despite its rarity, an analysis of suitable habitat by the MNBBA illustrates that a large portion of western and southern Minnesota still provides habitat potentially conducive to supporting breeding Loggerhead Shrikes (Figure 4). The reasons for their absence over much of the suitable landscapes are not well understood (Yosef 1996).
Elsewhere in its breeding range, the species has experienced declines similar to those documented in Minnesota. As eastern forests were cleared, small farm fields bordered by woody plantings provided ideal habitat for the shrike in the late 1800s and early 1900s. Similar range expansions occurred in the northern Great Plains and north into southern Canada as farm shelterbelts provided new nesting habitat (Cade and Woods 1997). As agricultural practices intensified, the large, unbroken fields of wheat and corn became less suitable habitat for the shrike. Declines were noted in many regions as early as the 1930s, 1940s, and 1950s (e.g., Cade and Woods 1997; Rodewald et al. 2016; Chartier et al. 2013). Not only did the species' abundance decline dramatically, the overall extent of its breeding range receded "well south of its maximum known breeding distribution" earlier in the 20th century (Cade and Woods 1997).
*Note that the definition of confirmed nesting of a species is different for Breeding Bird Atlas projects, including the definition used by the Minnesota Breeding Bird Atlas, compared with a more restrictive definition used by the Minnesota Ornithologists' Union. For details see the Data Methods Section.