Overview
Minnesota Seasonal Status:
A regular breeding resident, migrant, and likely winter resident. Targeted searches by Hertzel and Hertzel (2000) during the winters of 1998–1999 and 1999–2000 strongly indicated overwintering of Long-eared Owls in the southern third of the state. The Long-eared Owl was a rare species during the Minnesota Breeding Bird Atlas (MNBBA).
North American Breeding Distribution and Relative Abundance:
The Long-eared Owl is a very widely distributed species that occurs across North America, Eurasia, and in parts of Africa, the Azores, and the Canary Islands. The species' breeding range in North America extends from the Maritime provinces to British Columbia, south in the Rocky Mountains to Arizona and New Mexico, and the northern tier of U.S. states from Colorado to southern Minnesota, and east to New York State.
Conservation Concern:
Assigned a Continental Concern Score of 13/20 and designated a Yellow Watch List species by Partners in Flight.
Life History
Migration:
Short- to medium-distance migrant that winters in the central and southern United States to Mexico. Populations are permanent residents in the Rocky Mountains, southern Ontario, and some of the southern regions of the northern tier of U.S. states. Northern populations in Canada and many of the northern portions of U.S. states are migrants.
Food:
Consumes small mammals, especially voles, deer mice, and shrews, and occasionally birds, primarily captured below the canopy in open forests.
Nest:
Stick nest in a tree made by another species, such as an American Crow, a Common Raven, or another raptor, and occasionally on the ground or in a tree cavity.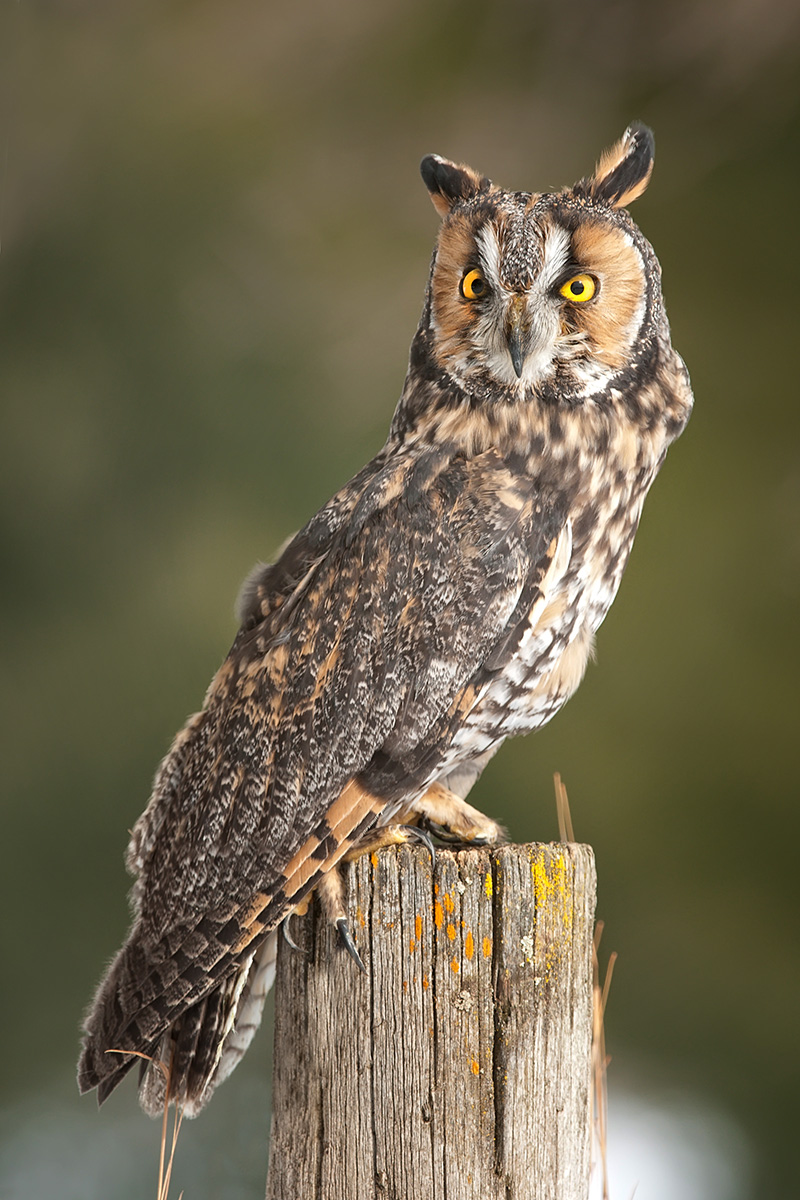 Minnesota Breeding Bird Distribution*
Roberts (1932) described the Long-eared Owl as "common" and a generally distributed summer resident throughout the state. He cited evidence that it was a permanent resident in the southern portions of the state but only a summer resident in the northern forested areas. Confirmed nests with eggs were found from 1888 to 1922 in Hennepin, Isanti, Meeker, Polk, and Roseau Counties. Inferred nesting with only the nest observed was recorded in Goodhue and Stearns Counties. Roberts noted that the Stearns County nest was empty, but the "female contained an egg almost ready to be deposited."
In contrast with Roberts, Green and Janssen (1975) described a more restricted summer distribution. They wrote that Long-eared Owls were "resident throughout the wooded portions of the state" but not known to nest on the prairie or even in the wooded valleys, except in the northwestern region near Ada, Norman County, and Crookston, Polk County. No nesting records were included.
Johnson (1982) summarized 51 nesting records from 1878 to 1981. He listed 22 counties with nesting records, including the following not included by Roberts (1932): Aitkin, Becker/Otter Tail, Cass, Crow Wing, Dakota, Hubbard, Marshall, Mille Lacs, Morrison, Norman, Ramsey, Sherburne, St. Louis, Washington, and Watonwan. Johnson noted that the Becker/Ottertail County record was too vague to identify the county because the 1932 record was reported simply as "near Frazee; a city near the county line."
Janssen (1987) described the Long-eared Owl's distribution as the "heavily wooded portions of east-central, central, north-central, and portions of the northwestern regions." Areas along the Minnesota River floodplain from Nicollet County to Big Stone County were also included in his distribution map. He reported that there were no records of nesting from the prairies in the west-central, southwest, or south-central regions. He stated that its status in the southeastern portion is unknown but that it is assumed to be a nesting species in that region. Janssen included confirmed nesting since 1970 in 10 counties, of which Stearns County was a new county not included in Johnson (1982). In their 1998 updated map, Hertzel and Janssen included 11 counties with confirmed nesting since 1970. They did not include the Watonwan County record but added a new county nesting record in Kandiyohi County. The Minnesota Biological Survey reported only 1 breeding season location, but it was from a county not previously mentioned, southeastern Douglas County (Minnesota Department of Natural Resources 2017).
Participants in the MNBBA reported 34 records within 28 of the surveyed blocks. The distribution of blocks was patchy with a majority of the blocks (54%, 15/28) in Lake and St. Louis Counties (Figures 1 and 2; Table 1). Most of the rest were from northwestern Minnesota (Beltrami, Clearwater, Kittson, Marshall, Norman, and Roseau Counties). Single locations were in Morrison and Todd Counties in central Minnesota, and in Houston, Olmsted, and Winona Counties in southeastern Minnesota. Two confirmed nesting records were included from southern Lake County and north-central St. Louis County.
The Long-eared Owl, being nocturnal, cryptically plumaged, and not particularly vocal, can be difficult to observe or hear. In addition, vocalizations occur primarily from February to March and at night, when the number of observers is limited. Johnson (1982) underscored his opinion that this species is more abundant than current nest and sight records reveal because of its short spring singing period and its nocturnal habits. Eckert (1978) noted that when the Long-eared Owl is foraging at dusk in open meadows, it may be misidentified as a Short-eared Owl. The higher number of detections in Lake and St. Louis Counties was primarily due to efforts by persistent individuals with exceptional field skills, Dave Grosshuesch and Jim Lind in Lake County, and Steve Wilson in St. Louis County.
In their review of the Long-eared Owl in North America, Marks et al. (1994) commented on the lack of data to assess historical changes in the species' distribution. The cumulative nesting records of the Long-eared Owl in Minnesota indicate the species has a wide distribution within the state, ranging throughout the wooded portions, and having a scattered presence in more open landscapes, where forest patches, riparian forests, and coniferous patches such as pine plantations exist. The breeding distribution map presented by Janssen (1987) likely represents where the species was historically found and is still present today.
The paucity of observations of the Long-eared Owl in Minnesota is similar to the results of breeding bird atlases in Wisconsin (Cutright et al. 2006), Michigan (Chartier et al. 2013), and Ontario (Cadman et al. 2007). For example, during Wisconsin's breeding bird atlas from 1995 to 2000, participants documented 5 confirmed nesting records, which were widely scattered throughout the central and southern portions of the state (Cutright et al. 2006). In contrast, the Manitoba Breeding Bird Atlas (Bird Studies Canada 2017) recorded a substantial number of Long-eared Owl records in the southeastern portions of the province during their recent atlas from 2010 to 2014. Unfortunately, as articulated by Neri and Mackentley (in Chartier et al. 2013) in their summary of the Long-eared Owl in Michigan, "a true understanding of the Long-eared Owl's status as a breeder is likely to remain elusive for the foreseeable future." It is likely that this scenario will be true for Minnesota as well unless targeted search efforts for breeding are completed, such as the winter effort carried out by Hertzel and Hertzel (2000) in southern Minnesota.
*Note that the definition of confirmed nesting of a species is different for Breeding Bird Atlas projects, including the definition used by the Minnesota Breeding Bird Atlas, compared with a more restrictive definition used by the Minnesota Ornithologists' Union. For details see the Data Methods Section.