Overview
Minnesota Seasonal Status:
A regular breeding resident and migrant in southeastern Minnesota. The Louisiana Waterthrush was a rare species during the Minnesota Breeding Bird Atlas (MNBBA).
North American Breeding Distribution and Relative Abundance:
A species of the eastern deciduous forest, the Louisiana Waterthrush has a breeding range that is restricted to the eastern United States and southern Ontario. It breeds as far west as eastern Nebraska, Oklahoma, and Texas. It reaches the northwestern periphery of its breeding range along the small tributaries and major river valleys of the Mississippi, Minnesota, and St. Croix Rivers in Minnesota. The species is sparsely distributed throughout its breeding range; the majority of birds breed in the Appalachian Mountain region (Figure 1).
Conservation Concern: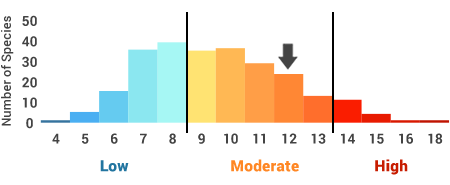 Assigned a Continental Concern Score of 12/20 by Partners in Flight; officially classified as a Special Concern Species in Minnesota and designated a Species in Greatest Conservation Need by the Minnesota Department of Natural Resources.
Life History
Migration:
A medium- to long-distance migrant that winters in the Caribbean and Central America.
Food:
Primarily aquatic invertebrates secured by probing along the steam edge or from atop exposed rocks. Also hawks and hovers to obtain flying insects or prey from foliage.
Nest:
Open-cup nest nestled in the roots of an upturned tree, within a stream bank, or underneath a downed tree.
Minnesota Breeding Bird Distribution*
Roberts (1932) provided an account of the Louisiana Waterthrush's northward expansion into Minnesota beginning with the first state record in 1883 along the Root River in Fillmore County. By 1893 it was reported common in that area, and by 1898 it was found as far north as Red Wing in Goodhue County. Just four years later, in 1903, an adult male was taken in Hennepin County near Minnehaha Falls. When Roberts wrote his account of the species two decades later, the Louisiana Waterthrush had become a regular, but uncommon breeding species in the Twin Cities region.
Once the species reached the mouth of the St. Croix River, it continued to expand north, and "hundreds" were reported along the river valley as far north as Taylors Falls in the summer of 1908. When Surber visited southern Pine County a decade later, during the summers of 1918 and 1919, he reported Northern Waterthrushes as rare along Crooked Creek, Sand Creek, and at the mouth of the Tamarack River, all tributaries of the St. Croix River. Roberts, however, assigned Surber's observations to the Louisiana Waterthrush (Green and Janssen 1975). Today it is known that both species occur in Pine County, so both Surber and Roberts may have been correct. The species also followed the Minnesota River to the west, occurring as far as eastern Carver County. Although it was definitely expanding its range, Roberts commented that it was "still most numerous in the Mississippi River bottom-lands south of Red Wing, Goodhue County, and along the St. Croix River as far north as Pine County." At the time, confirmed or inferred nesting records were confined to Carver, Hennepin, Houston, and Washington Counties.
Following Roberts's accounts in the early 20th century, there were few reports of Louisiana Waterthrushes outside of the traditional locations in southeastern Minnesota and along the St. Croix River. Indeed, a large number of reports came from just two localities: Beaver Creek Valley State Park in Houston County, and near the small town of Franconia in Chisago County (Langley [Longley] 1973; Minnesota Ornithologists' Union 2016). New summer reports were rare but began to document the species' range extension farther north along the Mississippi River in Stearns County (Eckert 1970), and farther west along the Minnesota River in Blue Earth, Nicollet, Scott, and Sibley Counties (Minnesota Ornithologists' Union 2016). By 1975 Green and Janssen had added inferred and confirmed breeding records in Chisago, Stearns, and Winona Counties to the 4 counties already identified by Roberts (1932).
Roberts's decision to reassign Surber's early Northern Waterthrush records in Pine County to the Louisiana Waterthrush was reaffirmed by multiple observations in the county in the early 1980s, including breeding confirmation in 1983 (Zumeta and Cincotta 1983). By 1987, Janssen's updated account noted the birds were local residents not only along the Mississippi and St. Croix River valleys but also "up the Minnesota River Valley as far as Blue Earth County." He included a distribution map that identified 5 counties where nesting had been confirmed since 1970: Chisago, Pine, Houston, Olmsted, and Winona. Hertzel and Janssen (1998) later added Fillmore and Washington Counties to the list.
In subsequent years, migrants were reported as far north as Clay County (O'Connor 2005), Red Lake County (Janssen 1988), and Kittson County (Bolduc 1989; Svingen 1996). But each report was of a single bird reported in May or during the fall migration. To date, nesting has never been confirmed north of Pine County.
Meanwhile, field biologists working with the Minnesota Biological Survey since the late 1980s reported a total of 83 breeding season locations for the Louisiana Waterthrush. Most records were restricted to the species' primary range in southeast and east-central Minnesota; only 2 records stretched as far west as Nicollet and Blue Earth Counties and as far north as Pine County (Minnesota Department of Natural Resources 2016).
During the MNBBA, participants reported Louisiana Waterthrush detections in only 10 of the surveyed atlas blocks and in just 4 of the priority blocks (Figures 2 and 3; Table 1). Breeding was confirmed in only 1 block. The birds were reported from 10 of Minnesota's 87 counties and were confirmed breeding in only 1 county, Washington. The farthest west they were reported was in the Minnesota River valley in a block that straddled northern Brown and western Nicollet Counties.
When Roberts wrote his comprehensive account of the Louisiana Waterthrush's arrival to Minnesota in 1932, he predicted that the species would continue its westward expansion, as so many other avian immigrants from the south, such as the Red-bellied Woodpecker and Blue-gray Gnatcatcher, had done during the same time period. Although the Brown County/Nicollet County MNBBA record represents an extension of the species' range by nearly 140 river miles west of where it was found in Carver County in 1928, there have been no other significant changes to the species' range in Minnesota since the middle of the 20th century. Elsewhere, however, populations were expanding north, in New England, including in New York, Vermont, and Connecticut, and in Michigan, in the latter half of the 20th century. Biologists speculated that these movements may have been in response to new habitat opportunities made available by maturation of forests in areas that had been logged in the late 19th and early 20th centuries (Mattsson et al. 2009).
*Note that the definition of confirmed nesting of a species is different for Breeding Bird Atlas projects, including the definition used by the Minnesota Breeding Bird Atlas, compared with a more restrictive definition used by the Minnesota Ornithologists' Union. For details see the Data Methods Section.