Overview
Minnesota Seasonal Status:
Former permanent resident. Now introduced; no wild populations. The Northern Bobwhite was very rare during the Minnesota Breeding Bird Atlas (MNBBA).
North American Breeding Distribution and Relative Abundance:
The Northern Bobwhite is found primarily in the Great Plains, in the eastern tallgrass prairie, and throughout the southeastern United States. Its midwestern population is sparse north of southern Iowa, and the species is rare to absent along the Appalachian Mountains. This game bird is well studied in the United States, and 22 subspecies have been described. Highest densities have been observed in western Oklahoma and southern Texas (Figure 1).
Conservation Concern: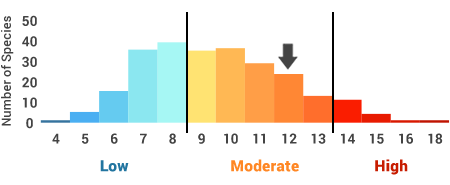 Assigned a Continental Concern Score of 12/20 and designated a Common Bird in Steep Decline by Partners in Flight.
Life History
Migration:
Permanent resident where it exists.
Food:
Consumes primarily plants and seeds with varying amounts of arthropods.
Nest:
On the ground in a shallow depression lined with grass or leaves and with protective vegetation above.
Minnesota Breeding Bird Distribution*
In Minnesota, this quail's history and status are not easy to unravel. There are three periods to consider. First is the early exploration and presettlement time. Next are the decades of opening up the wooded prairie margin to farms and, at the same time, extensive introductions of game-farm birds and a possible expansion of populations from the south. Lastly, in recent decades, after agency releases were halted in the 1950s, better survey methodologies were utilized, and knowledge improved about the Northern Bobwhite in Minnesota.
Roberts (1932) summarized the absence of quail at presettlement time: "The various explorers into the country that is now Minnesota in the early part of the nineteenth century (Keating and Thomas Say of the Long Expedition, Schoolcraft, Featherstonhaugh, and others), who mentioned both game- and non-game birds, have nothing to say about seeing Quail." Surveys and mapping from 1960 to 2015 indicate that there is not now a viable breeding population, and birds seen in the field are most probably released or escaped. This species now is essentially extirpated as a wild species in Minnesota. During the period from settlement to the 1950s, the status of Northern Bobwhite is quite murky, as will be evident from what follows.
A self-sustaining population was not present in presettlement times nor is one present in Minnesota today. Describing the lack of information about the Northern Bobwhite in the decades from the 1870s to 1960s, in 1929 Gustav Swanson expressed the difficulty thus:
Frequently we find in the periodicals or in the daily press references to the introduction of Bob-white or quail . . . into Minnesota, and it seems to be quite generally known that the bird is not native to the state, but it has been brought in by interested sportsmen. However, when a search is made for actual records of birds introduced these references are for the most part found to be conspicuous for their lack of definiteness and real value.
 There are a few bits of more explicit information. One that Swanson (1929) discussed concerned the captive-reared birds that were released near Fort Snelling sometime around 1840. It is assumed that they did not persist.
Roberts gives some facts about quail reported in the 1880s and 1890s, most particularly notes from Dr. Hvoslef of Lanesboro, Fillmore County: "Last winter, 1892–1893, I again saw a few flocks of Quail after it had been almost entirely absent for several years, and during the summer of 1897 I saw quite a number." Roberts reported several other counties with records during that time: Houston, Lincoln, McLeod, and Waseca. Roberts goes on to say that "from this time on the Bob-white became a regular, established bird in southern Minnesota." It was assumed that these birds were from an expanding native population in northern Iowa that resulted from favorable land-use changes from farming and spells of good weather.
Roberts mentioned other counties where from the late 19th century up until 1915 there were "various attempts of the Quail to gain a foothold in northern Minnesota," including in the Red River valley (Clay, Marshall, and Polk Counties), near Mille Lacs Lake (Aitkin, Crow Wing, and Mille Lacs Counties), and Otter Tail and Todd Counties. He concluded that "it is not likely that a half-hardy, non-migrating bird like the Quail can ever become established in this land of deep snows and continued low temperatures." It is unknown whether these birds were a native expansion or from reintroductions. Interestingly, Aldo Leopold did game surveys in several midwestern states and mentioned that Pine County had many quail in 1896–98 after the Hinckley fire of 1894 (Leopold 1931). These birds appear to have expanded from Wisconsin.
Regardless of how Northern Bobwhites came to occupy Minnesota in these early years, the population was sufficient to establish a hunting season from the 1920s through the early 1950s, when hundreds of birds were estimated to have been killed each year (Chesness 1964). According to a recent report by the Minnesota Department of Natural Resources, the bobwhite had been hunted since 1858, and the first recorded harvest was in 1919, estimated at 6,100 birds. The report concluded that during the 1920s, the estimated harvest peaked in 1927 (13,000 birds) and by 1932 it was confined to the southeastern area (Minnesota Department of Natural Resources 2015). Most of the nesting records given by Roberts were also from the 1920s. During this time period, the Minnesota Department of Natural Resources Division of Game and Fish was also releasing quail, but where, when, and how many are not known. These releases were terminated in 1952. As the numbers of harvested birds declined, hunting was also stopped in 1958.
From an analysis of the current situation of the Northern Bobwhite in Minnesota, Hertzel (2003) concluded that "most Northern Bobwhite reported in Minnesota during the past 25 years are probably released or escaped birds." He goes on to report that there are 75 game farms that have Northern Bobwhites, as well as private breeders, citizens, and farmers who could be releasing hundreds of birds. There are no state requirements to report where these releases are made. In the yearly observations reported to the Minnesota Ornithologists' Union (MOU) seasonal reports from 1970 to 2005, some indicated that the birds were present but becoming scarce and some were tagged as "escapes." Breeding evidence was mentioned from Castle Rock, Dakota County, and there were several reports from Blue Mounds State Park, Rock County, from 1981 (Millard 1981) through 1988, including "nesting" in 1982. These latter observations indicate a possible wild population may be dispersing from South Dakota.
Many of the MOU records in the latter years of the 20th century appear to be single, random observations from 20 different counties. However, most of the observations in those decades were from traditional places in Fillmore, Houston, Wabasha, and Winona Counties. No more MOU records were posted after 2004, when the Northern Bobwhite was removed from the MOU Regular List and reclassified as extirpated "because all records are presumed to be escaped or released individuals, unless there is documentation with a record to suggest wild origin" (Eckert 2004).
The participants in the MNBBA recorded only 4 records, and all were close to the Mississippi River in the dissected uplands that drain directly into the river in Houston, Wabasha, and Winona Counties (Figure 2). There is no question about the identification of the species or that 3 of them are confirmed records. One record was just possible breeding evidence, and the observer guessed it was a released bird. Without better official monitoring and research about the origin of these quail, as well as others in the southeast, there is no way of knowing if they are native or released.
*Note that the definition of confirmed nesting of a species is different for Breeding Bird Atlas projects, including the definition used by the Minnesota Breeding Bird Atlas, compared with a more restrictive definition used by the Minnesota Ornithologists' Union. For details see the Data Methods Section.