Overview
Minnesota Seasonal Status:
A permanent resident, the Northern Cardinal was a common species during the Minnesota Breeding Bird Atlas (MNBBA).
North American Breeding Distribution and Relative Abundance:
The Northern Cardinal is found through the eastern and central United States, south into Central America, and north into southern Ontario, Quebec, New Brunswick, and Nova Scotia. Farther west, populations are found in southern regions of Arizona, New Mexico, and California. Although it has gradually expanded its range northward since the 1800s, the core of the Northern Cardinal's breeding range remains in the southeastern United States, west to central Texas (Figure 1).
Conservation Concern: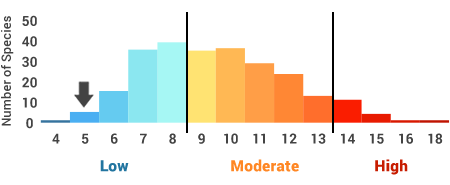 Assigned a Continental Concern Score of 5/20 by Partners in Flight.
Life History
Migration:
A permanent, year-round resident throughout its breeding range.
Food:
An opportunistic omnivore, foraging for a wide variety of insects, seeds, and berries, either on the ground or in low vegetation.
Nest:
An open-cup nest placed in a wide variety of small trees and shrubs, 1 to 2 m above the ground.
Minnesota Breeding Bird Distribution*
Our year-round enjoyment of the Northern Cardinal, especially in the southern two-thirds of the state, is a relatively recent phenomenon. The Northern Cardinal used to have a far more southerly distribution in North America. It is only referred to as the "Northern" Cardinal because it is the most northerly representative of its genus, Cardinalis. The first Minnesota record was in Minneapolis in the fall of 1875 (Roberts 1932). Many of the first arrivals were single males that appeared in the fall, winter, or spring in widely scattered locations in southern Minnesota. Following the 1875 record, birds appeared in Sherburne County (1887), Kandiyohi County (1894), Fillmore County (1898), and Martin County (winter of 1913–1914). After providing details on each of these observations, Roberts wrote:
Following these scattered, outlying records it became established as a permanent resident in pairs throughout the Mississippi Valley south of Red Wing, Goodhue County, and from that area it has continued to spread, many reports coming from numerous localities, including records of nesting pairs as far north as Hennepin County and as far west as Owatonna.
Scattered reports of single birds continued to be reported north of the species' expanding breeding range, including a male found in Red Lake Falls, a city in Red Lake County, nearly 300 miles north of any previous record. The bird remained in town throughout the entire winter of 1931–1932, feeding on dried grapes and berries. "By what route," Roberts mused, "this bird reached such a far-distant place and what were the promptings that took it so far astray are questions not easily answered."
Fifty years would pass between the first documented sighting in Minnesota in 1875 and the first confirmed nesting in Steele County in 1925 (a nest with eggs). Nesting was later documented in Hennepin County in 1927 (three young being fed by adults) and in Goodhue County in 1930 (a nest with eggs). Since that time, the Northern Cardinal steadily progressed northward in Minnesota. Forty years after Roberts's treatise on Minnesota birds, Green and Janssen (1975) reported that by the 1960s the species had expanded north to Morrison County in east-central Minnesota and to Lac qui Parle County in west-central Minnesota. Three inferred breeding records occurred north of Lake Mille Lacs in Aitkin, Cass, and Crow Wing Counties and summer observations occurred as far north as Red Lake and Duluth.
Several years later, Janssen (1987) reported on the species' continued trek northward, with records as far north as Cook, Kittson, Koochiching, Lake, Pennington, and Roseau Counties. As noted earlier by Roberts (1932), Janssen reported that the expansion began with the Northern Cardinal visiting areas beyond its breeding range in late fall, winter, and spring. Although some birds retreated to their breeding range come summer, others remained and established new breeding territories. Indeed, an analysis of banding records years ago suggested that these "pioneers" were young birds, often first-year hatchlings, which were responding to dispersal pressure (Dow and Scott 1971).
Janssen (1987) also noted that breeding evidence remained scarce in the southwestern counties of the state, although summer observations in that region increased. Since 1970, he reported that nesting had been confirmed in 19 counties all located south of Little Falls in Morrison County. By 1998, Hertzel and Janssen would add 6 counties to the list.
The species' expansion into the southwestern corner of the state was further documented by the Minnesota Biological Survey many years later (Minnesota Department of Natural Resources 2016). The 605 breeding season locations that the survey reported included many sites in the southwest as well as sites as far north as southern Itasca County and southern Mahnomen County.
In 2002, Holtz assessed how the winter distribution of 10 Minnesota species had changed since the winter of 1969–1970, including the Northern Cardinal. The review provides a more quantitative evaluation of the rapid rate at which the species expanded in the state over a period of approximately 30 years. Holtz's assessment documented that every 10 years from 1980 to 2000, the number of counties where the Northern Cardinal was observed during the winter months increased between 40% and 50%.
MNBBA participants reported 2,166 Northern Cardinal records in 22.1% (1,052/4,758) of the surveyed atlas blocks and in 27.0% (632/2,337) of the priority blocks. Breeding evidence was documented in 177 (3.7%) of the total number of surveyed blocks (Figures 2 and 3; Table 1). The species was reported in 79 of Minnesota's 87 counties and was confirmed nesting in 39 counties, with 2 blocks straddling 2 counties each (Brown/Nicollet and Morrison/Cass). Although cardinals remain rare in the forested landscape of north-central and northeastern Minnesota, nesting was confirmed near the Lake Superior shoreline in Cook County; they also were documented nesting in the far southwestern corner of the state in Blue Mounds State Park (Rock County). Of the counties where nesting was confirmed, 17 were additions to the list published by Hertzel and Janssen in 1998. Overall, the Northern Cardinal is now well established in the east-central, central, south-central, and southeastern regions of the state. Although widespread, it remains most abundant from Brainerd south to the Twin Cities and throughout southeastern Minnesota.
The MNBBA predicted distribution map predicts the highest breeding densities to be within the core of the Twin Cities metropolitan region and along the Mississippi River south of the Twin Cities (Figure 4). The three cardinals vocally defending their territories immediately outside of the writer's window, just south of downtown Minneapolis in early June, are a testament to the species' abundance in this urban landscape. Moderate densities are predicted to occur throughout southeastern and east-central Minnesota; elsewhere low densities are found across the southern two-thirds of the state.  Although the Northern Cardinal can be found in suitable habitats in northern Minnesota, densities are predicted to decrease rapidly north of Lake Mille Lacs.
The northward expansion that Minnesotans have been observing was also apparent throughout the species' range as it steadily moved north through New England, the Great Lakes states, and into the southern tier of the eastern Canadian provinces. It also expanded westward, often following major river valleys, including the Missouri, Platte, Niobrara, and Colorado, in the late 1800s and early 1900s.
Despite the delightful song and color that the Northern Cardinal adds to a backyard community, many recognize that its expanding distribution and abundance is one of the most visible signs of climate change. Its steady progression northward since the mid-1800s has been well documented and is widely recognized as a response to warming temperatures, to fragmentation of extensive forested landscapes, and to the popularity of winter bird feeding (Halkin and Linville 1999). Warmer winters reduce snow depth and expose more ground for foraging. Fragmented forests provide edges that are ideal for both nesting and foraging. Winter feeders provide a reliable food source even in the depths of winter.
*Note that the definition of confirmed nesting of a species is different for Breeding Bird Atlas projects, including the definition used by the Minnesota Breeding Bird Atlas, compared with a more restrictive definition used by the Minnesota Ornithologists' Union. For details see the Data Methods Section.