Overview
Minnesota Seasonal Status:
A regular breeding resident and migrant; regular in winter months at scattered open-water locations, especially along Lake Superior's North Shore. The Red-breasted Merganser was a rare species during the Minnesota Breeding Bird Atlas (MNBBA).
North American Breeding Distribution and Relative Abundance:
The Red-breasted Merganser has a global distribution. In North America, northern Minnesota is on the southern edge of the breeding range, which extends from Alaska south and east across Canada, and north to the southern coastal waters of Greenland. In the United States, the merganser breeds locally within the Great Lakes and in northern New England with occasional scattered records farther south. Its distribution and relative abundance in southern Canada and the United States, as depicted by the federal Breeding Bird Survey (BBS), are shown in Figure 1.
Conservation Concern: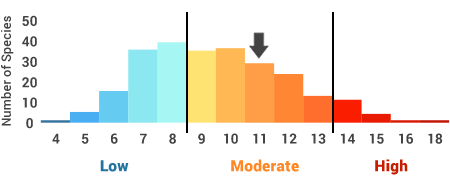 A game species, the Red-breasted Merganser has been assigned a Moderately Low Continental Priority by the North American Waterfowl Management Plan. It has been assigned a Continental Concern Score of 11/20 by Partners in Flight.
Life History
Migration:
A short- to medium-distance migrant that winters in coastal waters along North America and northern Mexico and in the Great Lakes.
Food:
A diver that feeds primarily on small fish and crustaceans but occasionally takes worms, aquatic insects, frogs, and tadpoles.
Nest:
Usually nests in a small, sheltered depression on the ground near water; occasionally nests in a hollow stump.
Minnesota Breeding Bird Distribution*
Restricted largely to the cold waters of Lake Superior's northern shoreline and other cold, deep waters of the northern forests, the Red-breasted Merganser is the least common of Minnesota's three merganser species.
As early as the late 1800s, Hatch (1892) wrote that the species was rare throughout northern Minnesota but actually bred "sparingly" as far south as Minneapolis. Roberts (1932), however, seriously questioned Hatch's assertion that the species occurred anywhere other than the northern forest region. His own files, which included his personal records and those of many contributing observers throughout the state, dated back nearly 50 years and included no evidence that the birds ever occurred south of Lake Mille Lacs. Compared to observations of the Common Merganser, there was even little evidence north of Lake Mille Lacs. Roberts described the species as an uncommon summer resident.
Most reports came from along the North Shore of Lake Superior, where birds were frequently observed at the mouths of many of the region's fast-moving rivers, including the Pigeon and Temperance. Roberts's account included several reports of individual Red-breasted Mergansers and pairs sighted along the shoreline from St. Louis Bay in Duluth (1905) to a site 12 miles north of Grand Marias (1928). All accounts presume nesting, but only 1 account by Roberts and his colleague Kilgore came close to confirming nesting. On June 15, 1915, they visited Spirit Island in Lake Mille Lacs. They reported "a pair seen and evidently had a nest; one egg found in a recess among rocks but nest could not be reached." His account also included his own 1915 observation of a pair "evidently nesting" at Big Oak Island in Lake of the Woods.
Many years later, when Green and Janssen (1975) published their updated accounts of Minnesota birds, the Red-breasted Merganser's status and distribution were largely unchanged. They described it simply as a resident along the Lake Superior shoreline in Cook, Lake, and St. Louis Counties. Solid breeding evidence remained rare. They wrote, "Good breeding evidence is available for Mille Lacs Lake and for Big Sandy Lake, Aitkin County, but the species is very scarce there." At the time there were published nesting reports of birds in Beltrami County, inland St. Louis County, and even as far south as Houston County, but the absence of details left open the possibility that female Common or Hooded Mergansers were being confused with female Red-breasted Mergansers, as the confirmation of nesting was often the report of a female with a brood of young (Minnesota Ornithologists' Union 2017). Female Common and Red-breasted Mergansers can be especially difficult to distinguish from one another, particularly at a distance.
In his updated account of the species' status in 1987, Janssen reported another new nesting locality, from Leech Lake in Cass County (Oring 1978). Again no nests were found, but the species' identification was confirmed when a bird was collected. Nevertheless, between 1970 and 1987, there were only 5 counties where breeding was confirmed: Aitkin, Cass, Cook, Lake, and St. Louis. There had been no recent evidence of the birds nesting on Lake of the Woods since the time of Roberts (1932), although Janssen (1987) noted a June 13, 1977, record from the lake that he presumed was a late spring migrant.
Testament to the species' rarity, the Minnesota Biological Survey has reported Red-breasted Mergansers at only 1 location during their surveys, specifically in central St. Louis County (Minnesota Department of Natural Resources 2016).
During the MNBBA, participants reported 37 Red-breasted Merganser records from 27 (0.6%) of the 4,734 surveyed atlas blocks and from 9 (0.4%) of the 2,337 priority atlas blocks. Breeding was confirmed in 5 surveyed atlas blocks, 4 of which were along the North Shore of Lake Superior (Figures 2 and 3; Table 1). Two of the North Shore blocks were immediately adjacent to one another in Two Harbors. The other block was located in Crow Wing County. All breeding records were of females with broods.
Given the possible misidentification of female mergansers, each of the MNBBA Red-breasted Merganser records were examined closely, particularly those on inland lakes away from the species' traditional Lake Superior habitats. Four records were invalidated; of the remaining 27 records, all but 3 mentioned the presence of males and/or were on lakes where males had been sighted. The remaining 3 records were in suitable habitat and were observed by experienced observers and accepted.
One confirmed breeding record was from a county where the species had not previously been confirmed nesting. The record was reported from Pelican Lake in Crow Wing County. There were several observations of male and female Red-breasted Mergansers on Pelican Lake during the summer of 2010, lending credence to the nesting report. Clearly, Red-breasted Mergansers, although quite rare, do find suitable habitat in some of Minnesota's northern lakes away from Lake Superior's North Shore. But they remain a rare bird and are certainly not a regular species west of Lake Superior. Indeed, their range and abundance have changed little in Minnesota over the past 100 years. The same is true throughout North America (Craik et al. 2015).
*Note that the definition of confirmed nesting of a species is different for Breeding Bird Atlas projects, including the definition used by the Minnesota Breeding Bird Atlas, compared with a more restrictive definition used by the Minnesota Ornithologists' Union. For details see the Data Methods Section.