Overview
Minnesota Seasonal Status:
A regular breeding resident and migrant; birds are occasionally observed during the winter months. The Short-eared Owl was rare during the Minnesota Breeding Bird Atlas (MNBBA).
North American Breeding Distribution and Relative Abundance:
Global in distribution; North American breeding populations are distributed across Canada and the northern United States, where they are found from northern California east to the Great Lakes. Populations reach their highest breeding densities in southern Alberta (Figure 1).
Conservation Concern: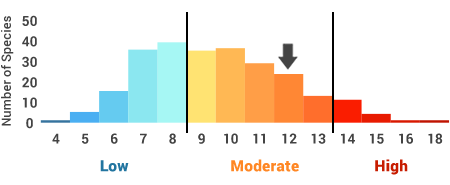 Assigned a Continental Concern Score of 12/20 and identified as a Common Species in Steep Decline by Partners in Flight; officially classified as a state Special Concern Species in Minnesota and listed as a Species of Greatest Conservation Need by the Minnesota Department of Natural Resources.
Life History
Migration:
Populations in Canada and the very northern tier of the United States are largely migratory, moving south in the winter to the southern states and northern Mexico. The species, however, tends to be nomadic, following the irruptive populations of its favorite food, Microtus voles. As a result, birds that move south in the winter may find abundant food sources that entice them to stay for the following breeding season and abandon sites further north. Alternatively, they may leave well-known breeding sites in the summer because food is limited and move to sites with more suitable prey populations (Wiggins 2004; Wiggins et al. 2006).
Food:
Feeds primarily on small mammals. Although Microtus voles constitute a major portion of its diet, this owl also feeds on a variety of other animals including shrews, pocket gophers, moles, field mice, and birds.
Nest:
A small depression scraped in the ground and lined with grasses and downy feathers.
Minnesota Breeding Bird Distribution*
In his 1932 treatise on Minnesota birds, Roberts described the Short-eared Owl as "an inhabitant of the marshes and low-lying fields throughout Minnesota." It was considerably more abundant on the western prairies, and less commonly but "generally distributed in the forested area wherever there are extensive marshes." He suspected the owl migrated southward during the winter months yet still described it as a permanent resident. Breeding evidence was documented in four counties: Grant (young nearly full-grown), Jackson (nest with eggs), Meeker (nest with eggs), and Polk (nest with eggs).
Among the few summer reports compiled by the Minnesota Ornithologists' Union from 1932 until Green and Janssen published their updated accounts in 1975, the majority of detections were from western Minnesota. The exceptions were six records from St. Louis County (all summer observations), one record from Lake County (a summer observation), and one record from Aitkin County (a nesting record in 1974; Johnson 1982). As Roberts had noted earlier, the birds were also reported during the winter months. Whether these were resident birds or migrants from further north was unknown.
In 1975 Green and Janssen had little new information to report regarding the species' breeding status other than to clarify that there were no breeding season reports from the Twin Cities or the southeastern region of the state. The species was most abundant in the west-central and northwestern regions but appeared to be declining in numbers in the years just before publication.
In 1982, Johnson published an updated account on the status of all 35 raptor species in the state (Johnson 1982). Including the nesting records originally reported by Roberts, only 19 documented nests were recorded of Short-eared Owls scattered across 15 counties in western and central Minnesota. Summer season observations were reported from an additional 16 counties. With the exception of records from Aitkin, Lake, and St. Louis Counties, all the other summer reports were from western and central Minnesota. The owl's nomadic nature had been reported in the literature, but Johnson provided a stark example from his own records. During the summer of 1980 he found the species to be relatively abundant in Lake of the Woods County, but just one year later it was "essentially nonexistent."
Janssen's updated account in 1987 had no new information beyond that which Johnson had presented several years earlier. Although Johnson delineated a total of 15 counties where nesting had been confirmed, Janssen identified only 6 where nesting had been confirmed since 1970: Beltrami, Chippewa, Hubbard, Lake of the Woods, Rock, and Roseau. Hertzel and Janssen (1998) later published an updated map of confirmed nesting records since 1970. It also included six counties but had eliminated the records from Chippewa, Rock, and Roseau Counties and replaced them instead with records from Aitkin, Lac qui Parle, and Marshall Counties.
To date the Minnesota Biological Survey has reported a total of 20 breeding season locations for the Short-eared Owl. Of these, 5 records were from Aitkin County; the remainder were from Otter Tail County (1 record) and from several counties in the far northwest region, specifically Lake of the Woods, Marshall, Pennington, Red Lake, and Roseau (Minnesota Department of Natural Resources 2016).
During the MNBBA, observers tallied a total of 47 Short-eared Owl records in only 41 of the surveyed atlas blocks and in 24 of the priority blocks. Breeding was confirmed in 7 blocks (Figures 2 and 3; Table 1). The birds were reported from 13 of Minnesota's 87 counties and were confirmed breeding in 5 counties (1 record was on the Polk/Marshall county line, where the young were reported on both sides of the road and county line). Of the confirmed breeding records, 3 counties were additions to the list published by Hertzel and Janssen in 1998: Kittson, Pennington, and Polk. Aside from a few recent reports in the southwestern corner of the state, the records were confined to Aitkin County and to four counties in the Aspen Parklands.
A detailed record submitted by Bill Blackburn on June 23, 2012, helps provide some context regarding the species' relative abundance in northern Polk County during the atlas:
Should be noted that Short-eared Owl pairs have territories every two square miles throughout the area. Only the highest breeding evidence code recorded, but Short-eared Owls seen each visit (near daily). Estimated 5 pairs in the block, all south of the Marshall/Polk County line; 4+ in areas immediately adjacent to block (primarily south and east).
It is difficult to discern if the current distribution of the Short-eared Owl differs from that described by Roberts nearly a hundred years ago. Further east, the species' range has receded in New England, where it originally nested in at least eight states. Now it is present in only three: Massachusetts, New York, and Pennsylvania. Further south, the species' increasing presence in southern Florida is thought to represent colonization northward from Cuba. The Short-eared Owl population on the island increased in numbers and expanded in distribution as the cultivation of rice, sugar, and citrus fruits increased in the late 1900s, providing a more abundant and stable prey base. This, in turn, may have forced younger birds to disperse north to southern Florida (Wiggins et al. 2006). Closer to home, in the Upper Midwest and across the Great Lakes, it is difficult to interpret changes in abundance and distribution noted by some atlases, especially in light of the species' nomadic tendencies and sporadic breeding. Studies in Alaska, for example, have shown a tight correlation between breeding densities and prey abundance (Wiggins et al. 2006).
*Note that the definition of confirmed nesting of a species is different for Breeding Bird Atlas projects, including the definition used by the Minnesota Breeding Bird Atlas, compared with a more restrictive definition used by the Minnesota Ornithologists' Union. For details see the Data Methods Section.