Overview
Minnesota Seasonal Status:
A permanent resident; the Spruce Grouse was a rare species during the Minnesota Breeding Bird Atlas (MNBBA).
North American Breeding Distribution and Relative Abundance:
Widely distributed across the forested areas of the boreal forest in Canada from the Maritime provinces to British Columbia and Alaska. In the continental United States, resident populations extend southward into western Montana, Idaho, Washington, and Oregon. Resident populations are found in northern Minnesota, Wisconsin, and Michigan, and the northern portions of the Northeast, including Maine and New Hampshire.
Conservation Concern:
A hunted species in Minnesota. Assigned a Continental Concern Score of 7/20 by Partners in Flight; designated a Species in Greatest Conservation Need by the Minnesota Department of Natural Resources. The Spruce Grouse is listed as a Regional Forester Sensitive Species on the Chippewa National Forest by the USDA Forest Service, Eastern Region.
Life History
Migration:
Sedentary, permanent resident.
Food:
Primarily conifer needles; some seeds, arthropods, and fruit depending on the season; forages in trees and on the ground.
Nest:
On the ground, often in depressions of sphagnum moss at the base of a tree.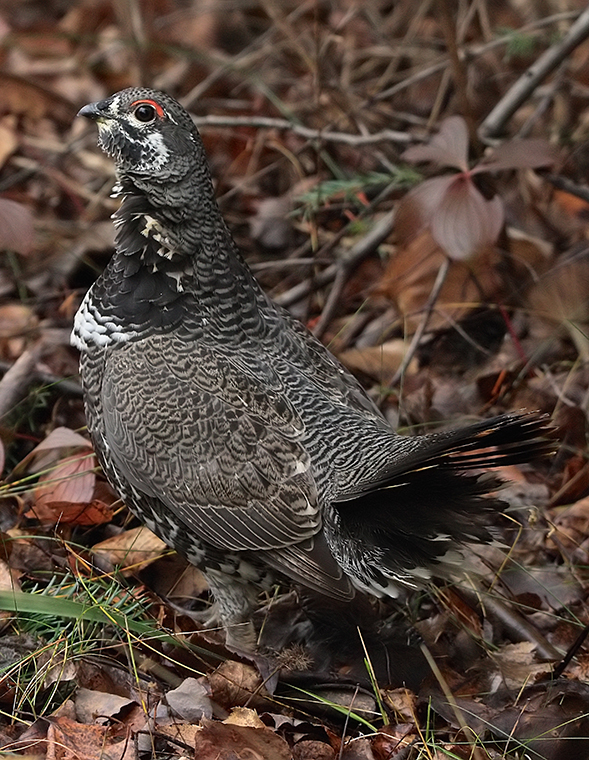 Minnesota Breeding Bird Distribution*
Roberts (1932) reported that the Spruce Grouse was found throughout the coniferous forest region of the state as far south as Mille Lacs and Carlton Counties, Wadena County in central Minnesota, and to eastern Marshall County in the northwest. He noted that the species was formerly "common, perhaps abundant, throughout the evergreen forests of the state."
Roberts quoted notes made from 1865 to 1868 by Washburn, from the Mille Lacs region, who stated it was quite common about the lake, where observers were constantly running across coveys of 6 or more on walks. They nested in "mossy hummocks amongst the spruces." He also cited observations from Trippe in 1871, who said it was abundant and breeding in the central part of the state from Carlton County west to the Mississippi River. However, the human population in the state continued to expand, and Roberts labeled it a "disappearing bird" by the early 1900s and stated that as of 1932, it "survived in numbers only in the wild, largely uninhabited region south of the International Boundary from Lake of the Woods to Lake Superior, which includes the Superior National Forest."
Besides the observations of nesting in the Mille Lacs area in the 1800s, Roberts (1932) reported confirmed nesting only in Cook, Lake, and Roseau Counties; all were observations of hens with chicks or broods. In Roberts's 1936 revision of his treatise on Minnesota birds, he stated that he felt compelled "to place on record all definite information in regard to this steadily disappearing species." He included several additional observations from Lake of the Woods County, such as a survey made by Gustave Swanson in 1932 near International Falls on the northern border with Canada. Unfortunately, Swanson did not encounter a single Spruce Grouse but was told that the species had been seen near Ericsburg, Koochiching County, and that they were fairly common in the Northwest Angle of Lake of the Woods County. Roberts did add nesting activity from a brood of young that were just hatched near Ely, Minnesota, in July 12, 1933.
Years later, Green and Janssen (1975) reinforced that the Spruce Grouse was a permanent resident in the northeastern and north-central regions of the state. They reported confirmed nesting in Hubbard, Itasca, and Lake of the Woods Counties, and in those previously reported by Roberts (1932, 1936). They also noted populations of the species that had been observed between 1960 and 1972 in northern Hubbard County. Janssen (1987) identified the primary species' distribution as northeastern and northern Minnesota, with observations from as far west as Roseau County and confirmed nesting southwest to Hubbard and Beltrami Counties. He reported confirmed nesting in 8 counties since 1970; besides the 2 aforementioned confirmed nesting records, others were reported from Lake of the Woods and northern Cook, Itasca, Koochiching, Lake, and St. Louis Counties. Later, Hertzel and Janssen (1998) added Roseau County but excluded Hubbard County from the list of confirmed nesting since 1970.
The Minnesota Biological Survey (MBS) reported 17 breeding season locations of the Spruce Grouse (Minnesota Department of Natural Resources 2017a). At present, they have not yet surveyed northern Beltrami, Koochiching, or Lake of the Woods Counties, but they identified multiple locations in Cook, Lake, and St. Louis Counties and 1 location in Roseau County.
The MNBBA included 87 records of the Spruce Grouse, including 21 blocks with confirmed nesting (Figure 1). These records included only 1.3% (63/4,735) of all surveyed blocks and 1.4% (33/2,337) of priority blocks (Figure 2; Table 1). Confirmed nesting was from 6 counties, all of which were previously identified by Janssen (1987) and Hertzel and Janssen (1998). No observations were made from the potential extant population noted by Janssen from northern Hubbard County. The records were most dense in northern St. Louis County and central Lake County. One record was included from southern Koochiching County.
Roberts (1932) clearly documented that Spruce Grouse formerly were found as far south as the Mille Lacs Lake region. The Spruce Grouse range in Minnesota has retracted considerably over the past 100 years. However, its distribution appears to have stabilized in the northern Minnesota counties from Cook to Roseau County and south to central St. Louis County and northern Itasca County. Zumeta and Cincotta (1982) identified a female Spruce Grouse in Pine County, but since that time, no other observations have been noted from that region.
The historical range retractions of Spruce Grouse from the early 1900s have been noted also in Michigan, Ontario, and Wisconsin (Cadman et al. 1987; Cutright et al. 2006; Chartier et al. 2013). Robinson (1980) stated that the population and range began to decline around 1912 in Michigan but since 1940 the species has been maintaining its numbers and even increasing in some parts of the Upper Peninsula. The range retractions and decline in populations were largely attributed to hunting, logging, forest fires, and human settlement.
Roberts (1932) emphasized that the "principal reason for its disappearance was undoubtedly the fact that it is naturally such a tame and indifferent bird in the face of danger that it was easily killed by whatever means happened to be at hand, even a club or stone serving in the absence of a gun." It was from this behavior that the bird became known as "fools hen." Stenlund and Magnus (1951) attribute a substantial reduction in the Spruce Grouse to intense logging and many forest fires from 1890 to 1915. They argued that the recovery of the species began in the early 1940s, when regenerating forests became mature enough to support understories of evergreen trees, such as jack pine, spruce, and balsam fir.
Roy et al. (2017), in their development of methodology to better survey Spruce Grouse, found the species relatively rare in the Northern Minnesota Drift and Lake Plains Section, and more abundant in the Northern Superior Uplands and the Northern Minnesota and Ontario Peatlands Sections. Generally, relative abundance of the Spruce Grouse increased from the southwest to northeast in the north-central and northeastern regions of Minnesota.
*Note that the definition of confirmed nesting of a species is different for Breeding Bird Atlas projects, including the definition used by the Minnesota Breeding Bird Atlas, compared with a more restrictive definition used by the Minnesota Ornithologists' Union. For details see the Data Methods Section.