Overview
Minnesota Seasonal Status:
A regular breeding resident widely distributed throughout the state but most common in the east-central, north-central, and northwestern regions. Most Minnesota birds remain through the winter months where open water is available. Trumpeter Swans were a common species during the Minnesota Breeding Bird Atlas (MNBBA).
North American Breeding Distribution and Relative Abundance:
Although the original extent of its breeding range is not entirely known, the Trumpeter Swan formerly occupied much of the north-central United States and Canada, from the Great Lakes west to British Columbia and southern Alaska. Today its distribution is quite fragmented, with populations in Alaska and western Canada, the Rockies, the Central Plains, and the Upper Midwest (Figure 1).
Conservation Concern: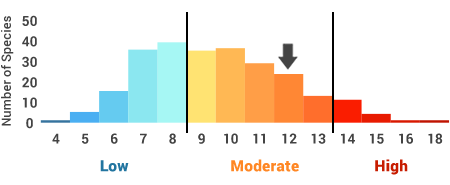 Assigned a Moderate Continental Priority by the North American Waterfowl Management Plan, and assigned a Continental Concern Score of 12/20 by Partners in Flight. Formerly extirpated, but now classified as a Minnesota Special Concern Species and a designated state Species in Greatest Conservation Need. The Trumpeter Swan has also been designated a Minnesota Stewardship Species by Audubon Minnesota.
Life History
Migration:
Short-distance migrant. The vast majority of Minnesota's breeding population migrates only as far south as central and southern Minnesota to sites where there is open water and an abundant food supply. Two power plant sites now offer some of the best opportunities for Minnesota's wintering swans: Xcel Energy's Monticello Nuclear Power Plant along the Mississippi River, and Otter Tail Power Company's coal-fired power plant in Fergus Falls, located along the Otter Tail River. Indeed, the former has become a winter destination site for viewing thousands of Trumpeter Swans, which are attracted by the site's open water and local efforts to feed the birds.
Food:
Largely herbivorous, feeding on submerged and emergent aquatic vegetation during the summer; during the winter birds may forage in agricultural fields for leftover small grains.
Nest:
A large platform floating on water or placed on a mound of vegetation or on an island within a wetland.
Minnesota Breeding Bird Distribution*
When Roberts compiled his treatise on Minnesota birds in 1932, he wrote, "The days of the Trumpeter Swan as a bird of Minnesota have long since passed." He believed that prior to the late 1800s, it was a breeding resident throughout the grasslands and sparsely wooded regions of the state. Breeding records (nests and young) were available from Heron Lake in Jackson County (1883), Everson Lake in Meeker County (1884 or 1885), Pike Lake in central Minnesota (1853), and Swan Lake in Nicollet County (1823). The birds on Swan Lake were reported by G. C. Beltrami, who was part of the Long Expedition to the territory in 1823. Keating, the expedition's historian, reported that the Sioux Indian name for the lake, Manha tanka otamenda, meant Lake-of-the-Many-Large-Birds, no doubt in reference to the long-time tradition of the Trumpeter Swans nesting there (Roberts 1932).
The disappearance of the birds in Minnesota was not unique. By 1932 the population was on the verge of extirpation in the lower 48 states. Only 69 birds remained in and near Yellowstone National Park (Baldassarre 2014).
Any further accounts of the species' presence in the state were absent until 1965, when a provocative article by Robert Turner, titled "Will Trumpeter Swans Return to Minnesota?" appeared in the statewide ornithological journal The Loon (Turner 1965). Turner questioned whether some recent summer records of Whistling Swans (now known as Tundra Swans) were actually Trumpeter Swans. Trumpeter Swans had been introduced to Lacreek National Wildlife Refuge (NWR) in southwestern South Dakota, and he argued that vagrants from that population could already be showing up in Minnesota. Lacreek NWR was the first location in the Great Plains to receive 20 cygnets from the Red Rock Lakes NWR in Montana in 1960. Additional releases in 1961 and 1962 resulted in a steadily growing population on the refuge and in the vicinity. Turner urged the U.S. Fish and Wildlife Service to establish a breeding population in Minnesota.
In 1966, the Hennepin County Park Reserve District (now the Three Rivers Park District) began experimenting with the reintroduction of Trumpeter Swans to the county's park reserves. Their long-term goal was to establish a free-flying population of at least 100 birds, with 15 breeding pairs, within the district and throughout south-central Minnesota (Gillette 1986). Forty swans were secured from the Red Rock Lakes NWR, but initial efforts to simply release the birds proved unsuccessful (Gillette 1974). The tide turned when the district initiated its own captive breeding program, caring for the young cygnets and not releasing them until they were two years old. The first release of young raised by this program occurred in 1978, and the first successful nesting occurred in 1979 (Minnesota Department of Natural Resources 2016a). By 1996, more than 245 young birds had been raised and were successfully nesting within the park district and beyond. One pair released from Lake Rebecca Park Reserve in 1983 was responsible for the first successful nesting in northern Minnesota in over 100 years. The birds nested just north of Grand Rapids in Itasca County in 1986 (Kittelson 1996; Gillette 1986). The park district's successful program continued another 13 years, until it was retired in 2009.
In 1982, the Minnesota Department of Natural Resources outlined an initiative to build on the work of the park district by reintroducing birds in northwestern Minnesota, working collaboratively with state and federal agencies, provinces, universities, tribes, and the Trumpeter Swan Society. Kittelson (1996) and Henderson (2017) provided comprehensive overviews of the initiative. Briefly, eggs were acquired from Red Rock Lakes and Lacreek NWRs, from the Minnesota and Brookfield Zoos, from private propagators, and from the state of Alaska. The birds were reared at the Carlos Avery Wildlife Management Area in Anoka County until they were two years old, and releases began in 1987 near Tamarac National Wildlife Refuge in Becker County. Releases would continue for more than 20 years, not only at Tamarac NWR but at additional sites in northwestern Minnesota as well as farther east in Itasca and St. Louis Counties, on Swan Lake in Nicollet County, and on Heron Lake in Jackson County. By 1998, Hertzel and Janssen had confirmed nesting in 6 counties since 1970: Aitkin, Becker, Carver, Hennepin, Hubbard, and Polk. The 1986 Itasca County nesting was not included because it was an observation of an adult pair with 4 cygnets, which did not meet the definition of a confirmed nesting record by the Minnesota Ornithologists' Union (Hertzel and Janssen 1998).
By 1999, more than 75 breeding pairs had become established in the state. A winter survey in 2011 documented a statewide population of over 5,500 birds, and a comprehensive breeding season survey in 2015 found more than 17,000 individuals (Henderson 2017; Minnesota Department of Natural Resources 2000, 2011, 2016b). Due to similar restoration efforts elsewhere in the United States, Trumpeter Swans are now found in many portions of their former breeding range (Figure 1).
From 2009 to 2013, when the MNBBA was conducted, participants reported 1,173 Trumpeter Swan records in 16.0% (772/4,832) of the surveyed atlas blocks and in 14.6% (341/2,337) of the priority blocks. Breeding evidence was gathered from 244 (5.0%) of the atlas blocks (Figures 2 and 3; Table 1). The birds were most abundant in the western portions of the Laurentian Mixed Forest Province, south of the expansive peatlands, and were least abundant in the Prairie Parkland and Tallgrass Aspen Parklands Provinces of western Minnesota. They were reported in 72 of Minnesota's 87 counties and were confirmed breeding in 55 counties! It has been a remarkable recovery for a species on the brink of extinction in the early 1900s, a result of the dedicated efforts of local, state and federal resource agencies, tribes, and conservation organizations throughout Minnesota. Similar efforts have led to the species' recovery elsewhere within its historical breeding range, including in Wisconsin, Iowa, and Michigan.
*Note that the definition of confirmed nesting of a species is different for Breeding Bird Atlas projects, including the definition used by the Minnesota Breeding Bird Atlas, compared with a more restrictive definition used by the Minnesota Ornithologists' Union. For details see the Data Methods Section.