Overview
Minnesota Seasonal Status:
A regular summer resident and migrant; late migrants have been reported in early winter. The Turkey Vulture was common during the Minnesota Breeding Bird Atlas (MNBBA).
North American Breeding Distribution and Relative Abundance:
A widely distributed species throughout most of North America from southern Canada to southernmost South America. Turkey Vultures are rare in the open regions of western North America and most abundant in Texas, the southeastern United States, and parts of California (Figure 1).
Conservation Concern: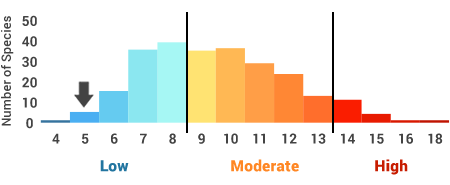 Assigned a Continental Concern Score of 5/20 by Partners in Flight.
Life History
Migration:
Short- to long-distance migrant; winters in the southern United States, Mexico, Central America, and South America.
Food:
Carrion, sometimes fruit; rarely a predator on vertebrates and insects.
Nest:
On the ground, rock ledges, broken tree tops, and abandoned buildings, and in caves and hollow trees.
Minnesota Breeding Bird Distribution*
Three subspecies of Turkey Vulture are commonly recognized, although up to six subspecies may be possible, depending on the authority (Kirk and Mossman 1998). In Minnesota, both Cathartes aura septentrionalis Wied, 1939 (the larger subspecies from eastern North America) and C a. meridionalis Swann, 1921 (the smaller subspecies from western North America) can occur, and they are known to intergrade in Minnesota.
Historically, the Turkey Vulture has bred locally throughout the state. As of the 1930s, Roberts (1932) reported that it "was formerly more common in Minnesota" but "still to be seen in fair numbers throughout the state, reaching the Canadian boundary from Kittson County in the west to Lake Superior in the east." He cited several accounts from the late 1800s that indicated the species was at least locally abundant throughout many parts of Minnesota. He described Turkey Vultures as "abundant; breeds" in east-central Minnesota in 1870; "very common" in the Red River valley in 1885; and "seen every hour in the day, sometimes several together" in Otter Tail County in 1893. A stronghold appears to have been southeastern Minnesota, along the Mississippi River and along the cliffs in Houston, Fillmore, and Winona Counties, and also along the St. Croix River.
Roberts noted several confirmed breeding records, including from Becker (eggs), Jackson (nest with young bird and infertile egg), and Nicollet (2 eggs) Counties. He included several 19th-century observations of nesting, which were simply attributed to Hatch in Hennepin and Traverse Counties, but there were no details in Hatch's 1892 summary Notes on the Birds of Minnesota.
Green and Janssen (1975) and Janssen (1987) stated that the primary breeding range was the forested regions of northern Minnesota and the Mississippi and St. Croix River valleys. Johnson (1982) identified nesting records in the Flicker and The Loon from Clearwater County "around" 1930 and in 1965, from Beltrami County in 1951, and from St. Louis County in 1956. Confirmed nesting records since 1970 have been documented from 10 counties, including Beltrami and Clearwater Counties in the northwest; Aitkin, St. Louis, and Lake Counties in the northeast; Fillmore, Olmsted, and Wabasha Counties in the southeast; and Ramsey and Renville Counties (Johnson 1982; Hertzel and Janssen 1998).
The Minnesota Biological Survey reported 214 records of breeding season locations. These locations were distributed throughout the state with the exception of northwest Minnesota and south-central Minnesota. Observations in south-central Minnesota were largely confined to the Minnesota River valley (Minnesota Department of Natural Resources 2016).
The MNBBA documented the substantial population and distribution in Minnesota, consistent with the increase that has occurred throughout much of North America over the past 40 years. MNBBA records of the Turkey Vulture were carefully reviewed and scrutinized because although the bird is easily observed flying overhead, determining whether these observations imply breeding evidence can be difficult. Many probable and possible records were converted to observations, especially if details were lacking.
Turkey Vultures records were reported for every county of Minnesota, including 29.8% (1,423/4,771) of all blocks surveyed and 37.7% (880/2,337) of priority blocks (Figure 2 and 3; Table 1). A total of 92% (1,313/1,423) of the records were observations. Confirmed nesting was reported from 28 blocks (16 priority blocks) in 23 counties. Probable nesting was recorded from 79 blocks (53 priority blocks).
Roberts (1932) did not provide insight on the reasons for the apparent decline of the Turkey Vulture in Minnesota from the late 1800s to the 1930s. Kirk and Mossman (1998), in their review of the Turkey Vulture in North America, suggested that increases in human settlement, expanded agriculture, the species' avoidance of human disturbance, and human persecution all likely contributed to this decline. Beginning between 1920 to 1940 and continuing into the 1990s, the species' distribution began to expand northward in the Midwest and the Northeast and into eastern Canada. The observations during breeding bird atlases completed in Michigan, Ontario, and Wisconsin all strongly supported the substantial increases in the Turkey Vulture's distribution and population in this region (Cadman et al. 2007; Cutright et al. 2006; Chartier et al. 2013). Chartier et al. (2013) emphasized that its "population increase is real and not an artifact of sampling—the same protocol was used for both Atlas efforts."
The range and population expansion was largely attributed to increased road building resulting in a steady supply of carrion, increased deer populations, openings created by logging activity, and warming temperatures, which facilitate movement and increased survival northward (Kirk and Mossman 1998).
*Note that the definition of confirmed nesting of a species is different for Breeding Bird Atlas projects, including the definition used by the Minnesota Breeding Bird Atlas, compared with a more restrictive definition used by the Minnesota Ornithologists' Union. For details see the Data Methods Section.