Overview
Minnesota Seasonal Status:
A regular breeding species and migrant. The Bank Swallow was an uncommon species during the Minnesota Breeding Bird Atlas (MNBBA).
North American Breeding Distribution and Relative Abundance:
Breeding populations of Bank Swallows are found across the globe, including in North America, Eurasia, and northern Africa. In North America their breeding range extends from Alaska east to the Maritime Provinces, and then south to include most of the northern and central United States. Breeding densities are highest in the prairie parklands of central Manitoba south through the northern Great Plain states (Figure 1).
Conservation Concern: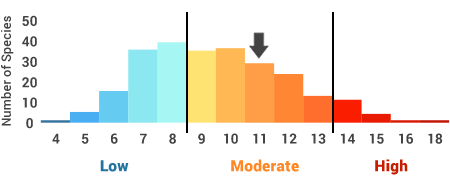 Assigned a Continental Concern score of 11/20 and designated a Common Bird in Steep Decline by Partners in Flight.
Life History
Migration:
Long-distance migrant that winters primarily in South America.
Food:
Aerial insectivore.
Nest:
Excavates its own nesting burrow in exposed cliff faces, bluffs, and banks along rivers, lakes, and streams; readily adapts to man-made environments such as sand and gravel pits. A colonial nesting species; colonies may include hundreds of nesting pairs.
Minnesota Breeding Bird Distribution*
Roberts (1932) considered the Bank Swallow to be a common summer resident wherever suitable nesting sites were available. He wrote,
Wherever in the state there are exposed sandbanks, its nesting holes are most certainly to be seen. It shows a preference for high, washed banks and deep cuts near water, but on the prairies and in the forests it may be found nesting by the roadside in banks no more than eighteen to twenty inches high.
Breeding evidence (including both confirmed and inferred nesting reports) was available from 12 counties covering nearly all regions of the state, including Goodhue and Lincoln Counties in the south, 7 counties across central Minnesota, and Cass, Itasca, and Polk Counties in the northern region.  Many birds were also reported nesting at Leech Lake.
Forty years later, Green and Janssen (1975) clarified that the species was least abundant in the extensive forested landscape of northern Minnesota, particularly in the far northeastern counties, where stream banks were "scarce or absent." Janssen (1987) added that the Bank Swallow was locally common in this region around sand and gravel pits. He included a statewide distribution map that identified 32 counties where nesting had been confirmed since 1970. In 1998, Hertzel and Janssen added 3 more counties to the list.
Fieldwork conducted by the Minnesota Biological Survey (MBS) beginning in the late 1980s gave further clarity to the species' relative abundance across the state. To date the MBS has reported 277 breeding season locations. The species was widely dispersed across the state but especially common along the Minnesota River valley, in southwestern Minnesota, and along the glacial Lake Agassiz beach ridges of northwestern Minnesota, where gravel mining is common (Minnesota Department of Natural Resources 2016).
During the MNBBA, observers reported 809 Bank Swallow records from 13.2% (628/4,764) of the surveyed atlas blocks and from 15.0% (351/2,337) of the priority blocks. Breeding was confirmed in 305 blocks (Figures 2 and 3; Table 1). The birds were reported from all 87 Minnesota counties and were found breeding in all but 6 counties (Dodge, Faribault, Freeborn, Kittson, Lake of the Woods, and Red Lake). Three of the counties with confirmed breeding were added because of blocks that straddled the boundaries of two counties (Big Stone, Koochiching, and Renville).  Forty-seven of the counties were additions to the list published by Hertzel and Janssen (1998). Records were relatively common south of a line from Crookston in northwestern Minnesota, east to Duluth.
The overall distribution of Bank Swallows in Minnesota appears to have changed little over the past 100 years. An adaptable species, it has found new opportunities in several man-made environments, including sand and gravel mines and road cuts. Two notable examples are the cluster of MNBBA records in northern Clay County, an area along the Glacial Lake Agassiz beach ridges, where gravel mining is common, and a small cluster of records in central St. Louis County, an area of taconite mining. In his comprehensive review of the species, Garrison (1999) noted no significant changes to the species' distribution other than local shifts resulting from changes in habitat. In Maryland, for example, Bank Swallows were formerly common in coastal habitats, but shoreline development has resulted in a shift to inland locations. Overall, because it is a colonial species dependent on the availability of suitable nest sites, its distribution is quite localized.
*Note that the definition of confirmed nesting of a species is different for Breeding Bird Atlas projects, including the definition used by the Minnesota Breeding Bird Atlas, compared with a more restrictive definition used by the Minnesota Ornithologists' Union. For details see the Data Methods Section.