Overview
Minnesota Seasonal Status:
A regular and possible permanent resident, migrant, and winter visitant. The Boreal Owl was very rare during the Minnesota Breeding Bird Atlas (MNBBA).
North American Breeding Distribution and Relative Abundance:
The Boreal Owl has a Holarctic distribution across the boreal forest of northern North America, Europe, and Asia. Its distribution in North America extends from the Maritime provinces in eastern Canada to Alaska and south in the Rocky Mountains to northern New Mexico. The species is sparsely distributed throughout its range.
Conservation Concern:
Assigned a Continental Concern Score of 10/20 by Partners in Flight. The Boreal Owl is designated a species of Special Concern and a Species in Greatest Conservation Need in Minnesota. It is also a Regional Forester Sensitive Species in the Superior National Forest in Minnesota.
Life History
Migration:
A possible permanent resident in Minnesota; irruptive southward movements from northern breeding areas occur, presumably during food shortages or inclement weather.
Food:
Primarily small mammals; also birds and insects.
Nest:
A secondary-cavity nester that uses tree holes such as those previously excavated by woodpeckers.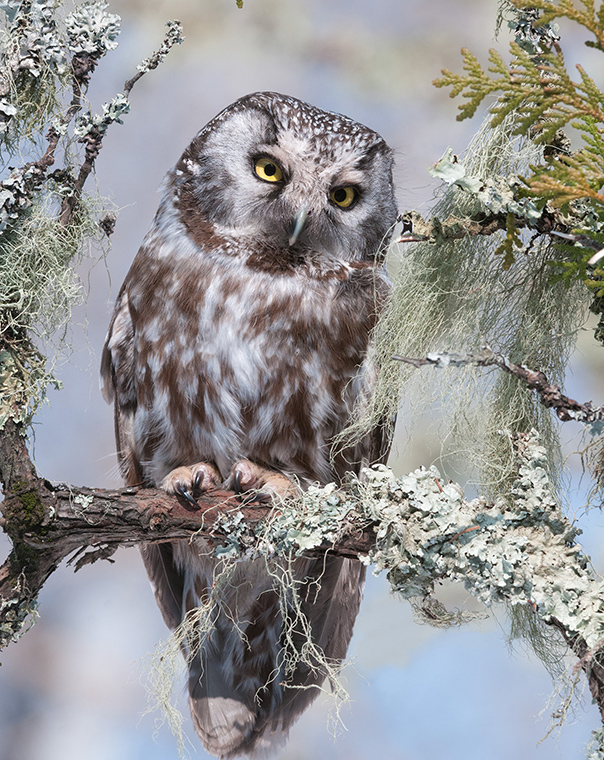 Minnesota Breeding Bird Distribution*
The Boreal Owl, or Richardson's Owl as it was earlier named, was considered primarily a wintering bird in Minnesota. However, Hatch (1892) in his "First Report of the State Zoologist" for Minnesota stated, "he would not be greatly surprised if the nest is found here ultimately." Roberts (1932), in his treatise on the birds of Minnesota, identified it only as a "rare winter visitant" and wrote that it "nests chiefly in the far north." The single potential record of breeding activity he noted was of an individual singing near Rose Lake in Cook County near the Canadian border (Schorger 1926). This record was later disputed by Green and Janssen (1975) because the details did "not preclude the possibility of confusion with the Saw-whet Owl."
Roberts also noted that a young bird was taken in Jefferson County, Wisconsin, in August and said it was "fair to surmise that it may yet be found nesting somewhere in the little explored wilderness just south of the Canadian boundary." In their book on the birds of Wisconsin, Kumlien and Hollister (1903) reported this bird was collected in August 1872 in Fort Atkinson, Wisconsin.
Green and Janssen stated there were no summer records as of 1975 and noted only the potential misidentification of the species in 1926. The Boreal Owl was therefore unknown as a nesting species in Minnesota, and even in the lower 48 states, until Eckert and Savaloja (1979) found the first verified nest in May 1978 along the Gunflint Trail, Cook County. The nest hole was 0.3 m from the top of a 3.4 m black spruce stump and only 3 m from a parking area adjacent to the road. They also noted the nest was found after one of the largest winter invasions ever in the state, in 1977–78, when 66 individuals were recorded.
In 1987, Janssen reported 3 confirmed nests from Cook County, including the 1978 first nesting record (Eckert and Savaloja 1979), another in 1979 reported by Eckert (1979), and another found by Matthiae (1982) in a waterfowl nest box in Cook County. By 1998, Hertzel and Janssen (1998) had added confirmed nesting of the Boreal Owl in Lake, Roseau, and St. Louis Counties since 1970. The Minnesota Biological Survey detected 1 Boreal Owl breeding season location, which was found in central Lake County (Minnesota Department of Natural Resources 2017).
The MNBBA reported 7 records of the Boreal Owl in 4 blocks, all in central Lake County, where two MNBBA regional coordinators of that area, Dave Grosshuesch and Jim Lind, diligently looked for evidence of Boreal Owl nesting. They included 1 confirmed, 1 probable, and 2 possible records of breeding evidence (Figure 1; Table 1).
In their review of the Boreal Owl in North America, Hayward and Hayward (1993) doubted that the new breeding records reported in the past 40 years reflected a range expansion in North America. A range expansion is also unlikely in Minnesota; new records probably reflect increased coverage in the state by dedicated bird and nature enthusiasts. The species is small, secretive, and occurs in remote forests. Like all owls, it vocalizes at night in remote places in the north woods, where few people know its territorial song and fewer yet listen for owls on cold nights in March and April.
Johnson (1982), in his review of raptors in Minnesota, felt that further observations may reveal the Boreal Owl to be a regular nester in the northern regions of Minnesota. In Wisconsin, Robbins (1991) asked a question, "What does one make of this August 1872 record [referring to the bird collected in Fort Atkinson, Wisconsin] and the specimen picked up on the Lincoln-Marathon county line on 11 August 1978 by Follen?" He reasoned that the latter followed the major irruption in 1977–78, similar to Minnesota's first nesting record. He also remarked that "more listeners . . . afield in northern Wisconsin during late March and April may discover that this species is not as rare as the records might indicate." However, the Boreal Owl was not reported in the breeding season during the Michigan or Wisconsin breeding bird atlases (Chartier et al. 2013; Cutright et al. 2006).
*Note that the definition of confirmed nesting of a species is different for Breeding Bird Atlas projects, including the definition used by the Minnesota Breeding Bird Atlas, compared with a more restrictive definition used by the Minnesota Ornithologists' Union. For details see the Data Methods Section.