Overview
Minnesota Seasonal Status:
A regular breeding resident and migrant; the Cerulean Warbler was a rare species during the Minnesota Breeding Bird Atlas (MNBBA).
North American Breeding Distribution and Relative Abundance:
The Cerulean Warbler's breeding range is broadly distributed throughout the eastern United States, from Minnesota south to Arkansas and east through the Appalachian Mountains. Within this area, populations are very localized. The highest breeding densities are found in the Appalachian Mountains region of West Virginia (Figure 1).
Conservation Concern: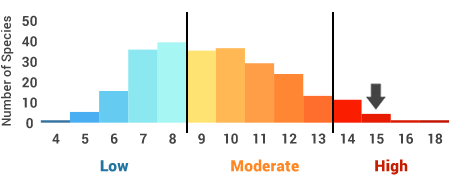 Assigned a Continental Concern Score of 15/20 and designated a Yellow Watch List Species by Partners in Flight; officially classified as a Special Concern Species in Minnesota and designated a Species in Greatest Conservation Need by the Minnesota Department of Natural Resources; identified as a Target Conservation Species by Audubon Minnesota.
Life History
Migration:
A long-distance migrant that winters in northern South America.
Food:
A foliage gleaner that feeds largely on small insects.
Nest:
Open-cup nest usually placed high in the canopy of a deciduous tree.
Minnesota Breeding Bird Distribution*
Aptly described by Bent (1953) as the "heavenly blue wood warbler," the Cerulean Warbler is another southern species that began to extend its breeding range north along the Mississippi River in the late 1800s. Hatch (1892) collected the first specimen in 1869, presumably in Minneapolis. In 1885 Dr. Hvoslef collected a second specimen in Lanesboro, Fillmore County; and in 1898 a third specimen was collected by Mr. Gleason in Waconia, Carver County (Roberts 1932). Reports increased beginning in 1919 with observations in western Hennepin and Goodhue Counties in 1919; Houston, McLeod, and Olmstead Counties in 1924; and Meeker County in 1930. When Roberts published his treatise on Minnesota birds in 1932 he described the Cerulean Warbler as "a rare summer resident, breeding in the southeastern part of the state." Despite an increasing number of observations, it proved quite difficult to confirm nesting of this high-canopy dwelling species. By 1932 no nests had been located, but in July 1929 a brood of three immature young were observed in Minneapolis. Sixty years after Dr. Hatch collected the first specimen, this was the first positive evidence that the birds were indeed breeding in the state.
When Roberts published the second edition of his book The Birds of Minnesota in 1936, he provided a lengthy update on the Cerulean Warbler:
So much new information about this previously supposed rare bird in Minnesota has been gained in the last four years as to suggest that this species may have been overlooked (which seems unlikely in view of the many careful observers in the field), or that it has recently entered and advanced northward in the state in considerable numbers, a more probable explanation.
What was most remarkable was that the new reports were not just of single individuals but of small, local populations. The first was from Linwood Lake in northern Anoka County. First discovered at the site in 1933, the birds were present during the summer of 1934 "in large numbers," and by summer's end four nests had been located in a hardwood forest dominated by basswood (Prosser 1934). Another small population was found in 1934 approximately seven miles west of St. Cloud at Grand Lake, Stearns County. In a letter to Roberts, Nestor Hiemenz wrote that as "many as fifteen to twenty singing males could be located in a single afternoon's walk" (Roberts 1936). Hiemenz also had several records from other localities in the general vicinity of Grand Lake.
In addition to these important records, Roberts (1936) noted that the birds continued to be observed in Goodhue County, Hennepin County, and on the Wisconsin side of the St. Croix River south of Taylor's Falls.
Then, in the mid-1960s, came reports from several northern locations: Mille Lacs County (Bolduc 1966); Crow Wing County (Roberts 1966); and Mahnomen County (Kelleher 1967). By the time Green and Janssen provided an updated account in 1975 they described the Cerulean Warbler's breeding range as occurring "within a wide belt on both sides of the Mississippi River as far north as Mahnomen County." New summer reports also were available from Douglas County in west-central Minnesota and Nicollet County in south-central Minnesota. Janssen's update in 1987 noted a new nesting record at Maplewood State Park, Otter Tail County, in 1978 and the report of a pair observed at Flandrau State Park, Brown County, in 1985. He included a distribution map that identified 7 counties where nesting had been confirmed since 1970: Anoka, Goodhue, Hennepin, Nicollet, Olmstead, Otter Tail, and Scott. Hertzel and Janssen (1998) later added Brown, Dakota, Ramsey, and Winona to the list.
Beginning in the late 1980s, field work conducted by the Minnesota Biological Survey documented a total of 138 Cerulean Warbler breeding locations. Confined primarily to the Eastern Broadleaf Forest Province, the most northern records were found in Becker County, southern Crow Wing County, and central Pine County. To the west they were documented in Otter Tail, Douglas, Pope, and Meeker Counties and, in the Minnesota River valley as far west as Brown County (Minnesota Department of Natural Resources 2017).
In the early 1990s, attention began to focus on the Cerulean Warbler's significant population decline. To address growing concerns regarding its status, a consortium of resource agencies and conservation organizations launched the Cerulean Warbler Atlas Project. For four breeding seasons from 1997 to 2000, field work was conducted to assess the extent of the species' breeding distribution and to identify important local populations. During the course of the project a total of 103 singing males were reported in Minnesota at 57 sites. Of these, 9 sites had five or more singing males: Murphy-Hanrehan Park Reserve in Scott and Dakota Counties reported the highest number with 20 males; Lake Maria State Park and Stanley Eddy Memorial Park Reserve, both in Wright County, logged 16 and 11 males respectively. Other significant sites included Beaver Creek Valley State Park, Houston County (9 singing males); Seven Mile Creek County Park, Nicollet County (9 singing males); and St. John's University Woods, Stearns County (8 singing males; Rosenberg et al. 2000).
Beginning in 2009, MNBBA participants tallied a total of only 45 Cerulean Warbler detections from 33 surveyed atlas blocks and from 17 priority blocks. Breeding evidence was documented in 5 blocks (Figures 2 and 3; Table 1). The birds were observed in 26 of Minnesota's 87 counties and were confirmed breeding in 6 counties: Brown, Goodhue, Le Sueur, Nicollet, Renville, and Winona; 2 blocks where nesting was confirmed along the Minnesota River each straddled 2 counties (Renville/Brown and Nicollet/Le Sueur).
Although the Cerulean Warbler's primary breeding distribution in the state appears unchanged since at least the 1960s, the number of MNBBA records certainly supports other evidence of a population decline. The records were sparsely distributed throughout the species breeding range. Only two areas, Murphy-Hanrehan Park Reserve and the Mississippi River floodplain in northern Goodhue County, had reports from multiple adjacent blocks. With its habit of dwelling in the high canopy and its thin, wispy song, the Cerulean Warbler is not an easy species for many observers to document, but experienced observers can readily identify the species in appropriate habitat. Like the MNBBA, the Cerulean Warbler Atlas Project also relied on a network of paid field assistants and volunteers to conduct its field assessment. As a result, it is likely that the significant decrease in detections noted between the two projects accurately portrays the species' decline.
Similar changes have been documented throughout the warbler's breeding range. Although there have been few overall changes in the extent of its distribution in recent decades, its overall abundance has declined significantly. In the 1940s, the species was considered "really abundant" in Wyalusing State Park, in the southwest corner of Wisconsin. Although the park remains an important site, the Cerulean Warbler is no longer abundant there (Cutright et al. 2006). And the species' decline was already evident when the first breeding bird atlas was conducted in Michigan in the mid-1980s. Originally common in southeast Michigan in the early 1900s, atlas records documented the species' retreat to floodplain forests in the southwestern corner of the Lower Peninsula. By the time the second Michigan atlas was conducted (2002–2008), the number of townships with Cerulean Warblers had declined by 12% (Chartier et al. 2013). Similar changes have been noted throughout the warbler's breeding range.
*Note that the definition of confirmed nesting of a species is different for Breeding Bird Atlas projects, including the definition used by the Minnesota Breeding Bird Atlas, compared with a more restrictive definition used by the Minnesota Ornithologists' Union. For details see the Data Methods Section.