Overview
Minnesota Seasonal Status:
A regular breeding species and migrant; the Eared Grebe was a rare species during the Minnesota Breeding Bird Atlas (MNBBA).
North American Breeding Distribution and Relative Abundance:
Present on every continent except Australia and Antarctica, the North American subspecies (Podiceps nigricollis californicus) is a western bird. Restricted largely to the northern Great Plains of the United States and Canada and to the more arid grasslands farther west, the Eared Grebe reaches the eastern periphery of its breeding range in western Minnesota. Scattered pockets of abundance are found in a few widely dispersed localities (Figure 1).
Conservation Concern: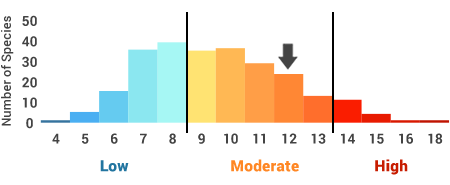 Assigned a Continental Concern Score of 12/20 by Partners in Flight and ranked as a species of Moderate Concern by the North American Waterbird Conservation Plan; designated a Species of Greatest Conservation Need in Minnesota.
Life History
Migration:
Medium-distance migrant; most birds winter in coastal waters along California.
Food:
A diver that forages primarily on a wide variety of aquatic invertebrates, although small fish and frogs may be taken as well.
Nest:
A loosely constructed platform of aquatic vegetation that may be floating in shallow water or anchored to other vegetation. A colonial nester.
Minnesota Breeding Bird Distribution*
In the early 1900s, Roberts (1932) described the Eared Grebe as a summer resident in the western prairie region of the state, breeding as far east as Hodgson Lake in Renville County, as far south as Swan Lake in Nicollet County, and as far north as eastern Kittson and Marshall Counties. Roberts considered the grebe to be quite abundant in some localities but noted that it was "irregularly distributed." He observed a colony of 100 or more birds on Heron Lake in Jackson County, nestled within the lake's legendary Franklin's Gull colony, and at least 150 birds at another unidentified site in the southwest region. Elsewhere, however, smaller colonies usually supported just 10 to 15 breeding pairs. Despite their broad distribution, confirmed nesting records (nests with eggs) were limited to Jackson, Kittson, Marshall, and Renville Counties. An inferred breeding record ("feeding young") also was reported from Lyon County. Although the birds were observed at the large wetland complex on Swan Lake for many years, nearly thirty years passed before nesting was confirmed (Huber 1961).
The grebe's rarity was confirmed more than 40 years later when Green and Janssen (1975) provided an updated account of the species. Its breeding range remained essentially unchanged from Roberts's earlier description. Confirmed breeding records from 11 counties were restricted largely to the southwestern and south-central regions of the state but also stretched as far north as Kittson and Marshall Counties in the northwest. Most notable was the fact that in the 25 years preceding the publication of their book, Eared Grebes had only been reported nesting at three sites: near the town of Alberta in Stevens County, at Swan Lake in Nicollet County, and at the Agassiz National Wildlife Refuge in Marshall County.
Then, in the late 1970s and early 1980s, the newly established Minnesota Nongame Wildlife Program launched an effort to assess the distribution and abundance of all colonial waterbirds nesting in the state. The project focused on compiling reports from Minnesota Department of Natural Resources field staff working throughout the state and from local and federal natural resource agencies and colleges and universities. Limited field surveys also were conducted. As a result of these efforts, 4 active Eared Grebe colonies were identified in 1977 (Henderson 1977) and 8 in 1980 (Henderson and Hirsch 1980). A 1985 summary report identified a total of 14 colonies that were active at least 1 year between 1981 and 1983 (Guertin and Pfannmuller 1985). Included in these reports were 2 accounts of small colonies located east of the previously documented breeding range: 1 at French Lake in Hennepin County (1980) and 1 in Anoka County (1985).
The increase in the number of colonies was believed to simply reflect new reports of small colonies that had previously gone unreported rather than a true increase in the population. Only 2 of the colonies reported in 1985 included more than 50 breeding pairs. The largest colony, numbering over 100 pairs, was on the Agassiz National Wildlife Refuge in Marshall County. The 1985 publication also noted that in addition to the 14 colonies that were active between 1981 and 1983, 2 new colonies were located on state Wildlife Management Areas (WMAs) in Yellow Medicine County in 1984: Miller Richter WMA (3 nests) and Timm's Lake WMA (103 nests).
In 1986, a 4-year field study on Minnesota's Eared Grebe population was launched (Boe 1992; Boe 1993; Boe 1994; Boe and Prahl 1987). Known colony sites were surveyed during the first field season. Of the 27 localities surveyed, Eared Grebes were found at 12 sites, and nesting was confirmed at 9 sites. Three previously unreported colonies also were found, including another site in the metropolitan region in Carver County (Boe and Prahl 1987).
Janssen's updated account of the species status in 1987 included expanded details on recent nesting occurrences. He identified 16 counties where nesting had been confirmed since 1970, including 2 records farther east in the state: the Carver County record cited above and a new record in Freeborn County in south-central Minnesota. Earlier accounts from the Nongame Wildlife Program of colonies in Anoka and Hennepin Counties were not included. Janssen (1987) speculated the grebe's use of sewage treatment ponds for nesting might explain some of its eastward range expansion. Although Eared Grebes frequently nest in large colonies in suitable wetland complexes, reports from these eastern sites were invariably of small colonies, usually numbering fewer than 10 pairs.
Fieldwork conducted by the Minnesota Biological Survey also identified a total of 20 breeding-season locations for the species. Most notable was a report from central St. Louis County (Minnesota Department of Natural Resources 2016). With all the new fieldwork under way, by 1998 Hertzel and Janssen identified a total of 30 counties where nesting had been confirmed since the year 1970, including Anoka, Hennepin, and Carver Counties in the greater Twin Cities metropolitan region.
During the MNBBA, Eared Grebes were reported from only 12 atlas blocks, including 7 priority blocks. Breeding evidence was confirmed in 5 blocks (Figures 2 and 3; Table 1). The birds were observed in 10 of Minnesota's 87 counties, including the St. Louis County report from the Minnesota Biological Survey in 2012. Breeding was confirmed in 4 counties: Grant, Lac qui Parle, Marshall, and Polk. No birds were reported in the Twin Cities metropolitan region. Among the 12 blocks where Eared Grebes were reported, 5 had sewage treatment ponds within the block, including the record for St. Louis County.
Eared Grebes can be a difficult species to survey. Small colonies located in small wetlands or wastewater treatment ponds are usually quite obvious. But colonies, even large ones, nesting in extensive wetland complexes, far from roads or access points, can be particularly challenging and may not have been well accounted for during the MNBBA.
At best, this small grebe remains a rare and elusive member of Minnesota's wetland bird community. Indeed, the small number of atlas records suggests that the species may have declined over the past 20 to 30 years. Apart from distributional shifts that reflect local changes in habitat, the current distribution of Eared Grebes in North America is remarkably similar to that documented in years past (Cullen et al. 1999).
*Note that the definition of confirmed nesting of a species is different for Breeding Bird Atlas projects, including the definition used by the Minnesota Breeding Bird Atlas, compared with a more restrictive definition used by the Minnesota Ornithologists' Union. For details see the Data Methods Section.