Overview
Minnesota Seasonal Status:
A regular yet rare breeding resident and migrant; occasionally reported during the winter months where there is open water, particularly along the Lower Mississippi River. The Lesser Scaup was a rare species during the Minnesota Breeding Bird Atlas (MNBBA).
North American Breeding Distribution and Relative Abundance:
A northern boreal species, the Lesser Scaup's breeding range extends from Alaska across Canada and south into the northwestern and north-central states. The boreal forest regions of western Canada are believed to support the highest densities of breeding birds, followed by the Prairie Pothole Region. Its distribution and relative abundance in southern Canada and the United States, as depicted by the federal Breeding Bird Survey (BBS), are shown in Figure 1.
Conservation Concern: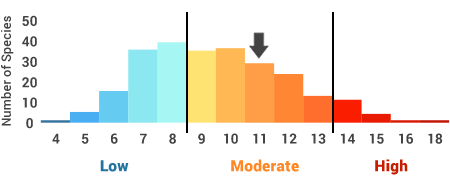 A game species, the Lesser Scaup has been assigned a High Continental Priority by the North American Waterfowl Management Plan, and assigned a Continental Concern Score of 11/20 by Partners in Flight; designated a Species in Greatest Conservation Need by the Minnesota Department of Natural Resources.
Life History
Migration:
A short- to medium-distance migrant that winters throughout the southern United States and Pacific coast, the Caribbean islands, and Central America. The vast majority of birds, however, winter along the Gulf coast of the United States.
Food:
Omnivorous diver feeding on aquatic invertebrates and plants.
Nest:
A shallow bowl on the ground or in a mound of aquatic vegetation over water.
Minnesota Breeding Bird Distribution*
Roberts's (1932) account of the species in the early 1900s focuses almost entirely on the Lesser Scaup's status as a common spring and fall migrant, particularly in western Minnesota. His comments regarding the species' breeding status were limited. After describing detailed accounts of the species' abundance during the fall flight that were submitted by observers throughout the state, he went on to question whether Lesser Scaup could ever have ever been very abundant during the breeding season and been missed by so many observant individuals:
From such reliable records as exist it seems improbable that the Scaup ever nested in considerable numbers anywhere in Minnesota, except, perhaps, in the northwest corner, where so many other Ducks spent the summer. There are no recent reports of nests or young, though pairs may be seen in the breeding-season throughout the state, suggesting nesting, but such occurrences cannot be taken as conclusive evidence.
Although he reported on records he received of pairs and multiple birds from several widely scattered western counties, confirmed nesting records (nest with eggs or flightless young) were limited to Marshall County (1891), Meeker County (1903), Otter Tail County (1893), and Itasca State Park (1919). In addition to these records, there was a report in June 1901 at Mud Lake in Marshall County that Lesser Scaup were one of the common ducks observed and "evidently breeding," although no young or nests were seen. Many years later, when Breckenridge surveyed western Minnesota in the summer of 1929, he found only scattered pairs of birds and some lone males, from Lincoln County north to Kittson County. The largest number of birds was just 3 to 4 pairs at Twin Lakes in Kittson County (Roberts 1932). With the scarcity of records and accounts, it is a bit surprising that Roberts made the statement that the Lesser Scaup was "formerly a more common summer resident, now much reduced in numbers in the nesting season." Little detail to support that premise is provided in his account.
In 1975, Green and Janssen reported the species was the rarest breeding duck in the state and limited to the northwest counties. The only confirmed nesting report (e.g. nest with eggs or flightless young) since Roberts wrote his account was in 1942 in Kandiyohi County. Records maintained by the Minnesota Ornithologists' Union also include reports of several broods seen during the summer of 1963 in Clearwater County (1 pair with 7 young) and Mahnomen County (several pair with young) (Minnesota Ornithologists' Union 2016). Reports of nonbreeding individuals elsewhere in the state were not uncommon. Nevertheless, when Janssen (1987) and Hertzel and Janssen (1998) published their maps of counties where nesting had been confirmed since 1970, Marshall County was the only county where breeding had been documented.
The species' status as a rare breeder has changed little over the years. To date, the Minnesota Biological Survey has reported only 13 breeding season locations in 6 counties: Clearwater, Kittson, Marshall, Pennington, Pope, and St. Louis (Minnesota Department of Natural Resources 2016).
During the MNBBA, participants reported just 49 records of Lesser Scaup in 1.0% (46/4,734) of the surveyed atlas blocks and in 1.2% (29/2,337) of the priority atlas blocks. Confirmed breeding evidence was not found in any block (Figures 2 and 3; Table 1). In total, the birds were observed in 30 of Minnesota's 87 counties. Although the majority of records were from the western half of the state, there were also scattered records in north-central, northeastern, and southeastern counties. Such reports may represent young, nonbreeding individuals, as Lesser Scaup may not breed their first year. Because the population has a skewed sex ratio in favor of males, not all males can find females. Various reports place the ratio anywhere from 57% males to as high as 87%. In addition, females may delay breeding until their second or third year, especially if wetland conditions are poor (Baldassarre 2014).
The increasingly wide dispersion of observations during the summer months appears to be a long-term trend in Minnesota. An examination of all the summer reports submitted to the Minnesota Ornithologists' Union since the 1960s shows a steady and marked increase in the number of counties where the birds are reported each summer, particularly in the past five years (Figure 4). These birds may be young dispersers from increasing breeding populations recently documented in the Dakotas (Anteau et al. 2014).
In their review of the species, Anteau and his colleagues (2014) commented that "there is no compelling evidence of historical changes in the range of Lesser Scaup. However, there is new evidence that the breeding range is larger than was previously thought (Schummer et al. 2013)." They specifically point out that areas along the southern periphery of its breeding range, where the species is thought to have decreased in abundance, are now being reoccupied, including in North and South Dakota. The species may also have expanded eastward in Ontario and Quebec since the middle of the 20th century (Anteau et al. 2014).
*Note that the definition of confirmed nesting of a species is different for Breeding Bird Atlas projects, including the definition used by the Minnesota Breeding Bird Atlas, compared with a more restrictive definition used by the Minnesota Ornithologists' Union. For details see the Data Methods Section.