Overview
Minnesota Seasonal Status:
Summer vagrant and migration visitant; formerly bred in Minnesota from 1971 to 1981. The Little Blue Heron was a very rare species during the Minnesota Breeding Bird Atlas (MNBBA).
North American Breeding Distribution and Relative Abundance:
Found primarily in the southeastern United States, from Virginia south along the coast, in adjacent inland areas to Texas, up the Mississippi River to the southern Ohio River, and in the southern Great Plains to Kansas. In the East, it is a rare and local breeder up the coast to southern Maine, and in the West it can be found in isolated colonies in South Dakota, New Mexico, and California. There are two northern disjunct colonies that have very small but persistent populations: one in Ohio, located on West Sister Island in western Lake Erie (Peterjohn and Rice 1991; Rodewald et al 2016); and one in South Dakota, where birds have bred at various sites in the northeastern part of the state but mostly at the Sand Lake National Wildlife Refuge in Brown County (Tallman et al. 2002). The Little Blue Heron is present year-round along the U.S. coast from Virginia to Texas. It also is a permanent resident, with local breeding populations, throughout the West Indies, coastal Mexico, Central America, and northern parts of South America. In North America, the highest breeding densities are found along the Gulf coast of Louisiana and Texas (Figure 1).
Conservation Concern: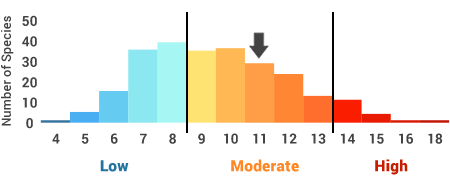 Designated a Species of High Concern by the North American Waterbird Conservation Plan; assigned a Continental Concern Score of 11/20 by Partners in Flight.
Life History
Migration:
Banding records show some migration as far as South America, but other birds winter in the southeastern United States.
Food:
Feeds primarily on small fish, amphibians, and crustaceans, including crabs and crayfish. It may also feed on grasshoppers and other insects in upland fields. A solitary forager, it quietly stands or slowly stalks its prey, in contrast to the Snowy Egret, which is a social feeder with active, dancing foraging techniques.
Nest:
A platform nest of sticks placed in low shrubs and small trees. The species is a colonial nester and occupies small territories in multispecies colonies or nests in small single-species colonies. Some larger Little Blue Heron colonies are in association with Cattle Egrets, whose aggressive behavior may impact nesting success.
Minnesota Breeding Bird Distribution*
The Little Blue Heron was not known in Minnesota in 1932 at the time when Roberts was writing The Birds of Minnesota, and it is not mentioned in that opus at all. The first observations were by William Longley in what is now called the Whitewater Wildlife Management Area in Winona County, on May 21, 1953, and August 17, 1956 (Lupient 1953; Longley 1956). There were a few other spring records before 1971, when nesting was found at Lake Johanna, Pope County (Hitman 1972). From 1971 through 1981, breeding was documented at four large multispecies colonies: (1) Lake Johanna, Pope County (1971–1981); (2) Pelican Lake, Grant County (1972–1979); (3) Big Stone National Wildlife Refuge (NWR), Lac qui Parle County (1976–1981); and (4) Pig's Eye Island, Ramsey County (1979). Also during that time, the first Minnesota specimen was collected, on August 1, 1972 (Zink and Frye 1977).
Documentation for the nesting evidence at each of these colonies was published in The Loon in several ways, either in an article, a note of interest, or in seasonal reports. Citations are as follows: (1) Lake Johanna: Hitman 1972; Green and Baumhofer 1972; Eckert 1973a; Carr 1974; Hiemenz 1981. (2) Big Stone NWR: Buer and Buer 1977; Eckert 1978; Green 1979. (3) Pelican Lake: Eckert 1973b. (4) Pig's Eye Island: Green 1980; Janssen 1987. There has been no nesting evidence reported since these published reports. Guertin and Pfannmuller (1985) noted that three of the sites (Pelican Lake, Lake Johanna, and Big Stone NWR) were surveyed in 1984 but Little Blue Herons were not detected. Since then, statewide surveys of colonial waterbirds have been limited to 5 aerial surveys of Double-crested Cormorant and American White Pelican colonies conducted from 2004/2005 to 2015 (Hamilton and Cuthbert 2016).  Although somewhat limited in scope, the survey has included many of the state's largest mixed species colonies, including all 4 sites where the Little Blue Heron was previously documented nesting. Nevertheless, none of the surveys have detected this rare species. Periodic ground surveys in mixed-species colonies that contain hundreds of nests of herons, egrets, and cormorants can be difficult but are usually the most effective tool to identify the presence of rare species.
After the period when the Little Blue Heron was found nesting in Minnesota (1971–1981), this species was classified by the Minnesota Ornithologists' Union as a rare spring and fall migrant and a rare summer visitant. During migration, when the birds are vagrants or dispersers, the observations are primarily (about 80%) in the southern half of the state. Sites in northern Minnesota where they have been observed are primarily in counties on the western margin of the state but include 4 to 5 records at hot spots on the North Shore of Lake Superior. There were fewer observations after the 1990s, resulting in its reclassification as a summer vagrant and a visitant during migration.
During the MNBBA, only 2 Little Blue Heron records were reported (Figure 2 and Table 1); both were coded as "observed" records. The first was reported from Lake Park Township in Becker County by the U.S. Fish and Wildlife Service on June 1, 2009. Given the early June date, it was probably a migrant. The second record is from Beltrami County on June 17, 2009.
*Note that the definition of confirmed nesting of a species is different for Breeding Bird Atlas projects, including the definition used by the Minnesota Breeding Bird Atlas, compared with a more restrictive definition used by the Minnesota Ornithologists' Union. For details see the Data Methods Section.