Overview
Minnesota Seasonal Status:
A regular breeding resident and migrant; the Mourning Warbler was common during the Minnesota Breeding Bird Atlas (MNBBA).
North American Breeding Distribution and Relative Abundance:
Distributed across the northeastern and upper Midwest and throughout Canada from Newfoundland and Labrador to northeastern British Columbia (Figure 1). Highest densities in North America are found in northeastern Minnesota and parts of Ontario.
Conservation Concern: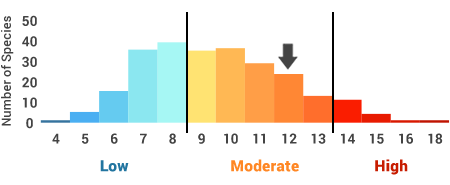 Assigned a Continental Concern Score of 12/20 by Partners in Flight, which designated the Mourning Warbler as a continental and regional stewardship species.
Life History
Migration:
Long-distance Neotropical migrant, over winters in Central America and northwestern South America.
Food:
Arthropods gleaned from foliage.
Nest:
Cup-nest on or near the ground in a well-concealed location.
Minnesota Breeding Bird Distribution*
Roberts (1932) described the species as well distributed in northern and north-central forested areas and their fringes south to Isanti County and westward to Marshall and Polk Counties. He reported nesting activity from Aitkin, Carlton, Cass, Cook, Isanti, and St. Louis Counties as well as east-central Minnesota and the Mille Lacs area.
As recorded by Roberts (1932), accounts of the Mourning Warbler by T. Martin Trippe in the summer of 1870 describe the warbler as a "common nesting bird" in the region from Carlton County west to Otter Tail Lake. He made these observations while laying out the route of the Northern Pacific Railroad. Roberts described Trippe's information as of special interest because these data "supplied a missing chapter in the life history of a bird about which little was known up to that time." In addition, Roberts (1932) stated that Dr. Coues in 1873 found Mourning Warblers "breeding abundantly along the Red River, between Dakota and Minnesota." Roberts himself in 1880 found possible evidence of a "pair, evidently with young," in Sherburne County and commonly observed them in "burned-over" areas of Stearns County in 1881.
Roberts also identified numerous accounts of the commonness of the species in Carlton County, near Duluth, and its abundance "in the vicinity of Virginia, Hibbing, Biwabik, and elsewhere on the Mesabi Iron Range of northern St. Louis County." He suggested based on these accounts that it "is apparently more abundant in the extreme northern part of the state than it is in the central counties." Undoubtedly the species nested in many additional counties and locations, but the lack of observers and the difficulty in finding nests likely restricted additional confirmations.
Green and Janssen (1975) included a similar distribution with additional inferred or confirmed nesting from Clearwater, Hubbard, Itasca, Lake, Otter Tail, and Roseau Counties. They also emphasized the presence of singing males in Anoka, Hennepin, and Washington Counties in the Twin Cities area. Several years later, Janssen (1987) documented confirmed nesting in seven counties since 1970 including Aitkin, Clearwater, Cook, Lake, Pine, St. Louis, and Washington Counties. Hertzel and Janssen (1998) would later add Anoka and Dakota Counties to the list of confirmed counties where nesting has been observed since 1970.
The Minnesota Biological Survey (MBS) included 744 breeding observation locations during their counts, which were distributed throughout most of the areas previously described. The MBS also recorded observations but not confirmed nesting from several other counties not included in the general breeding range of Janssen (1987) or Hertzel and Janssen (1998). These included Fillmore, Hennepin, Sibley, Stearns, and Wright Counties as well as records that straddled Renville/Nicollet and Scott/Dakota Counties.
The extensive coverage of the MNBBA included 1,988 records and verified the broad breeding distribution in the state. Confirmed nesting not previously reported included Becker, Beltrami, Lake of the Woods, and Morrison Counties (Figure 2). As is the case for many species in which nests are difficult to find, only 6% of all blocks where the species was observed had confirmed nests (60 confirmed out of 975 total blocks) (Figure 3; Table 1).
The Minnesota predicted probability map emphasized its highest populations in northeastern Minnesota with potentially isolated populations west to Becker County and south to the Twin Cities metropolitan area (Figure 4). Highest densities were predicted in Cook, Lake, and St. Louis Counties, eastern Koochiching County, eastern Pine County, and northeastern Itasca County.The probability map fits well with the relative abundance map produced by the federal Breeding Bird Survey (BBS) (Figure 1).
Over the past 150 years, the Mourning Warbler's range has contracted, especially in its southern, southwestern, and western fringes of Minnesota. The species is still relatively common and locally abundant in the north-central regions of the state, primarily in the Laurentian Mixed Forest Ecological Province. Isolated breeding populations occur outside these areas where suitable breeding habitat exists. Compared with the Wisconsin breeding bird atlas (Cutright et al. 2006), the species appears to have a more restricted distribution in Minnesota. Confirmed nesting and breeding observations in Wisconsin extended much farther south into the Iowa Driftless region and even a confirmed nesting in the most southeastern county of Wisconsin (Grant County). Roberts (1932) makes no mention of breeding activity in southeastern Minnesota, except for spring migration in Goodhue County. In an extensive effort of nest searching from 1996 to 1998 in southeastern Minnesota by Knutson et al. (2004), no observations out of 975 nests found were of this species.
Minnesota represents a relatively large component of the North American breeding population of this species, which is largely concentrated in the western Great Lakes region (Figure 1). Based on the BBS, the highest population levels include a substantial part of the province of Ontario, northern Michigan, Minnesota, and Wisconsin and extend up to south-central Manitoba.
*Note that the definition of confirmed nesting of a species is different for Breeding Bird Atlas projects, including the definition used by the Minnesota Breeding Bird Atlas, compared with a more restrictive definition used by the Minnesota Ornithologists' Union. For details see the Data Methods Section.