Overview
Minnesota Seasonal Status:
A regular species throughout the year, including migration and winter. More goshawks migrate through Hawk Ridge in Duluth than anywhere else in North America. The species was rare during the Minnesota Breeding Bird Atlas (MNBBA).
North American Breeding Distribution and Relative Abundance:
A Holarctic species, in North America the Northern Goshawk is widely distributed across the boreal forest region from Alaska, across Canada, and south into the northern Great Lakes states, New England, and the western United States. It also is found in a small region of northern Mexico. The species is sparsely distributed throughout its breeding range. Figure 1 displays its relative abundance from southern Canada through the United States.
Conservation Concern: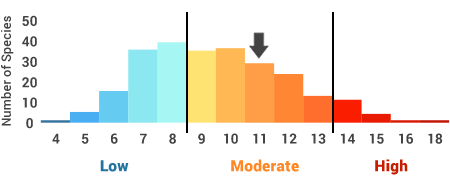 Assigned a Continental Concern Score of 11/20 by Partners in Flight; designated a Sensitive Species on both the Superior and Chippewa National Forests; officially listed as a state Special Concern Species in 2013; also designated a Species in Greatest Conservation Need by the Minnesota Department of Natural Resources.
Life History
Migration:
Often referred to as a partial migrant. Some birds remain in their breeding areas year-round, while others migrate; the proportion of the population that migrates may depend on winter conditions and prey availability. From 1999 to 2001, 93% of breeding goshawks (26 of 28 birds) radio-tagged in north-central Minnesota appeared to be year-round residents remaining close to the forest stands where they nested (Boal et al. 2003).
Food:
Renowned for its swift, aerial pursuit of prey, the goshawk is an opportunistic feeder consuming a variety of birds and small mammals. In Minnesota, Ruffed Grouse, red squirrels, and eastern chipmunks are important prey items (Gullion 1981; Smithers 2001; Smithers et al. 2005).
Nest:
Large, open platform nest constructed with twigs and lined with bark and fresh green foliage.
Minnesota Breeding Bird Distribution*
On the southern periphery of its breeding range in Minnesota, the Northern Goshawk was not very familiar to the early chroniclers of the state's bird fauna except as a winter visitor. Hatch (1892) described it as regular during the winter months except when the weather was very mild. He suspected that it bred in the state, but he had no documented evidence. The same year that his report on Minnesota birds was published, his suspicion would prove true. Frank Nutter, a keen observer of birds, published a small note in the journal Oologist describing a goshawk nest he found in Hennepin County, not far from Minneapolis (Nutter 1892)!
Forty years later, Roberts's (1932) more comprehensive account of the species included Nutter's record as well as 3 confirmed nesting attempts in Roseau County in 1926 and 1927. Nevertheless, he still believed that the species' presence was largely confined to the winter season and that it only rarely nested in the state (Roberts 1932). It is more likely that this secretive denizen of the boreal forest had simply gone undetected by early naturalists, who spent far more time in open landscapes of southern and western Minnesota then in the extensively forested landscapes farther north.
By the early 1940s, more reports of goshawks nesting in northern Minnesota began to accumulate. Morse (1942) reported on 3 nesting attempts in Carlton and St. Louis Counties between 1934 and 1942. Additional nesting attempts in St. Louis County were documented by Lakela in 1943 and 1945 and by Olson in 1946 (Lakela 1943, 1945; Olson 1946). When Green and Janssen published their updated account in 1975, they described the Northern Goshawk as a breeding resident in the far northern counties of the state, stretching from eastern Roseau, south to Carlton, and east to Cook. Although Nutter's 1892 nesting report in Hennepin County remained the only documented nesting record south of this region, they also noted a suspected nesting effort in Morrison County in 1938, just at the southern border of the northern forest region.
In 1981, Gordon Gullion (1981), Minnesota's renowned expert on Ruffed Grouse, published a small account detailing his observations of nesting sites at the Cloquet Forestry Center in Carlton County dating from 1956 through 1980. His particular interest was the role of goshawk predation on Ruffed Grouse populations. And one year later, David Parmelee (1982) wrote an account of the species' nesting efforts at Itasca State Park. That same year Johnson (1982) reviewed the status of all Minnesota raptors and reported that since Nutter's original nesting report in 1892, 61 nests had been reported across northern Minnesota. Despite fluctuations in abundance, he concluded that the Minnesota goshawk population appeared relatively stable. When Janssen (1987) wrote his updated account of the species' status in 1987, little had changed; he delineated 10 counties where the species was known to have bred since 1970.
Although knowledge of the species' true breeding status and distribution was increasing, the Northern Goshawk remained an elusive and secretive member of Minnesota's breeding bird community. The only real opportunity to closely observe this species was during the annual fall migration at Hawk Ridge in Duluth, Minnesota. Each fall an average of a few hundred birds are tallied as they migrate south from their northern Minnesota and Canadian breeding grounds (Hawk Ridge Bird Observatory 2016). This is a relatively small number of birds compared with the thousands of Broad-winged Hawks that pass over the ridge each year. Nevertheless, it is still many more than are observed at the well-known mecca for hawk migration, Hawk Mountain in Pennsylvania, where an average annual count of goshawks is 68 birds (Hawk Mountain 2016).
Interest in the Northern Goshawk began to accelerate in the late 1980s and early 1990s. As timber harvest levels in Minnesota's northern forests began to rise, so did concern for those species that depended on large tracts of mature forest, including the Northern Goshawk. Numerous field studies were launched that not only examined the Minnesota population in depth but also placed it in context with populations throughout the western Great Lakes region, including Wisconsin, Michigan, and southern Ontario. More intensive field inventories began in 1994 (e.g., Martell et al. 1994; Martell and Dick 1996; Hamady et al. 2003), followed by intensive examinations of effective monitoring techniques (e.g., Roberson et al. 2005; Bruggeman et al. 2011), and studies of foraging habits and nesting habits (e.g., Boal et al. 2001, 2003, 2005, 2006; Smithers 2001; Smithers et al. 2005). Efforts to better understand the origins of migrants that pass through Duluth each fall also were initiated (Hawks et al. 2007).
Due to these studies, knowledge of the Northern Goshawk has expanded tremendously, but the species itself remains rare and elusive. When Hertzel and Janssen (1998) published updated maps of nesting records, they delineated just 8 counties where nesting had been confirmed since 1970. They deleted 3 counties from the map Janssen published in 1987 (Itasca, Crow Wing, and Mahnomen) and added 1 (St. Louis). Unfortunately neither publication includes supporting documentation, so it is unclear why nesting evidence for 3 counties was eliminated. Regardless, records remain rare. Field biologists have combed the northern counties as part of the Minnesota Biological Survey, but they have to date reported only 13 breeding season locations (Minnesota Department of Natural Resources 2016). Because of continuing concerns regarding the Northern Goshawk's status in the state, it was officially listed as a state Special Concern Species in 2013 (Minnesota Department of Natural Resources 2013).
During the MNBBA, data on goshawks were secured from two primary sources.  First, were data gathered by MNBBA observers who reported 42 Northern Goshawk records from less than 1 percent (37/4,735) of the surveyed atlas blocks and from less than 1 percent (21/2,337) of the priority blocks. Breeding evidence was gathered from just 5 atlas blocks (0.1% of blocks where it was reported) (Table 1 and Figure 3). The birds were observed in 10 of Minnesota's 87 counties and were confirmed breeding in 3 counties: Lake, St. Louis, and Roseau. The Roseau County record was an addition to the list of confirmed counties published by Hertzel and Janssen in 1998.
Second, were data generously provided by the Minnesota Department of Natural Resources (MNDNR) Northern Goshawk Monitoring Program for the years 2009-2013. At the request of the MNDNR these data were maintained separately and not entered into the MNBBA database. In addition, because a limited number of goshawks are still legally taken for falconry, many publications do not provide detailed information on nesting locations. In keeping with concerns expressed by the MNDNR, the atlas only illustrates the MNBBA and MNDNR goshawk records to the county level rather than to the block level. Figure 2 displays the highest level of breeding evidence by county documented by the combined MNBBA and MNDNR data. The data in Table 1 and Figure 3, however, pertain strictly to the MNBBA data.
Our understanding of the habits and distribution of the goshawk have improved considerably in the past one hundred years. Although Roberts (1932) considered the species to be primarily a winter visitant, it likely always has been a rare, year-round resident of Minnesota's northern forests. In their comprehensive review of the species, Squires and Reynolds (1997) note that there is few data to document any historical changes in the goshawk's distribution. They surmise that populations in the western and northern regions of its range have changed very little but speculate that eastern populations may have been negatively impacted by the loss of a major prey item, the Passenger Pigeon, and by the loss of forest lands. As many agricultural lands in New England succeed back to mature forest, eastern populations may recover.
*Note that the definition of confirmed nesting of a species is different for Breeding Bird Atlas projects, including the definition used by the Minnesota Breeding Bird Atlas, compared with a more restrictive definition used by the Minnesota Ornithologists' Union. For details see the Data Methods Section.