Overview
Minnesota Seasonal Status:
A regular breeding resident and migrant; occasionally observed in early winter months, primarily in southern Minnesota, and may even overwinter where open water is available. The Northern Pintail was a rare species during the Minnesota Breeding Bird Atlas (MNBBA).
North American Breeding Distribution and Relative Abundance:
Circumpolar in distribution, the Northern Pintail's breeding range in North America stretches from Alaska across Canada to Newfoundland and Nova Scotia and south through the northwestern and north-central states. The core of the species' breeding range is in the Prairie Parklands of central Canada and the Prairie Potholes of the northern Great Plains (Figure 1). Small pockets of abundance also occur in Alaska.
Conservation Concern: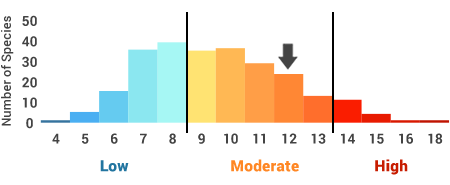 A game species, the Northern Pintail is designated a High Continental Priority by the North American Waterfowl Management Plan; it was also designated a Common Bird in Steep Decline in 2014 by the North American Bird Conservation Initiative and assigned a Continental Concern Score of 12/20 by Partners in Flight. The Minnesota Department of Natural Resources has listed it as a Species in Greatest Conservation Need.
Life History
Migration:
Ranges from a year-round resident in some areas of its breeding range to a long-distance migrant in other areas. Birds breeding in the Prairie Pothole Region are medium-distance migrants, wintering largely along the Gulf Coast of the United States.
Food:
A dabbling duck that feeds on grain, aquatic plants, and invertebrates.
Minnesota Breeding Bird Distribution*
Like so many other waterfowl species, the Northern Pintail likely reached its peak abundance at least 150 years ago, prior to drainage of the majority of Minnesota's wetlands and the unregulated commercial hunting of waterfowl that finally came to an end with passage of the Migratory Bird Treaty Act in 1918.
By the early 1930s, Roberts (1932) wrote that the pintail still nested in "considerable numbers" in southern and western Minnesota and occasionally in forested areas but it was "by no means, as abundant a summer resident as formerly." Prior to 1898, for example, it was quite common at Heron Lake in Jackson County and abundant at Mud Lake in Marshall County. At the time of his writing, Roberts had confirmed nesting records (nests with eggs) from just 3 counties: Jackson, Lincoln, and Marshall. Females with young broods were reported in Big Stone and Otter Tail Counties. Many birds were also reported in Grant County, and nests (no mention of eggs) were reported from Polk County.
The Northern Pintail has never fully recovered in Minnesota to its former levels of abundance. Thirty years after Roberts wrote the first comprehensive account of the species' status, the Northern Pintail comprised less than 5% of Minnesota's breeding duck population (Lee et al. 1964).
To date, the species remains a relatively rare breeding resident. Green and Janssen (1975) described it as a breeding resident "primarily in the western and southern prairie regions" but also noted 4 breeding records east of the species' primary breeding range in Aitkin, Beltrami, Cass, and Washington Counties. Several years later, Janssen (1987) delineated those counties where breeding had been confirmed since the year 1970; 14 of the 15 counties were within the species' primary breeding range and only 1, in Aitkin County, was in the northern forest region. The species was not, Janssen wrote, a common breeder in the state. Several years later, Hertzel and Janssen (1998) would add 4 counties to the list; only 1 (Lake of the Woods) was outside of the Northern Pintail's primary range in central and western Minnesota.
When the Minnesota Biological Survey was working in the Prairie Parkland and Tallgrass Aspen Parklands Provinces, it reported only 32 breeding season locations for the species. Nearly one-third of the records were reported in 2 counties: Marshall and Lac qui Parle. The remaining records were within the species' primary breeding range (Minnesota Department of Natural Resources 2016).
MNBBA participants reported 55 Northern Pintails records in 1.0% (45/4,734) of the surveyed atlas blocks and in 1.0% (23/2,337) of the priority blocks. Breeding evidence was documented in only 7 (0.1%) of the surveyed blocks (Figures 2 and 3; Table 1). The species was observed in 25 of Minnesota's 87 counties (Chippewa County was included because of a block that straddled both Chippewa and Lac qui Parle) and documented breeding in 7 counties; 4 of the 7 were in west-central Minnesota. Breeding evidence (fledged young) was documented in Swift County for the first time during the atlas.
Although the Northern Pintail remains a regular, albeit rare, breeding resident in western and central Minnesota, there are occasional summer reports further to the east (Minnesota Ornithologists' Union 2016). During the atlas, observations were reported in several north-central and northeastern counties, specifically Aitkin, Beltrami, Cass, Lake, and St. Louis. Indeed, in 2015, 2 years after the atlas was completed, Steve Wilson documented a nesting pintail (a female with five young observed July 26) on an old tailings basin in central St. Louis County; it was the first confirmed nesting record for the county (Minnesota Ornithologists' Union 2016). Overall, the Northern Pintail's distribution across Minnesota remains similar to its distribution at the time of Roberts's writing, but its abundance is likely magnitudes smaller.
The Northern Pintail's distribution across North America has remained relatively unchanged over the past one hundred years (Clark et al. 2014). Reports in southern Ontario have increased since the mid-1950s, but it is unclear if these records represent a range expansion or if the species was overlooked in early explorations of the province's avifauna (Cadman et al. 2007). Although the Northern Pintail is a rare species in states to the east of Minnesota, South Dakota lies within the core of the species' breeding range. South Dakota's second atlas (2009–2012) documented the species' wide distribution throughout the state. Drilling and her colleagues commented that the species' distribution and abundance in the state varied with climatic conditions:
During wet or normal moisture conditions, pintails are common in the pothole regions east of the Missouri River and uncommon west of the River. During dry conditions, more pintails breed west of the River, or birds may fly past South Dakota and breed elsewhere (Drilling et al. 2016).
*Note that the definition of confirmed nesting of a species is different for Breeding Bird Atlas projects, including the definition used by the Minnesota Breeding Bird Atlas, compared with a more restrictive definition used by the Minnesota Ornithologists' Union. For details see the Data Methods Section.