Overview
Minnesota Seasonal Status:
A regular breeding resident, migrant, and winter visitant, the Northern Saw-whet Owl was uncommon during the Minnesota Breeding Bird Atlas (MNBBA).
North American Breeding Distribution and Relative Abundance:
The Northern Saw-whet Owl is widely distributed across the forested areas of the midwestern and northern United States, throughout the forested regions of Canada and southern Alaska, and south through the Cascades and Rockies to California, Arizona, and New Mexico. A resident population is also found in Mexico. The Northern Saw-whet Owl is sparsely distributed throughout its range; its exact limits are not well known and vary on an annual basis.
Conservation Concern:
Assigned a Continental Concern Score of 8/20 by Partners in Flight.
Life History
Migration:
A short-distance migrant; populations in northern regions move south and those at higher elevations move to lower elevations. Some individuals remain on their breeding grounds throughout the year, and some are known to linger in northern regions into early winter. Irruptive fall movements are known and are thought to occur in four-year intervals.
Food:
Primarily small mammals, especially deer and white-footed mice (Peromyscus spp.), voles, shrews, and occasionally bats; some evidence of small birds during migration and of insects. Hunts at night from a low perch either on edges or in forest openings.
Nest:
A secondary-cavity nester that uses old woodpecker holes, especially those excavated by the Northern Flicker and the Pileated Woodpecker but also will use nest boxes.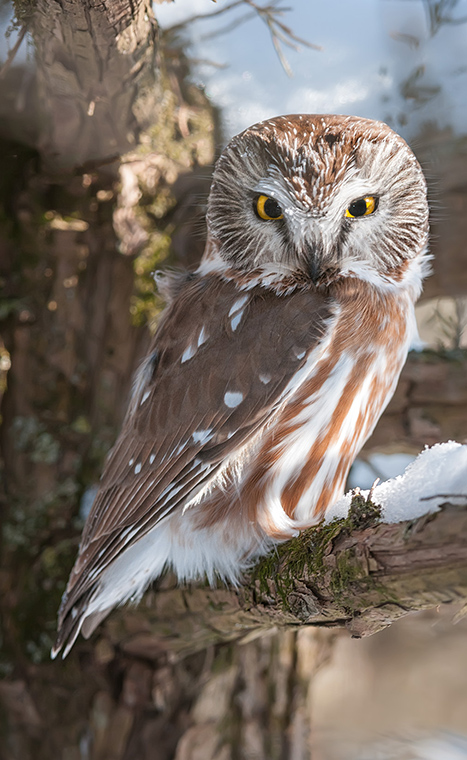 Minnesota Breeding Bird Distribution*
The diminutive Northern Saw-whet Owl, described by Roberts (1932) as "not much larger than a plump House Sparrow," was further identified as a "permanent resident, breeding throughout the state." Roberts also states that his "files contain enough records to show that it is fairly well represented throughout Minnesota at all times of the year," though "there is a partial withdrawal from the northern part of its range in the winter."
Despite the species' broad distribution, Roberts only included three confirmed nesting observations (young or nests with eggs) in Hennepin, Kittson, and Sherburne Counties. One of the two nests he described in Hennepin County was "in the same stub as nests of the Arctic [Black-backed] and Pileated Woodpeckers."
Green and Janssen (1975) described the Saw-whet Owl as a "resident throughout the wooded portion of the state as far south as the Twin Cities area." They emphasized that the species was likely a resident in the southeastern portion of Minnesota, but there were no twentieth-century records from that region. In addition, "no old or modern summer records exist for the west central, southwestern, or south central regions." Besides the 3 counties mentioned by Roberts, the authors cited that nesting records existed for Wadena County in west-central Minnesota.
Johnson (1982) summarized that 22 breeding records were known from 1881 to 1981 for 11 counties in Minnesota. Besides the 4 counties already mentioned, the additional 7 included Becker, Beltrami, Cook, Crow Wing, Lake, Norman, and St. Louis. Johnson also noted inferred nesting records from Itasca State Park in Clearwater County and from Thief Lake Wildlife Management Area in Marshall County. The distribution of these nesting records is consistent with Green and Janssen (1975) and ranges north from the Twin Cities to the extreme northwest and northeast counties in the state. Johnson made special mention of the lack of records from the southeastern forests of Minnesota but identified a 1981 summer observation of the Northern Saw-whet Owl at Whitewater State Park in Winona County and a 1981 nest with five young owls near Trempealeau, Wisconsin, just across the border from the town of Winona, Minnesota.
A few years after Johnson's summary was published, Janssen (1987) described the Northern Saw-whet Owl's distribution as "the more heavily wooded portions of the state from the southeast (very rare) to the northwest regions." He also reinforced that there were no nesting records or breeding-season observations from the south-central, southwest, or west-central prairie regions. Janssen included confirmed nesting in 15 counties since 1970, with 8 new counties not previously confirmed: Aitkin, Cass, Itasca, Lake of the Woods, Marshall, Polk, Ramsey, and Red Lake. In a 1998 update, Hertzel and Janssen included confirmed nesting in 15 Minnesota counties since 1970. Their map did not include Aitkin, Itasca, or Red Lake, but it added Hennepin, Hubbard, and Koochiching Counties as new county records.
Since the Minnesota Biological Survey (MBS) began in the late 1980s, it has recorded 15 breeding season locations for the Northern Saw-whet Owl (Minnesota Department of Natural Resources 2017). New potential breeding season locations included 1 in southern Houston County in extreme southeastern Minnesota, 1 near the border between Pope and Stearns Counties, and 1 in central Pine County. The remaining locations were in Aitkin (1 record), Becker (1), the border of Becker and Hubbard (1), Cass (2), Cook (3), Crow Wing (1), and northern St. Louis (3) Counties.
Participants in the MNBBA reported 329 records of the Northern Saw-whet Owl, including 6 confirmed nests in Aitkin, Lake of the Woods, Morrison, St. Louis, and Wright Counties (Figures 1 and 2; Table 1). Two of the counties had previously confirmed nesting records: Lake of the Woods and St. Louis. In addition, 69 blocks had "probable" nesting and 150 blocks had "possible" nesting. Breeding evidence was generally distributed in the wooded portions of the state, from 3 blocks in Houston County in the extreme southeast to 1 block in Kittson County in the extreme northwest. Extensive and dense breeding evidence was recorded in Lake and northern St. Louis Counties, due to diligent efforts by Dave Grosshuesch, Jim Lind, Steve Wilson, and their colleagues on nocturnal counts. Additional regions of more intensive searching efforts included central Minnesota and Roseau County.
In their review of the Northern Saw-whet Owl in North America, Rasmussen et al. (2008) simply stated that no data were available on historical changes to the distribution of this species. The combination of Minnesota Ornithologists' Union records (largely summarized by Green and Janssen [1975], Johnson [1982], Janssen [1987], and Hertzel and Janssen [1998]) with records from the MBS and the MNBBA depicts a breeding distribution of the Northern Saw-whet Owl in the wooded portions of the state. In addition, the Hawk Ridge Bird Observatory coordinated a randomly distributed nocturnal owl-monitoring program throughout Minnesota from 2005 to 2014 (Grosshuesch and Brady 2015). Data from the program from 2009 to 2013 were included in the MNBBA results. All of these data suggest that the primary distribution of the Northern Saw-whet Owl in Minnesota is confined to the forested areas of the state. Potentially, higher densities occur in the northeastern region of the state, but a lack of greater nocturnal search efforts in that region precludes a definitive statement.
As Janssen noted, records indicate that the species is absent from the south-central, southwest, and west-central prairie regions. Janssen also found the species to be very rare in the southeast, which appears to still be the case, with the exception of Houston County, where the MBS and the MNBBA included potential nesting evidence; in addition, the MBS identified one location on the border of Pope and Stearns Counties. In his First Report of the State Zoologist, Hatch (1892) noted that in the heart of the Big Woods Subsection in south-central Minnesota, a family had assured him that as far back as 1868 the Northern Saw-whet Owl "was a permanent resident, breeding in woodpecker holes sometime in April." Hatch later stated he confirmed this when he described the nest, which was "furnished with some grass, and feathers occasionally." However, Hatch's account is entirely suspicious because he mentioned finding the species common in autumn and stated that "nests are placed in the forks of a sapling, but occasionally in the nest of another bird or in a knot-hole in a large tree," neither of which is accurate to the species' usual habits.
As noted previously, Roberts (1932) stated the species was breeding throughout the state. Interestingly, he never mentioned Hatch in his account but cited many other early observers in the 1800s. Since the Big Woods have largely been converted to agricultural and residential areas, it is logical that the species may be absent or very rare in this region today, but it was likely present prior to the many habitat changes that have occurred. As mentioned by Rasmussen et al. (2008), there are no solid data on historical distribution changes and, hence, there is no basis to suggest that the species' distribution has changed since the nineteenth century. The Northern Saw-whet Owl's lack of vocalizations and its dominant nocturnal feeding habits render it very difficult to detect.
Both Michigan and Wisconsin also found the Northern Saw-whet Owl to be a sparsely distributed species during breeding bird atlases in those states, and atlas authors found it especially difficult to find confirmed nesting activity (Cutright et al. 2006; Chartier et al. 2013). Michigan did not find any differences between its first atlas in 1983–1988 and its second atlas in 2001–2005. From Ontario's first breeding bird atlas in 1981–1985 to its second in 2001–2005, there were several regional shifts in the species' distribution (Cadman et al. 2007). Overall, the species declined in the southern regions but increased in the northern regions. However, the authors mentioned that the changes were complicated by greater search efforts in the second atlas and by differences in overall population levels among different regions during the first and second atlases.
*Note that the definition of confirmed nesting of a species is different for Breeding Bird Atlas projects, including the definition used by the Minnesota Breeding Bird Atlas, compared with a more restrictive definition used by the Minnesota Ornithologists' Union. For details see the Data Methods Section.