Overview
Minnesota Seasonal Status:
A regular breeding resident and migrant in Minnesota, the Palm Warbler was uncommon during the Minnesota Breeding Bird Atlas (MNBBA).
North American Breeding Distribution and Relative Abundance:
Patchily distributed from far eastern Canada to northern Alberta, including northern Minnesota, the Upper Peninsula of Michigan, northern Wisconsin, and northern Maine in the United States (Figure 1). A substantial part of its breeding distribution is not shown in Figure 1 because of the lack of roads in northern Canada.
Conservation Concern: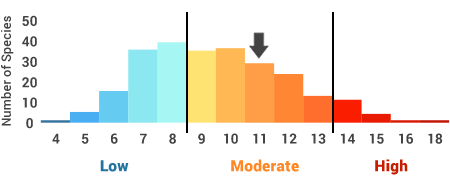 Assigned a Continental Concern Score of 11/20 by Partners in Flight.
Life History
Migration:
Short- to long-distance migrant that over-winters along the Atlantic and Pacific coasts, southern United States, south to Mexico and Central America as well as the Caribbean.
Food:
Insects gleaned from the ground and foliage.
Nest:
Cup-nest on the ground and typically in Sphagnum moss.
Minnesota Breeding Bird Distribution*
Roberts (1932) called the Palm Warbler a "rare summer resident" in the northern part of the state as far south as northern Aitkin County and west to the "evergreen groves of eastern Marshall County." He identified nesting activity in Aitkin (nest with egg and three young), Cook (immature bird observed), Marshall (three young in juvenile plumage), and St. Louis (nest with half-grown young) Counties as well as at Cass Lake (two adults and two young).
Roberts described the Palm Warbler as rare primarily because of the lack of observations, or at least consistent observations, during his field trips to many of the northern counties. For instance, he collected one specimen, the only one he observed, during a number of days of observation around Lake Vermillion in northern St. Louis County. He described similar experiences with limited or a lack of observations during prime breeding periods at Lake Itasca, Cass Lake, Burntside Lake (St. Louis County), and Lake Vernon (Cook County).
Roberts cited observations by Dr. Dart that the Palm Warbler was "well represented in the dense, evergreen swamps then existing along the Moose River and about Mud Lake in northeastern Marshall County, some forty miles south of Lake of the Woods." He summarized that it "is a summer resident over a considerable area in northern Minnesota and that it there inhabits, at that season of the year, densely wooded evergreen lowlands." This habitat description is quite different than the open peatlands where it is primarily found in Minnesota today (see below), but little descriptive or quantitative data were available for comparison.
In 1975, Green and Janssen emphasized the Palm Warbler's breeding distribution as the northeastern and north-central regions and in adjacent Marshall and Roseau Counties. They described the Palm Warbler as scarce throughout most its range except where "extensive areas of open or parklike tamarack-black spruce bogs" are present. Nesting was confirmed only in Aitkin and St. Louis Counties. Several years later, Janssen (1987) illustrated a much more restricted breeding distribution from west-central St. Louis County to eastern Roseau and Lake of the Woods Counties, including portions of Aitkin, Beltrami, Cass, Itasca, and Koochiching Counties. Janssen only reported confirmed nesting since 1970 in Beltrami County, but Hertzel and Janssen (1998) later only included confirmed nesting since 1970 in Koochiching County and did not include Beltrami County.
The Minnesota Biological Survey (MBS) recorded 249 breeding season locations and greatly expanded the breeding distribution reported by Janssen (1987). The MBS detected the Palm Warbler from northern Carlton and Pine counties, throughout Aitkin County, eastern Marshall County, and throughout northern St. Louis, Lake, and Cook Counties (Minnesota Department of Natural Resources 2017).
The MNBBA included a total of 356 records, which were all within the Laurentian Mixed Forest Ecological Province (Figure 2). Detections were recorded in 4.0% (191/4,736) of all blocks surveyed and in 4.7% (110/2,337) of priority blocks (Figure 3; Table 1). Confirmed nesting was recorded for 8% (16/191) of all blocks where they were detected in 6 counties: Beltrami, Cook, Itasca, Koochiching, Lake, and St. Louis. Probable nesting was also identified in Aitkin, Carlton, Cass, and Lake of the Woods Counties, plus possible nesting in Clearwater, Crow Wing, Mille Lacs, and Roseau Counties.
This distribution of the Palm Warbler identified by MBS and the MNBBA expanded the breeding range identified by Roberts in the late 1800s and early 1900s. It is unlikely that the breeding range has expanded in Minnesota; more probably the many previous efforts have overlooked the species. The Palm Warbler has a weak song that can be difficult to identify. Roberts (1932) aptly described its song as "one of the humblest of the group," "a simple, rather weak trill." For instance, the many records of the Palm Warbler by the MBS is likely due, in part, to their focus on rare habitats such as muskeg and open peatlands. These habitats are also where Palm Warblers are commonly found. In addition, the MNBBA had a relatively large number of records because participants were encouraged to search rare habitats within a priority block.
Interestingly, Cutright et al. (2006) found a similar result for the Palm Warbler during their breeding bird atlas in Wisconsin. They stated that, in response to the dearth of information on its presence and habits during summer in Wisconsin, "Kumlien and Holister (1903) went so far as to declare that there is no evidence that it is ever a summer resident in the state, even in the most northern counties." However, the Wisconsin breeding bird atlas found confirmed nesting throughout the northern tier of counties and as far south as Portage County. Walkinshaw and Wolf (1957) also pointed out that evidence of its nesting in Michigan and Wisconsin had "only accumulated in recent years." This species can be easily overlooked, and finding nests is a very challenging task that requires enduring patience. Surprisingly, Wilson (2013) makes no mention of any changes in the distribution of this species in his review of the Palm Warbler in North America.
*Note that the definition of confirmed nesting of a species is different for Breeding Bird Atlas projects, including the definition used by the Minnesota Breeding Bird Atlas, compared with a more restrictive definition used by the Minnesota Ornithologists' Union. For details see the Data Methods Section.