Overview
Minnesota Seasonal Status:
A regular breeding species and migrant; regular during the winter months with the majority of reports limited to northeastern Minnesota, especially on Lake Superior. An uncommon species during the Minnesota Breeding Bird Atlas (MNBBA).
North American Breeding Distribution and Relative Abundance:
A Holarctic species, in North America the Red-necked Grebe can be found breeding across southern Alaska and western Canada, east to Quebec. In the United States its range dips south into Minnesota, Montana, Idaho, and Washington; isolated populations are scattered also across a few other northern states. The species nests in low densities throughout its range. In southern Canada and the United States, its highest breeding densities are found in the prairie potholes of the northern Great Plains and the Canadian Prairie Provinces (Figure 1).
Conservation Concern: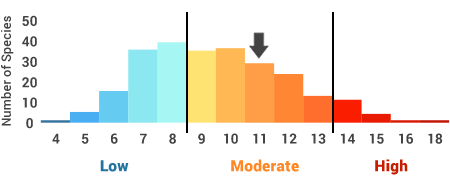 Assigned a Continental Concern Score of 11/20 by Partners in Flight and ranked as a species of Moderate Concern by the North American Waterbird Conservation Plan; designated a Species of Greatest Conservation Need in Minnesota.
Life History
Migration:
Short- to medium-distance migrant that winters primarily along northern coastlines.
Food:
A diver that feeds on aquatic insects, fish, and crustaceans.
Nest:
A floating platform constructed with aquatic vegetation and often anchored to emergent vegetation.
Minnesota Breeding Bird Distribution*
In Minnesota, the Red-necked Grebe is on the southern periphery of its breeding range. In the early 1900s Roberts (1932) described the bird as a summer resident primarily in the northern and west-central regions of the state: "It is rather common locally in the northern half of the state but is less frequent farther south." Confirmed nesting records were reported from 6 counties (Cass, Hennepin, Jackson, Meeker, Otter Tail, and Wright) and Itasca State Park; inferred nesting records (young unable to fly) were available from McLeod and Nicollet Counties. Noting its less frequent occurrence in southern Minnesota, Roberts speculated that the Red-necked Grebe was likely a more common breeder in the region in former times. In the 1936 revision to his book, confirmed nesting records from Ramsey and Wright Counties also were added (Roberts 1936).
When Green and Janssen published their updated status account of Minnesota birds in 1975, new nesting records extended the grebe's breeding range from northwestern Minnesota south through central Minnesota, east to the Twin Cities and south again to Swan Lake in Nicollet County. Outside of this core area, nesting had also been confirmed as far east as Lake Vermilion in northern St. Louis County and as far south as Freeborn and Jackson Counties. Nesting had been confirmed in a total of 33 counties. Despite the plethora of records, there were few breeding records in the far west-central counties of the upper Minnesota River valley. Instead, the core of the species' distribution appeared to extend from east-central and central Minnesota northwest to the Aspen Parklands.
Little had changed when Janssen provided another update in 1987. There were 2 new nesting reports in southern Minnesota: 1 in Steele County (1982) and a second in Lyon County (1986). Janssen delineated a total of 24 counties where breeding had been confirmed since 1970; Hertzel and Janssen (1998) later added another 4 counties to the list.
To date, the Minnesota Biological Survey (MBS) has documented 130 breeding season locations for the Red-necked Grebe (Minnesota Department of Natural Resources 2016). No birds were reported in the greater Twin Cities metropolitan region, in northeastern Minnesota, or in southeastern Minnesota. There were nearly 20 records south of the Minnesota River, including 10 in the southwestern region of the state.
During the MNBBA, observers reported 296 Red-necked Grebe records in 4.1% (197/4,749) of the surveyed atlas blocks and in 4.1% (95/2,337) of the priority blocks. Breeding evidence was documented in 86 blocks (Figures 2 and 3; Table 1). The birds were detected in 45 of Minnesota's 87 counties and were confirmed breeding in 32 counties. Fourteen of these counties with confirmed breeding records were additions to the list published by Hertzel and Janssen in 1998; 4 of the new records were south of the Minnesota River valley.
Overall, the Red-necked Grebe's breeding distribution has changed very little in the past 100 years. The species does appear to be more abundant in far west-central Minnesota than suggested by Green and Janssen (1975) and Janssen (1987), and more common in eastern Minnesota than documented by the MBS. It was largely absent, however, from the southwestern corner of the state. Records from south-central Minnesota, especially south of the Minnesota River, have become more common, suggesting the species is either newly expanding to the south or reoccupying areas that Roberts (1932) considered part of its former breeding range.
Few data were available to ascertain if the species' distribution has changed elsewhere within its breeding range. Stout and Nuechterlein (1999) suggested that the range may have extended farther east to Quebec and New Brunswick, but the documentation was poor. To the east, in Wisconsin, the first large colony was reported in 1969 at Rush Lake in Winnebago County, where they have continued to nest as recently as 2016 (Cutright et al. 2006; ebird 2016).
*Note that the definition of confirmed nesting of a species is different for Breeding Bird Atlas projects, including the definition used by the Minnesota Breeding Bird Atlas, compared with a more restrictive definition used by the Minnesota Ornithologists' Union. For details see the Data Methods Section.