Overview
Minnesota Seasonal Status:
A regular breeding resident and migrant; the Scarlet Tanager was a common species during the Minnesota Breeding Bird Atlas (MNBBA).
North American Breeding Distribution and Relative Abundance:
The Scarlet Tanager is a bird of the eastern deciduous forest. Its breeding range extends across southeastern Canada south to the Carolinas in the east and the Great Plains in the west. Reports from the aspen parklands of southern Saskatchewan and Manitoba may represent a recent range expansion. Highest breeding densities are found in the Appalachian Mountains region from central Pennsylvania south through Virginia and West Virginia (Figure 1).
Conservation Concern: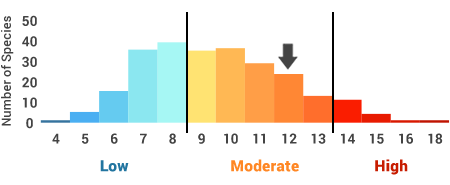 Assigned a Continental Concern Score of 12/20 by Partners in Flight.
Life History
Migration:
A long-distance, Neotropical migrant, the Scarlet Tanager spend winters in northwestern South America, spanning from Panama through Columbia and south to Bolivia.
Food:
During the breeding season, the Scarlet Tanager relies primarily on an insectivorous diet secured by gleaning the forest foliage or by hawking flying insects from a perch.
Nest:
A loosely woven, open-cup nest frequently placed in a mature deciduous tree 6 to 9 m above the ground and on a horizontal branch.
Minnesota Breeding Bird Distribution*
In the late 1800s and early 1900s, Roberts (1932) described the Scarlet Tanager as a summer breeding resident throughout the forested regions of the state. He wrote, "It is a fairly common summer resident in all suitable places and is quite as numerous in the evergreen forests, as far north as Itasca Park, as it is in the deciduous woodlands of the south. Farther north it decreases in numbers but is found quite to the Canadian boundary." Although far less common, the species was also found in natural woodland groves bordering lakes and streams throughout the prairie region. Confirmed nesting reports (nests with eggs or young) were available from Hennepin, Isanti, Jackson, and Wabasha Counties and Cass Lake. Inferred nesting reports (nests; adults with young or feeding young) were available from Goodhue, Itasca, and Sherburne Counties.
Years later, Green and Janssen (1975) commented that the species was most abundant in the state's central woodlands and least abundant in the southern and western prairies. It could be found north as far as Beltrami, Cook, and Norman Counties. Janssen (1987) stated that it was abundant in the southeastern forests as well as in central and east-central Minnesota. Other than the floodplain forests of the upper Minnesota River valley, his distribution map eliminated the Prairie Parkland Province. Within the species' primary range, nesting had been confirmed in 12 counties since 1970. Hertzel and Janssen (1998) identified 15 counties with confirmed nesting since 1970. Two counties delineated earlier by Janssen were not included: Clearwater and Winona.
The Minnesota Biological Survey has documented 1,149 breeding season locations for the Scarlet Tanager, including numerous records in southwestern Minnesota. The species was absent only from the intensely agricultural landscapes of west-central Minnesota and the Red River valley (Minnesota Department of Natura Resources 2016).
The MNBBA participants reported 1,470 Scarlet Tanager records from 20.6% (979/4,743) of the surveyed atlas blocks and from 26.4% (616/2,337) of the priority blocks. Nesting was confirmed in only 34 blocks, but probable nesting was confirmed in 239 blocks (Figures 2 and 3; Table 1). Tanagers were reported from 75 of Minnesota's 87 counties and were common along the upper Minnesota River valley, where numerous blocks straddled multiple counties. Breeding was confirmed in 24 counties; 2 blocks straddled 2 counties each (Isanti and Anoka, and Scott and Dakota). All counties where the species had not previously been reported nesting since 1970 (16 in total) were well within the species' primary breeding range.
Although they are broadly distributed, Scarlet Tanagers are indeed most abundant in the north-central region of the state. Even when the sampling bias in the metropolitan region and Brainerd Lakes region was eliminated and only the priority blocks were examined, Scarlet Tanagers were most abundant and widely distributed in the Northern Minnesota Drift and Lake Plains Section of the Laurentian Mixed Forest Province. The diverse topography of this region, especially in the western portion of the section, supports a mosaic of mesic hardwood forests and drier forests of pine and boreal hardwoods (quaking aspen and paper birch) that provide ideal habitat for Scarlet Tanagers (Minnesota Department of Natural Resources 2003). The MNBBA probability map reflects the importance of this region as well as the hardwood forests of southeastern Minnesota (Figure 4). Farther east in the Laurentian Mixed Forest Province, the mixed boreal forest uplands are predicted to support lower breeding densities with the exception of the mesic hardwoods along the North Shore of Lake Superior.
In his comprehensive review of the Scarlet Tanager, Mowbray (1999) noted few historical changes in the species' distribution other than its apparent expansion westward in southern Manitoba and southeastern Saskatchewan. It was unclear whether new records in eastern South Carolina represented a range extension, better coverage, or improved habitat conditions. States and provinces in the Upper Midwest and Great Lakes region that have conducted two atlases note little distributional change in the 20 to 25 years between atlas efforts, including Ohio (Rodewald et al. 2016), Ontario (Cadman et al. 2007), Michigan (Chartier et al. 2013), and Iowa (Iowa Ornithologists' Union 2017). Wisconsin's first atlas (1995–2000) documented fewer birds in the state's most southern tier of counties than Robbins's (1991) earlier account depicted using BBS data (Cutright et al. 2006). In South Dakota, where the species is uncommon and local in distribution, the species was reported farther west during their first atlas. All but two records during their second atlas (2009–2012) were substantially east of the Missouri River (Drilling et al. 2016).
*Note that the definition of confirmed nesting of a species is different for Breeding Bird Atlas projects, including the definition used by the Minnesota Breeding Bird Atlas, compared with a more restrictive definition used by the Minnesota Ornithologists' Union. For details see the Data Methods Section.