Overview
Minnesota Seasonal Status:
A regular breeding resident and migrant; the Swainson's Hawk was rare during the Minnesota Breeding Bird Atlas (MNBBA).
North American Breeding Distribution and Relative Abundance:
The Swainson's Hawk is primarily a raptor of the grassland biome in open country of western North America from northern Mexico to central Alberta and Saskatchewan. In Minnesota, it is sparsely distributed in the western and southern regions. Highest densities are patchily distributed in eastern Colorado, western Texas, southeastern New Mexico, southeastern Idaho, and southern Alberta (Figure 1).
Conservation Concern: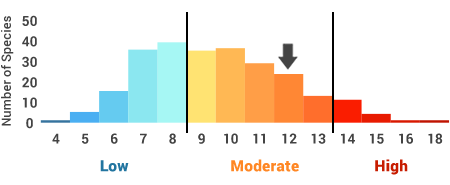 Assigned a Continental Concern Score of 12/20 by Partners in Flight; designated a Species in Greatest Conservation Need by the Minnesota Department of Natural Resources.
Life History
Migration:
A long-distance migrant that spends winters in the pampas of Argentina.
Food:
A variety of vertebrates, including mammals, birds and reptiles, and large invertebrates, such as grasshoppers. Hunts by soaring or perching, or often on the ground.
Nest:
Typically places nest in a grove of trees or occasionally a solitary tree in open country, usually near the top.
Minnesota Breeding Bird Distribution*
Roberts (1932) labeled the Swainson's Hawk a "summer resident throughout the western part of the state." Presumably, the species was uncommon to common in western and southern Minnesota from the mid-1800s to the 1930s. Roberts (1932) noted observations in semi-open country east to the Mississippi River. He included comments by M. A. Hewitt in Faribault County in southern Minnesota from 1898: "Fairly common. Breeds." In northwestern Minnesota, he said, "Peabody and Langevin consider it quite common in the Red River Valley." He led a trip there in June 1928, where they observed 14 Swainson's Hawks from Polk County to the Canadian border. Roberts (1932) included 4 confirmed nesting records, each with eggs, from Jackson County (1901), Polk County (1920 and 1921), and Traverse County (1879).
Decades later, Green and Janssen (1975) described the Swainson's Hawk's summer distribution as "scarce except in the eastern part of their range" in Minnesota because most summer observations and modern breeding records were from southeastern Minnesota in Dakota, Goodhue, Olmsted, and Dodge Counties. This reversal of its distribution is odd because Roberts (1932) had emphasized that "it was only an irregular spring and fall migrant in the eastern part, if it occurs there at all." Green and Janssen outlined a distribution confined to a narrow band along the western border with North and South Dakota, along the southern tier of counties bordering Iowa, and in the southeastern counties previously mentioned.
Several years later, Johnson (1982) summarized 27 nesting records that were known in the state, from the 1879 Traverse County record to a 1981 nesting record from Dakota County. These records included a mix of nests with eggs or young, but many were inferred from observations of nests without documentation of whether eggs or young were observed. He included nesting records from 14 counties, including the farthest-north record of nesting, in Polk County from 1920 and 1921. Johnson concluded his summary with a brief discussion of the possibility of confusing a Swainson's Hawk with a Red-tailed hawk, and of the lack of knowledge, due to this confusion, about whether the species is expanding its range in Minnesota.
In 1987, Janssen described the Swainson's Hawk's distribution as the west-central and southwestern areas of the state and in portions of south-central Minnesota north to Dakota, southern Washington, and Wright Counties. He included a breeding distribution that was very similar to that previously described by Green and Janssen but slightly wider along the border with the Dakotas. He emphasized that the species' breeding status north of Clay County was unknown but that there were summer observations throughout the northwest, including in Kittson and Marshall Counties. He documented nesting in 12 counties since 1970. Martell et al. (1998) added 16 nesting records from 1981 to 1996 that ranged from southwestern Minnesota, north to Kittson County, and southeast to Dakota and Filmore County. In addition, they conducted intensive searches for nesting Swainson's Hawk in 1996 -1997 and recorded 28 locations. The locations were all in the southern portion of the state and ranged from Pipestone, Lac Qui Parle, and Stevens Counties in the west to Washington and Winona County in the east, the latter is the easternmost county where the species has been recorded nesting in the state. Hertzel and Janssen (1998), using their nesting criteria, included 7 additional counties since 1970 with confirmed nesting: Fillmore, Kittson, Lincoln, Murray, Red Lake, Waseca, and Washington.
The Minnesota Biological Survey (MBS) has recorded 86 breeding season locations for the Swainson's Hawk during county surveys (Minnesota Department of Natural Resources 2017). The MBS records were largely focused in southwestern Minnesota, especially in Lincoln, Lyon, Murray, Pipestone, and Rock Counties, and included a cluster in Dakota, Goodhue, and Rice Counties. The remaining locations were scattered in many counties, from Olmsted County in the southeast, to southwestern Todd County, and northwest to Kittson, Polk, and Red Lake Counties.
The MNBBA observers identified 63 records of the Swainson's Hawk, with a breeding distribution very similar to that previously described by Johnson (1982), Janssen (1987), and Hertzel and Janssen (1998) (Figure 2). One extension was a probable nesting in southern Sherburne County; in addition there was possible nesting evidence in Chippewa, Pope, Renville, Stearns, and Swift Counties in southwestern Minnesota. Swainson's Hawk was recorded in 1.2% of all surveyed blocks (58/4,740) and 1.8% of priority blocks (41/2,337) (Figure 3; Table 1). Nesting was confirmed in 3 blocks, with 1 each in Dakota, Lyon, and Yellow Medicine Counties. The MNBBA also recorded possible nesting north of Clay County in Norman, Polk, and Marshall Counties.
Bechard et al. (2010) reviewed the Swainson's Hawk in North America. They did not identify any major breeding range changes in North America but noted the extirpation of breeding populations from coastal southern California and the presence of a winter population in the Sacramento–San Joaquin River delta since 1990–1991. Bechard et al. (2010) described major declines of the species since the late 1800s and early 1900s. They cite an 1882 observation by E. E. Thompson [Seton], who considered the Swainson's Hawk "abundant" as far east as Winnipeg, Manitoba. The decline of the species was largely attributed to human persecution, because most settlers considered the species a "chicken hawk," but the decline was also attributed to decreases in habitat and food availability due to plowing of grasslands.
In North Dakota, Dyke et al. (2015) described the Swainson's Hawk's distribution as throughout much of North Dakota except for the Red River valley. They suggested that early human settlements may have increased the availability of nest sites in some areas, such as in shelterbelts. However, the destruction of native prairie likely affected ground squirrel populations in North Dakota and resulted in decreased food availability.
In the past in Minnesota, the Swainson's Hawk was largely confined to the open grasslands and prairie regions where suitable food supplies and nesting trees were located. The general distribution is likely similar today, but the overall population has declined substantially. In some areas, clearing of forested areas for agriculture since the 1930s in south-central, central, and southeastern Minnesota may have opened additional breeding habitat; these are areas where recent nesting has or may have occurred. Green (1981) noted the species appeared to be expanding into central Minnesota. The breeding distribution of the species currently includes the adjacent southeastern region of Manitoba (Manitoba Breeding Bird Atlas, Bird Studies Canada 2017). It is also possible that efforts to determine its distribution have been inadequate in many of these areas.
*Note that the definition of confirmed nesting of a species is different for Breeding Bird Atlas projects, including the definition used by the Minnesota Breeding Bird Atlas, compared with a more restrictive definition used by the Minnesota Ornithologists' Union. For details see the Data Methods Section.