Overview
Minnesota Seasonal Status:
A regular breeding resident and migrant in Minnesota. Yellow-billed Cuckoos were uncommon during the Minnesota Breeding Bird Atlas (MNBBA).
North American Breeding Distribution and Relative Abundance:
Found primarily in the Eastern Temperate Deciduous Forest Biome as far west as South Dakota, Nebraska, and Texas (Figure 1). Highest densities occur in the southern central United States, especially in parts of Arkansas, Mississippi, Missouri, and Oklahoma.
Conservation Concern: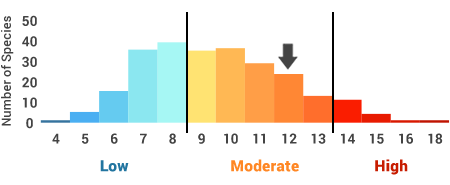 Assigned a Continental Concern Score of 12/20 and designated a Common Species in Steep Decline by Partners in Flight; also listed as a Species in Greatest Conservation Need by the Minnesota Department of Natural Resources.
Life History
Migration:
Long-distance Neotropical migrant that over-winters in South America, primarily east of the Andes Mountains.
Food:
Large insects such as hairy caterpillars, cicadas, grasshoppers, and crickets, especially Eastern tent caterpillars; and occasionally bird eggs and young; lizards; and small frogs.
Nest:
Loose platform of twigs between two branches or close to trunk; generally in thick vegetation and less than 6 m from the ground. Rarely a brood parasite.
Minnesota Breeding Bird Distribution*
The historical distribution of this species is confusing based on the descriptions of Roberts (1932). He emphasized that the species is more common in the southern portions of the state than the Black-billed Cuckoo; the latter being more common in the north. Yet he cites observations by O.J. Murie from Moorhead, Clay County, in 1920, who stated, "Both species of Cuckoos are found here, but I am inclined to think the Yellow-billed is the more common." Roberts was more definitive about its distribution in the northeastern forests, where it was found sparingly. For the southern forests, he quotes Dr. Hvoslef, who found it "rare until 1898" in Fillmore County along the Root River. Yet, in 1897, "Knox reported it as common in Jackson County" and Gleason said it was "usually common" at Lake Benton in Lincoln County. Roberts's only reported confirmed nestings were from Minneapolis (2 eggs) and Stearns (1 egg) County in 1892 and 1896, respectively.
More than 40 years later, Green and Janssen (1975) also described the Yellow-billed Cuckoo as a summer resident throughout the state, though only casual in the northeastern region and adjacent counties of the north-central portions. They identified that most breeding records were from the southern half of the state, with some breeding evidence from Clearwater, Pine, and Wadena Counties. Janssen (1987) described its primary summer range as "southern and central portions of the state and up the western edge" to the northwestern region. He included confirmed nesting records since 1970 from Brown, Clay, Goodhue, Hennepin, Houston, Le Sueur, Olmstead, St. Louis, and Wright Counties. Hertzel and Janssen (1998) would later add confirmed nesting since 1970 in Rice and Scott Counties.
The Minnesota Biological Survey included 167 breeding season locations that were widely scattered in Minnesota. Most observations were from the southern tier of counties northward to Aitkin, Becker, and Hubbard. Single locations were also included northwest to western Roseau County and northeast to southern St. Louis County. Clusters of breeding season locations were from northwestern Otter Tail, northwestern Morrison, and throughout Douglas, northern Kandiyohi, and Pope Counties (largely in the Hardwood Hills Subsection). Numerous locations were included from southwestern Minnesota, (e.g., in the Coteau Moraines and Inner Coteau Subsections) (Minnesota Department of Natural Resources 2017).
The MNBBA reported 160 breeding records that represented just 2.7% (130/4,735) of the surveyed atlas blocks or 3.4% (79/2,337) of the priority blocks (Figures 2 and 3, Table 1). The observations were amazingly widespread throughout most of the state, except in the northeast. No observations were recorded from Cook, Koochiching, Lake, and Lake of the Woods Counties, plus only single possible observations from Beltrami, Carlton, Kittson, Roseau, and St. Louis Counties. Many other counties throughout the state also had no breeding season detections.
Most of the recorded breeding records were of possible nesting, which is a strong testament to the secretive and elusive behavior of the Yellow-billed Cuckoo. The only confirmed nesting was from southwestern Douglas County. There were 18 probable nesting records from the southeastern region and in the suburban areas of the Twin Cities, as well as northwestward to Becker and Otter Tail Counties. The species was not abundant enough to reliably produce a probability map.
The historical distribution of the Yellow-billed Cuckoo was described by Roberts (1932) as confusing because of the high variability in population levels of both cuckoo species. One or both species may appear in a Minnesota locality as common one year and not present the next. Their attraction to outbreaks of caterpillars, especially tent caterpillars, gypsy moths, or other variable insect populations, are likely an underlying factor (Hughes 2015). Identification of the two species may also contribute to confusion because the "cu, cu, cu" calls emitted by both species can be difficult to distinguish. However, the long and complex song of the Yellow-billed Cuckoo is very different and should not be confused with the Black-billed Cuckoo.
Minnesota is on the northwestern periphery of the North American breeding distribution of the Yellow-billed Cuckoo (Figure 1). Species at the limits of their distribution often have highly variable populations. This species has had notable range contractions in its western breeding range due to reductions in riparian habitat through clearing for agriculture, flood control, and urbanization (Hughes 2015). It has been extirpated from southeastern British Columbia since the 1920s, from western Washington State since 1934, and from western Oregon since 1945. Breeding populations in California have been reduced from an estimated 15,000 pairs in the mid-1800s to a current population of a mere 40–50 pairs.
In Wisconsin, Robbins (1991) noted a potential range expansion in the early 1900s, but the range appears to have changed little since then (Cutright et al. 2006). Michigan noted a slight increase from its first atlas to its second, but the authors partly attributed this to a methodological change in the second atlas that focused more on finding species in blocks rather than finding nests (Chartier et al. 2013). Ontario found no differences in its distribution between its first and second atlases, but it did identify some regional differences (Cadman et al. 2007). These authors strongly cautioned about problems with identification, especially when the individual could not be observed.
*Note that the definition of confirmed nesting of a species is different for Breeding Bird Atlas projects, including the definition used by the Minnesota Breeding Bird Atlas, compared with a more restrictive definition used by the Minnesota Ornithologists' Union. For details see the Data Methods Section.