Overview
Minnesota Seasonal Status:
A summer visitant and migration visitant; formerly bred in Minnesota from 1955 to 1986. The Yellow-crowned Night-Heron was a very rare species during the Minnesota Breeding Bird Atlas (MNBBA).
North American Breeding Distribution and Relative Abundance:
In North America, breeding populations occur from southern coastal New England south along the Atlantic coast to Florida and then westward to Texas. There are inland populations as well throughout the southeastern states and north along the Mississippi River to Missouri and southern Ohio. There are scattered nesting colonies in the western Great Lakes states. The species is a permanent resident in coastal areas in the West Indies, northern South America, Central America, Mexico, and the southern United States. In North America, the core of its breeding range is in southern Louisiana (Figure 1).
Conservation Concern: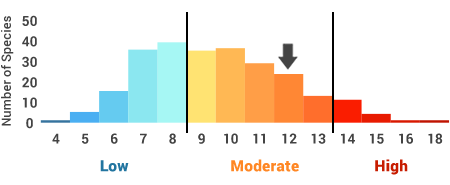 Designated a Species of Moderate Concern by the North American Waterbird Conservation Plan; assigned a Continental Concern Score of 12/20 by Partners in Flight.
Life History
Migration:
Northern birds migrate south to the Gulf coast and winter primarily in southern Florida but have been reported in other coastal areas in the United States, the Caribbean, Mexico, and Central America. Following the breeding season, birds may wander some distance from the breeding colony.
Food:
This heron is more specialized than most herons and feeds mainly on crustaceans (crabs on the coasts and crayfish inland) but also on frogs, insects, and fish in some locations. As its name suggests, it feeds both night and day, but is more nocturnal in its feeding habits than the Black-crowned Night-Heron.
Nest:
A stick platform placed in trees or bushes, usually only one nest per tree. The Yellow-crowned Night-Heron is more solitary than most other herons and nests in small colonies or as isolated pairs.
Minnesota Breeding Bird Distribution*
The Yellow-crowned Night-Heron does not appear in either the 1932 or 1936 edition of The Birds of Minnesota by Roberts. The first recorded observation, and the first nesting record, was in 1955 near La Crescent, Houston County. A pair of adults and a nest with young were found by Brother Theodore Voelker (Theodore 1955). One year later, in 1956, Brother Theodore reported that this colony "netted four pair of nesting adults with 16 young" (Theodore 1956). From 1957 through 1977, the small colony (2–4 pairs) remained active; nesting was reported yearly in the Minnesota Ornithologists' Union's (MOU) summer seasonal reports published in The Flicker and The Loon. Two adults were discovered in 1963 in South St. Paul, Ramsey County, at the Pig's Eye swamp area, prompting Huber (1963) to comment that the species "should be looked for as breeding there." Nesting was documented at the site in 1964 in "habitat very reminiscent of the pseudo-Carolinian river-bottom forest at La Crescent" (Huber 1964). Additional nesting observations were made there in the summers of 1965 and 1966 (Huber 1966a, 1966b).
In his comprehensive review of the species, Watts (2011) noted that the Yellow-crowned Night-Heron experienced a "dramatic northward range expansion between 1925 and 1960, with 11 new state breeding records established over this period." This expansion occurred in Minnesota (1955, first record and nest) and in the nearby states of Michigan (1960, first record; 1971, first bred; Chartier et al. 2013), Wisconsin (1941, first record; first bred, 1955; Robbins 1991), and Iowa (1953, first record; 1956, first bred; Kent and Dinsmore 1996). Small colonies have persisted in these states ever since.
During the decades of the 1960s and 1970s, this species was rarely reported in Minnesota from other areas. A specimen for the Minnesota Museum of Natural History was collected from an injured bird south of Clements, Redwood County (Sogaard 1966). Another possible breeding area in the rice paddies of Aitkin County, where birds were observed in 1972, 1973, and 1976, did not produce nesting evidence. During an extensive study in 1972 of the mixed-species colony on Lake Johanna, Pope County (Hitman 1972), only a single, adult Yellow-crowned Night-Heron was seen on July 3 and 23 (Green and Baumhofer 1972), but no breeding evidence was found. Another unique nesting site for the Yellow-crowned Night-Heron was reported in 1978 at the Maplewood Nature Center, Ramsey County, when an adult was seen building a nest and incubating from June 7 to July 18, but no young were produced (Gange 1978). A very complete survey of the Pig's Eye heron colony in 1973 did not produce any observations of Yellow-crowned Night-Herons, although a "major finding of this study is that the Black-crowned Night Heron Colony located at Pig's Eye is the largest by far [1,120 adults] to be discovered in Minnesota since the early 1940's [Heron Lake]" (Adams et al. 1973).
During the 1980s, more breeding evidence was obtained from the rice paddies in Aitkin County and the Pig's Eye heronry in Ramsey County. Probable breeding was documented in 1981 at the rice paddies when a pair was constantly seen during the nesting season and a family of 2 adults and 2 young was photographed in August (Nelson 1981). They were present again in 1982, when Nelson documented nesting and obtained a photo of an immature (Nelson 1982), and bred again in 1983 (Green and Janssen 1984). Another observation of probable nesting of a Yellow-crowned Night-Heron in a Black-crowned Night-Heron colony was observed by canoe in 1982 at Thief Lake, Marshall County (Steva 1982). At Pig's Eye Island, more observations turned up another nesting record for 1981 (Richardson 1981), and more survey work in 1984 (Hendrickson and Eckert 1985) and 1986 (Shedd and Wilson 1987) reported probable nesting both years. Warner's report of the 1984 survey provided more details of the Yellow-crowned Night-Heron nesting: "Although we found only one nest, at least 2 pairs were present. On 19 June an adult appeared to be incubating and a brood of more than one young appeared to be recently hatched on 27 June, the last day of the census" (Warner 1984). It is not clear, however, whether the Yellow-crowned Night-Heron was nesting within the large heron rookery or alone. It also is unclear exactly where the birds were nesting. The Pig's Eye area includes a lake, island, and swamp. Although it is largely located within South St. Paul, Ramsey County, it is situated immediately north of the border with Washington and Dakota Counties. Some of the Yellow-crowned Night-Heron records for the site actually noted the records were in Dakota County, which would mean the birds were observed a little farther south along the Mississippi River.
Over the years, the most persistent breeding site was the small colony at La Crescent, Houston County, where breeding evidence was consistently reported from 1955 to 1986. During this time period, there also were many records reported during the spring and fall migration. The MOU seasonal reports for 1961 to 1986 document 71 summer and migration records outside the known breeding areas in Aitkin, Houston, and Ramsey Counties. Thirty-eight percent of the records were from the Twin Cities (excluding Ramsey County, where it nested), so some observations may be wanderers from Pig's Eye Island. All migrant records were located in the Prairie and Eastern Broadleaf Forest Provinces. Records in the Laurentian Mixed Forest Province are considered vagrants and were found in Cass (3 records), Crow Wing (1 record), Koochiching (1 record), and St. Louis (3 records in Duluth) Counties.
The years from 1987 to 2015 show a different geographical picture and abundance. No breeding evidence was obtained. Similar to the preceding decades, records were reported from the Prairie Parkland and Eastern Broadleaf Forest Provinces. The total number of summer and migration records outside of the known breeding counties (Aitkin, Houston, Ramsey) was 63, in addition to 2 northern vagrants in Cass and Roseau Counties. In some years, no spring and fall migrants were reported (1995–1999); from 2000 to 2015 there were 7 years without any summer records. The proportion of records in the Twin Cities (excluding Ramsey County) was about 60% (1987–2015), in contrast to the 38% for the 1955–1986 period. This may represent an increase in Twin Cities bird watchers, or may be dispersing individuals from undocumented nesting at Pig's Eye Island or elsewhere. Unfortunately, despite the increase in the number of observations, breeding evidence is lacking. Although the Pig's Eye heronry was monitored for years, detailed reports of nesting activity have been lacking since the mid-1980s. The inaccessibility of the site also makes it difficult for the general birding community to document the breeding status of the birds they observe. Outside of the Twin Cities, there was a pronounced decline in the number of observations from 2005 to 2015.
During the MNBBA, participants reported 3 Yellow-crowned Night-Heron records from 3 of the surveyed atlas blocks, and all were from the Twin Cities area (Figure 2). All 3 were "observed" records. One bird, an adult, was on an urban pond near apartment buildings in Minnetonka (T117R22a); it was entered into the atlas database on July 28, 2009, but records in the MOU database indicate it was at the site from July 23 to August 20. Observed while feeding on crayfish, it was described as looking a little ratty and worn. A second adult was seen on June 21, 2009, flying over Robert Street (T28R22d) coming from the general direction of the Pig's Eye slough. The third adult was seen on July 11, 2012, from the observation deck at the Old Cedar Avenue bridge (T27R24a), Minnesota Valley National Wildlife Refuge (NWR). The MOU records include a well-photographed juvenile bird observed near the shore of Long Meadow Lake in the Minnesota Valley NWR, from September 8 to September 15, 2012. These records from the Minnesota Valley NWR, as well as the observation near Pig's Eye, point to possible nesting birds in the Twin Cities.
*Note that the definition of confirmed nesting of a species is different for Breeding Bird Atlas projects, including the definition used by the Minnesota Breeding Bird Atlas, compared with a more restrictive definition used by the Minnesota Ornithologists' Union. For details see the Data Methods Section.