Overview
Minnesota Seasonal Status:
A regular breeding resident and migrant, the Yellow Rail was a rare species during the Minnesota Breeding Bird Atlas (MNBBA).
North American Breeding Distribution and Relative Abundance:
The Yellow Rail is restricted largely to central Canada from Alberta and the southern Northwest Territories east to southern Quebec and south to the northern Great Lakes states. Its presence is quite localized; areas of abundance are poorly known.
Conservation Concern: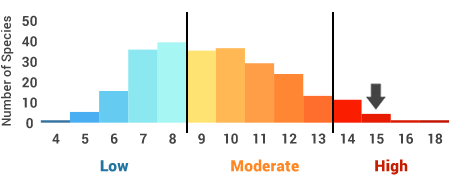 Ranked a species of High Concern by the North American Waterbird Conservation Plan and assigned a Continental Concern Score of 15/20 by Partners in Flight;  officially classified as a Special Concern Species in Minnesota and designated a Species in Greatest Conservation Need by the Minnesota Department of Natural Resources.
Life History
Migration:
Short- to medium-distance migrant, wintering along the Gulf and southeast Atlantic Coasts.
Food:
Small freshwater snails supplemented with aquatic insects and seeds.
Nest:
Open-cup nest of sedges and grasses placed on the ground or on top of small tussocks of vegetation.
Minnesota Breeding Bird Distribution*
The Yellow Rail is confined largely to the marshlands of north-central and northwestern Minnesota. In his 1892 notes on the birds of Minnesota, Hatch included the Yellow Rail as a rare summer resident based on several specimens that had been prepared by local taxidermists. He had never observed the bird and knew nothing of its habits.
When Roberts wrote his treatise on Minnesota birds in 1932, only one nesting record had been documented for the Yellow Rail. The 1917 record was from Lake Wilson in Murray County, an area far south of the species' current breeding range. Breeding season observations had also been reported in Becker, Kittson, Marshall, and Sherburne Counties. In 1929, when Roberts's colleagues W.J. Breckenridge and W. Kilgore visited Marshall and Kittson Counties in search of the Sharp-tailed Sparrow, they found the Yellow Rail in nearly every locality where they found the sparrow. Roberts concluded that the Yellow Rail was a summer resident in western Minnesota, if not statewide.
As the years passed, scattered reports were gathered from other localities. In 1952, a nest was found and photographed by Nestor Hiemenz in a wetland just east of St. Cloud in Sherburne County (Janssen 1987), and in 1959 members of the Avifaunal Club discovered nine calling males at a site on the county line between Mahnomen and Becker known as Waubun Marsh (Huber 1959). Because the Yellow Rail was consistently reported from this site in all but two years from 1959 to 1972, it became the go-to site for observing this rare species. The dependability of the Waubun Marsh locality may have precluded wider investigation of other suitable nesting areas.
By the time Green and Janssen prepared their updated account on the status of Minnesota birds in 1975, nesting had been documented not only in Sherburne County and at the Waubun Marsh but also near McGregor in Aitkin County (1973). There were scattered summer reports from other counties as well (Clearwater, Crow Wing, Kittson, Marshall, and Traverse), leaving the authors to conclude that the Yellow Rail was most common in the northwestern and north-central regions of the state.
By the mid-1970s, the species' regularity at the Waubun Marsh began to wane and was replaced instead by consistent observations at the McGregor Marsh Scientific and Natural Area (SNA) in Aitkin County, a site that remains dependable to this day (Nelson 1991). New breeding season localities were also documented further west. During the 1980 breeding season, the Minnesota Department of Natural Resources surveyed 15 prairie tracts in western Minnesota to document the species' breeding bird communities. The Yellow Rail was found on two of the tracts: Anna Gronseth Prairie in Wilkin County (six calling males) and Pembina Trail Preserve in Pennington County (two calling males) (Eckert 1980).
When Janssen prepared another update on the status of Minnesota's avifauna in 1987, he summarized additional summer reports gathered from counties east of the intensively cultivated Red River valley, including Beltrami, Cass, Clearwater, Crow Wing, Kittson, Marshall, Norman, Polk, and Traverse. Nevertheless, nesting of this small, elusive species had not been documented in any county since 1970. By 1998, nesting had only been confirmed at one site since 1970, the McGregor Marsh SNA (Hertzel and Janssen 1998).
Additional county records were documented as the Minnesota Biological Survey (MBS) began its systematic county-by-county surveys in northwestern Minnesota in the early 1990s. To date, the MBS has reported a total of 155 breeding season locations, all within the northern third of the state, stretching from Kittson County in the northwest south to Todd, Morrison, Mille Lacs, Kanabec, and Pine Counties. The latter records extended the species' range further south and east into central Minnesota than previous accounts had done since the 1970s (Minnesota Department of Natural Resources 2016a).
Although the MBS did not uncover records of the species in northeastern Minnesota, in June of 1993, when survey staff were working in western Minnesota, accomplished birder Kim Risen reported the Yellow Rail at three unusual locations much further to the east: Cook County (two birds at one location), southern St. Louis County (multiple birds found throughout the Sax-Zim Bog), and southern Pine County (several individuals at one location) (Risen 1993). These new records, coupled with the MBS's records in other central Minnesota counties, began to raise questions regarding the species' fidelity to breeding sites. Perhaps its dependence on suitable water levels means that its presence at a given site is ephemeral and largely influenced by local wetland conditions. More research underway in other parts of the species' range began to address this issue.
Unfortunately, by the time the Minnesota Breeding Bird Atlas was launched in 2009, the Yellow Rail's overall abundance seemed to have declined and its range contracted back to what appears to be its primary range in northwestern and north-central Minnesota. During the five-year atlas sampling period, observers tallied a total of 84 Yellow Rail records in 1.6% (76/4,748) of the surveyed atlas blocks and in 1.0% (24/2,337) of the priority blocks. Surveyors were unable to confirm nesting anywhere (Figures 1 and 2; Table 1). The species was reported from 17 of Minnesota's 87 counties; one block straddled both Red Lake and Pennington Counties.
Approximately 63% of all the blocks where the Yellow Rail was reported were located within the Tallgrass Aspen Parklands Province. Over 60% of all the records were contributed by the U.S. Fish and Wildlife Service from targeted Yellow Rail and marsh bird surveys on state and federal lands. These surveys suggest that one of the most important sites for the Yellow Rail in Minnesota is the complex of state Wildlife Management Areas (WMAs) in northern Kittson and Roseau Counties, including the Beaches Lake WMA, Caribou WMA, Roseau River WMA, and Skull Lake WMA (Figure 1). The McGregor Marsh SNA remains the site most frequently visited by birders interested in finding the Yellow Rail, yet these large northwestern wetland complexes may be more important to the species' long-term sustainability.
Although there is evidence that the Yellow Rail once nested as far south as Murray County (1917) and Sherburne County (1952), such southern locales appear to have been abandoned for many years, which is no doubt a consequence of the extensive loss of wetlands in central and southern Minnesota. Given how rare and secretive this species is and the relative inaccessibility of its wetland habitat, documenting historical changes to its distribution is difficult. Minnesota's southern breeding records, however, are not unique. John James Audubon even reported the Yellow Rail was a year-round resident as far south as Florida and Louisiana in the early nineteenth century (Leston and Bookhout 2015).
More recently, the most southern extent of the Yellow Rail's breeding range is defined by those locations in central and east-central counties where the Minnesota Biological Survey documented the species' presence: Kanabec, Mille Lacs, Pine, and Todd Counties. Although the species was never found so far south during the MNBBA, studies have shown it regularly shifts its distribution depending on wetland conditions (Leston and Bookhout 2015; Committee on the Status of Endangered Wildlife in Canada 2009). Elsewhere within the species' breeding range, few wide-scale changes have been documented in its breeding distribution other than local changes due to loss of wetland habitat (Cadman et al. 2007; Chartier et al. 2013).
*Note that the definition of confirmed nesting of a species is different for Breeding Bird Atlas projects, including the definition used by the Minnesota Breeding Bird Atlas, compared with a more restrictive definition used by the Minnesota Ornithologists' Union. For details see the Data Methods Section.